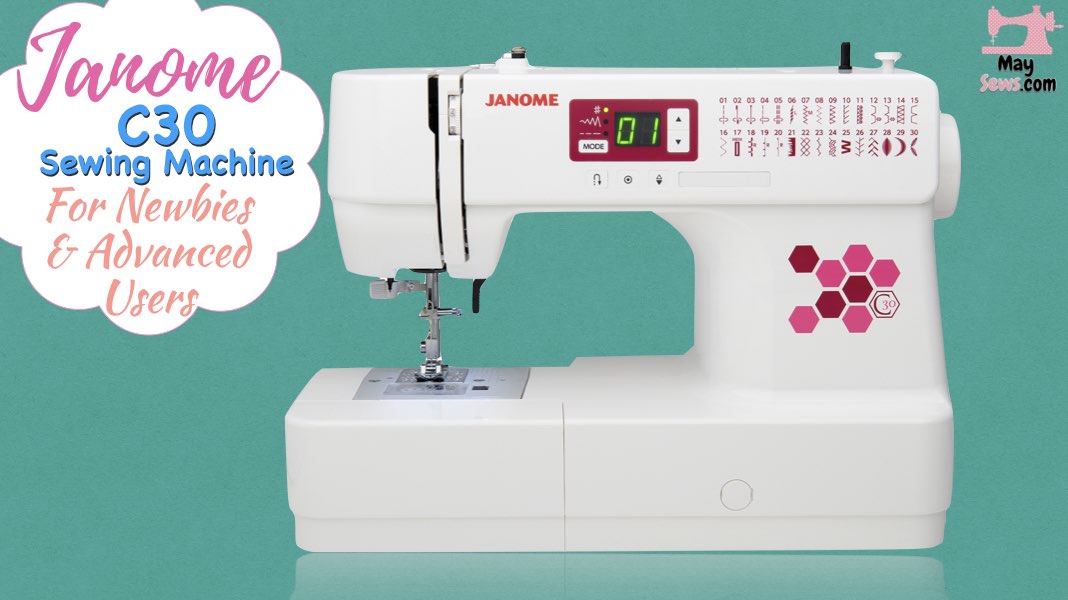 The Janome C30 sewing machine might look complicated right out from the box, but it is designed for a novice to sew since it is very easy to use.
A more advanced user can benefit from it too. After all, it has 30 built in stitches and it has the feature of free motion sewing.
The price tag might be a little higher for a newbie learning how to sew with this machine, but I think it is worth the price with its built in features. Click here to check current selling price.
Built-in Features For This Model
30 Built-In Stitches


This model does have a little more built-in stitches than other introductory sewing machines.
The 30 built-in stitches are for basic and fashion, home decor, knit, quilting, overcast and decorative stitches.
So you should have plenty of stitch selections to work with your projects.
These stitch patterns are imprinted on the sewing machine for easy access. This pattern chart is also included in the user manual for reference if you need it.
Big LCD Display Screen
It is good to have a big display screen on the machine. That way it is easier to see which stitches pattern you have selected. Those two buttons next to the LCD screen are for selecting stitches and adjusting stitch width and length. These buttons are directional and make it easy for navigation.
Speaking of adjusting stitch width and length, the length and width do have a limit setting. For example, the maximum length stitch you can set it to is 4mm and the maximum width is 5mm. So don't forget this.
Built-in Needle Threader

I believe this feature is a must for a sewing machine unless you are really good with putting the thread in the hole yourself. Without this feature, it will usually take you a very long time to do it.
I certainly can't do without this feature. With this built in needle threader, it will only take you a couple of seconds to put the thread into the needle and it will save you a lot of frustration.
Built-in Thread Cutter
It comes with a built-in thread cutter but it is not an automatic one. This will at least save you the trouble of having to look for a pair of scissors. This feature doesn't usually come with very basic sewing machines.
Thread Tension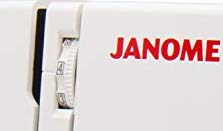 This machine gives you the choice of setting the thread's tension.
Setting the thread tension is pretty easy for this model. If the thread tension is too tight just lower the number on the dial and vice versa for the loose thread.
Needle up/down
This machine allows you to set the needle to be either up or down whenever you have stopped sewing. This is up to your preference.
Some like to set it down for making easy to changes on the corners. Just to let you know, most of the very basic sewing machines don't have this function.
Sewing Speed
You can use this machine to sew up to 820 stitches per minute with the foot petal. The harder you push the faster the machine will go, so only do so when you are comfortable with the faster speed.
This model can only operate by the foot pedal, so there won't be any button you can press to start the machine for sewing. A lot of sewing machines are usually made with only a foot control to operate the machine but some other sewing machines have both functions like the foot pedal and start/stop button to operate the machine, like the Brother cs6000i and Singer 7258 models.
It might be a good idea to have both functions if it is possible because if you can't find or lose your foot controller than you can sew with the start/stop button and save the trouble of searching or finding a replacement pedal if you lose it.
Frame
I am happy to say this machine has a metal frame instead of a plastic one. The frame is made of aluminum material. I always believe a sewing machine that has a metal frame will last longer.
Well, I could be wrong, but I much prefer to have a metal frame if I have a choice between plastic or metal.
Bobbins

This model has a top easy loading bobbin with a clear cover. With a clear cover, you can usually monitor how much thread supply you have left on the bobbin. This will give you a heads up on whether to wind up more thread in the bobbins or not.
Winding up bobbins couldn't be easier with the auto declutch bobbin winder and you wouldn't have to worry about it being over wound.
Extra High Presser Foot Lift
This function will lift the foot much higher giving you more room or space to sew thicker fabrics or for easier removal of the presser foot. It is about 1/4 inches (0.7cm) higher than the normal up position.
Buy Janome C30 Online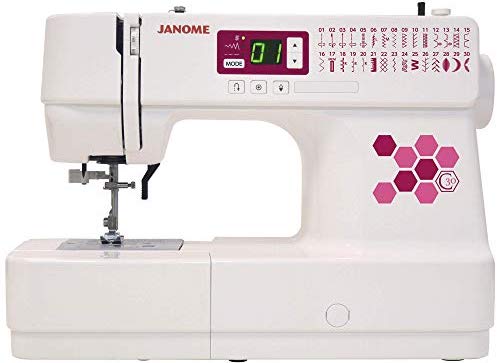 Check Price on Amazon
More Included Features
Free Arm or flat bed – This is to sew hard to reach areas like handcuffs or elbows. The free arm has a storage compartment for small items.
Reverse sewing button – Pressing this button causes the machine to sew backwards to re enforce sewing some of the parts that are required. It is usually the start and ending of the seam.
Carry handle – The handle makes it easy to take it to difference places.
Sewing light – The light is located in the sewing area where it is most needed. Just to give you an idea, it is around the needle plate.
Memory buttonhole – This feature allows you to sew the same identical buttonhole. 
4-Piece feed dog – I prefer this to have a higher number.
Drop feed function – This feature is for quilting. It pretty much turns it into free motion sewing. It is to lower the feed dog below the needle plate, allowing you to take control of the fabric on the direction and how fast or slow you want to sew. In other words, the feed dogs are not being used when you are using this function.
Locking stitch button – This button is for quilters who like to work with quilting projects.
Included Accessories
• Zipper foot
• General purpose foot
• Zigzag foot
• Satin stitch foot
• Sliding One-step Buttonhole Foot
• Needle set
• 3 Bobbins (Class 15)
• Spool pin
• Spool holder (small and large)
• Steam Ripper
• Dust cover
• Lint brush
• Screwdriver key
• User Manual
• Quick Start Guide
• Foot control
• Power cable
Janome C30 Review
I like this Janome C30 sewing machine a lot, but I would like to mention a little down side of this sewing machine that it only has a 4 piece feed dog system.
It would be even better if it had a higher feed dog system since with a higher number it will give you more control of the fabric when sewing.
Well, you can't always have everything. You will have to make sacrifice either with features or on the price when buying a product. I especially love the motion free sewing and would love to give quilting a try.
So far this machine has a very high average rating online and I also would like to add this model is pretty new. It's released this year 2019, and it doesn't really have that many reviews yet.
✅ Pros:
Easy setting up instructions.
Super lightweight.
Machine is pretty quiet when it is in use.
❌ Cons:
4 piece feed dog system.
No automatic thread cutter.
Dimensions and Weight ??
I have to say this machine is pretty darn light even with having an internal metal frame. It weighs only around 5 KG and that is about 11.2 pounds.
Having a lighter sewing machine makes it easy to travel with to places like sewing school or sewing group projects.
The dimensions for this machine are 6.4″ Width x 15″ Length X 11″ Height and the working space is about 6.2″ Width x 3.9" Height.
Warranty and Manual
The manual is about 52 pages long and you can find it by clicking here. I suggest you to read the manual thoroughly, especially if you are a newbie, if you decide to get this model. It does have a lot of helpful tips on sewing.
This Janome model is backed up by a 25 year limited warranty.