Note: This post may contain affiliate links. If you click a link and buy something we may earn an affiliate commission at no extra cost to you.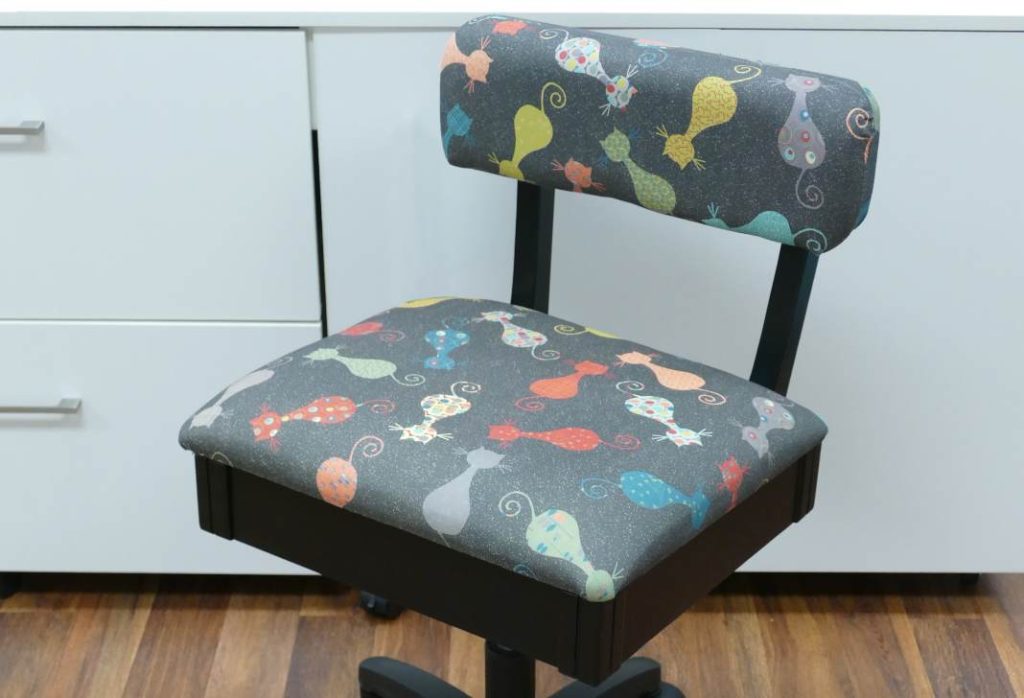 It might be a good idea to get a sewing machine chair with storage in it if you have limited space in your house or apartment. It is also a good idea to get a chair that makes you sit comfortably and gives you good posture since we usually sew for a long period of time.
When I was sewing I had to sit on a metal chair for about 8 to 10 hours a day without any padding on the seat and by the end of the day my bottom was hurting so badly. A wooden chair without any padding will also give you the same result on your bottom when sitting for a long time.
I didn't even want to sew anymore but I didn't have a choice since we needed money to survive at that time. Luckily I didn't have to do that job for a long time. I think it was for about three years and I still had to go to school too.
Anyway, on this post I will give you two different styles to select from and they have different colors to choose from. If it were me I would choose the one with the option to adjust the height and is able to move freely when being used.
Oh yeah by the way, you can also get these two chairs by clicking here. I am glad that I can find more than two places selling these sewing chairs online. It is always better to have more choices just in case the other one is out of stock.
Adjust Height Hydraulic Sewing Chair
As you can see in the below image this style has three different patterns to choose from. My favorite is the kitty pattern since I love kitties but the sewing pattern styles are pretty cool too. It matches nicely with a sewing room or table.
From the looks of it, it is very comfortable to sit on. I did combine three single pictures into one picture for you to be able to see all the different patterns.
This style of chair looks almost exactly the same as an office chair but with an extra storage compartment under the seat. You can use that area to put your sewing accessories like scissors, bobbins, threads and anything that you would like to put in there.
Let's talk a little bit more about this design such as features and benefits if you own this chair.
Features:
Looks very nice with three different patterns to choose from.
Gives you proper posture and comfortable seating for a long period of time.
You can adjust the height of the chair. This is definitely a plus because not every table or sewing table is created with the same height and you can adjust it to sit comfortably. This chair can be adjusted from 18 inches to 22 inches tall.
The base has a built in 5 rollers that makes it easier to smoothly move the chair to a different location and it wouldn't mark the floors.
The base can be swiveled in 360 degrees so that it makes it easier and faster for you to get your accessories or things from your sewing cabinet.
This chair can hold up to 250 pounds of weight. If you are over this weight limit then I wouldn't recommend it. Safety is my first priority. Most people will be able to fit into this chair with a lot of extra room to spare.
The seat is made of solid wood for strength and the sitting area is made of durable upholstery fabric.
It has a storage compartment under the seat. This will keep your sewing accessories hidden if you don't tell others. You shouldn't tell your kids about this storage if you don't want them to mess with your sewing accessories, like needles. The storage compartment is about 15.5″ Width X 13.25″ Depth X 2″ Height. To access the hidden storage compartment, all you have to do is lift up the seating cushion.
Buy This Design Online
I have found that this style of chair can be bought on amazon. I noticed if you are buying this on the arrow cabinets website, the price will be a little higher from the last time I checked.
The difference is about $100.00. Do note the price is subject to change every day from amazon, but you can get the Arrow H6880 and H6103 chair from here for $299.00.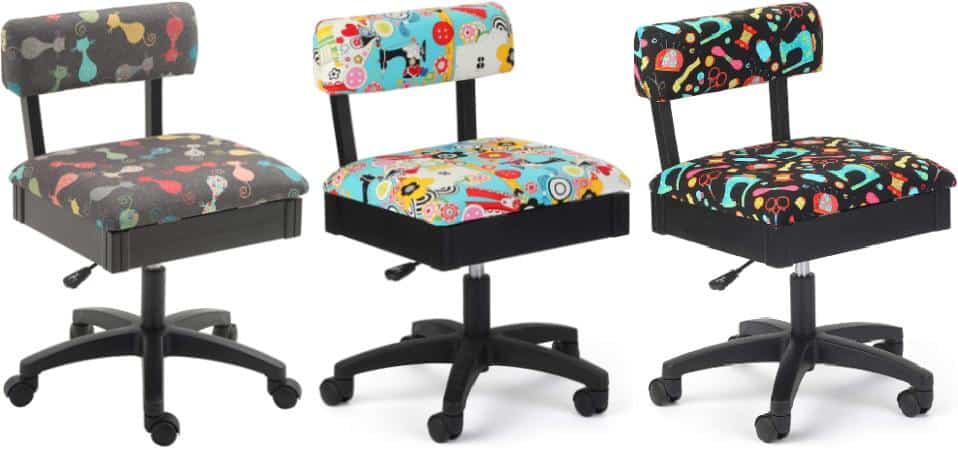 Check Price on Amazon
This chair weighs about 25 pounds. The measurement for the seat cushion is 18″ wide X 16″ deep. It is backed up by a 1 year limited warranty, just like most other things that you buy.
Arrow H6103, H6880 and H7013B Sewing Chair Review
The average rating for this chair design is awesome. If you don't believe me click here to check it out for yourself. This link shows the middle chair with the light blue sewing background pattern from the above picture.
Many are saying this chair supports their back really well and some are asking if you should get this chair for sewing if you have back pain.
✅

Pros:
Easy to assemble.
No arm on the chair so it won't get in the way of your sewing table.
This supports your back really well.
It is sturdy and rollers move smoothly on the floor.
❌

Cons:
The chair might have an odor at first but the smell will dissipate in a day or two.
A little more expensive than your normal chair.
A couple are saying they have missing parts. Just be sure to check that you have all the parts. Almost all manufacturers have these missing part problems. This really depends on your luck.
You can find the assembly manual by clicking here. I took a look at the manual. It doesn't seem that hard to put it all together. The manual has only 6 steps for you to follow to assemble it.
Arrow Wood Sewing Chair with Under Seat Storage
This is a cute little sewing chair made out of wood. The seating area or cushion has a sewing pattern design. It matches nicely with a sewing table.
This style of chair gives you 5 color options to choose from. Which color is your favorite? My favorite one is the light green and blue. I believe they have made matching sewing tables for this chair.
If you are interested to see what it looks like then click here or here as well. To me the table looks beautiful and elegant.
Features:
Made with solid wood material for durability.
Holds up to 250 pounds weight limit.
Has a hidden storage compartment. No one can even tell it's there if you are sitting on the chair.
The chair is designed for supporting proper posture.
It has 5 wheels for flexibility for movement.
The backrest measurement is about 17.5″ W x 4.5″ D x 10.5″ H.
The measurement for the hidden storage is 15.5″ W x 13.25″ D x 2.0″ H.
The dimension for the seat cushion is 18 inches wide by 16 inches deep.
This comes with a 1 year warranty like the above chair. You can find the assembly instructions by clicking here. This one has only 3 steps for assembly.
The shipping weight for this chair is about 23 pounds. The finished assembled chair is 30 inches tall, but if you just want to know how tall the chair is from bottom to cushion seat it's about 20 inches tall.
Buy This Online
You can find out the current selling price by clicking either the below picture or the button. You can also get this design by clicking here and they also have the kitty pattern.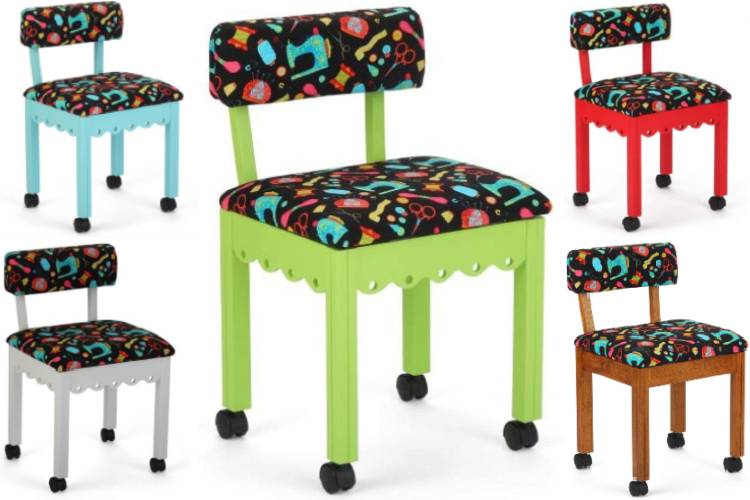 Check Price on Amazon
Review
A lot of users who have made a purchase of this chair are very happy. So the average rating for this chair is super high.
✅

Pros:
Easy to put together.
Cute design and made with high quality.
Very comfortable and sturdy chair.
❌

Cons:
A customer received a defective chair that was misconfigured when she was trying to assemble the chair.