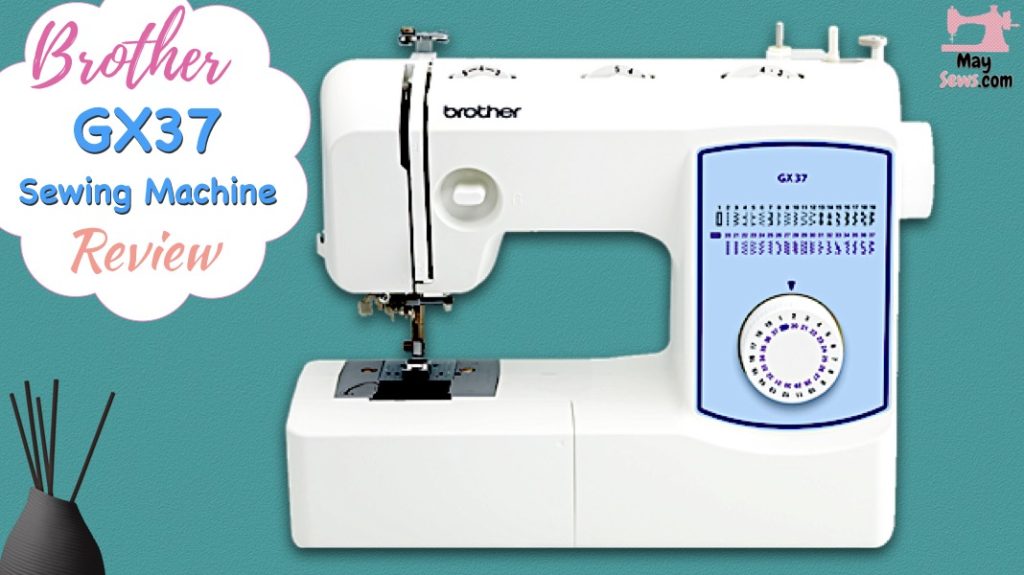 This Brother GX37 sewing machine is pretty darn new. I believe this model was released just this year in 2019 from amazon. It might have released much earlier from the Brother website.
As of today September 10, 2019 the selling price is pretty affordable to me and it is under $100.00 if you buy directly from amazon. You can click here to check its current selling price.
Hopefully, the price is to your liking when you check it. You can also get the refurbished model and the price is a little cheaper. As for me I don't like buying refurbished products. I much prefer a brand new item. It is just my preference.
This Brother GX37 model is designed for a newbie to use because it has about 37 built – in stitches. A complete beginner doesn't need that many built – in stitches, just enough to learn to sew and it can help you to show off your creativity.
Brother GX37 Video
You might want to watch this video. She is unboxing the Brother GX37 sewing machine. The video is about 9 minutes long.
Features:
Here's what is built into this machine.
Free arm – which is nice to sew hand cuffs and sleeves. Using it to sew baby clothes is pretty handy too. The free arm part can be used for storage for little things like bobbins.
37 built – in stitches – That is plenty of stitch style patterns to select from to show off your sewing skill. These 37 stitch styles are imprinted on the machine for easy access to them. Selecting the stitch patterns couldn't be easier by just turning the dial. It is just located a little lower from the imprinted image on the machine.
Automatic needle threader – This means the machine is putting the thread in the needle hole for you without you having to do it manually. I love this feature.

LED light

– This is built – in where you need the light the most. It is located where you are doing the sewing. Sometimes, you just need some extra light to see better when you are working on a project.
Quick Set Bobbin – Loading the bobbin with this model is super easy. It is on the top and not underneath anything. The bobbin cover is clear so it makes it easy to see how much thread supply you have left on the bobbin.
Bobbin winder – Winding thread in the bobbin is pretty easy with the bobbin winding system. I am just wondering how long it will take to finish winding up thread in the bobbin manually with your hand? It will take forever. What would we do without this function?
Feed dog points – The machine is built in with 7 feed dog points so you will have more control when you are sewing with the fabric. The higher numbers of feed dog are better for taking control of fabric.

Foot controller

– You will be operating this machine with a foot pedal. The harder you press down on the foot controller the faster the machine will go. This is the only option to be able to control the sewing speed.
Reverse sewing lever – By pressing the lever, it will cause the sewing machine to sew backwards or in reverse. This will be handy to sew the beginning and the ending of the seam. This is to re enforce the seam from going loose.
Tension control dial – This model gives you the ability to adjust the upper thread tension with the dial. That means you will have more control on how loose or tight with your thread tension. There are sewing machines that don't have this option.
1 step auto size buttonhole – With the provided buttonhole foot making buttonholes couldn't be easier.
Thread cutter – It is located on the upper left side of the machine head. This is a manual thread cutter which still needs your hand to pass the thread through the cutter to cut it. It is still nice to have it available if you can't find a pair of scissors around.

Twin needle option – This has been made available on the machine that you can use twin needles to sew with your projects. It is up to you whether to use this function or not but it is cool to have it.
With twin needle sewing you can actually use two different colors of threads for sewing. It is pretty much for decorative stitches. Please do note, by sewing with twin needles you will have to manually thread each needle separately.
That means you can't use the automatic needle threader. That is designed to be used for a single needle. Doing so can cause the sewing machine to be damaged.
The machine comes with 1 included twin needle, but if you want to buy additional Brother brand twin needles that might be a little challenging. I have tried to see if I can find some online but they are not available.
The model for the twin needle part code is X57521-021:2.0/75 with a 2 mm width. You can try to use other brand's twin needle if you can't find it but make sure it is compatible with this machine. You can always try your local authorized service center.
Buy The Brother GX37 Sewing Machine Online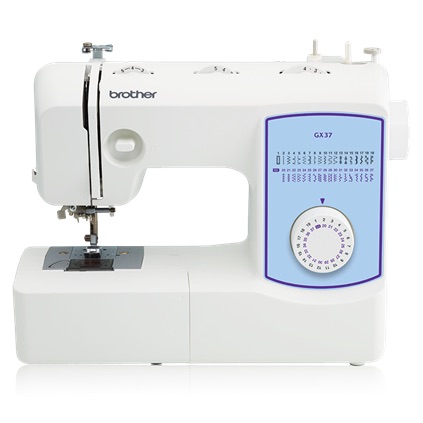 Check Price on Amazon
Accessories Included
Zigzag foot "J"
Zipper foot "I"
Buttonhole foot "A"
Button sewing foot "M"
Blind stitch foot
Narrow hemmer foot
Accessory pouch
Seam ripper
Cleaning brush
Eyelet punch
Oval screwdriver
Bobbin (4)
Darning plate
Extra spool pin
Needle set (3 piece set)
Twin needle
Ball point needle
Foot controller pedal
Extra spool pin
Instructional DVD
Soft cover
Power cord
Operation manual
Brother GX37 Review
While writing this Brother GX37 review the average rating for this model is very high, but it might not have that many people who have given it a rating.
Despite the cons from below, this is a very nice white looking sewing machine and it is easy to take it to where ever you go since it is lightweight. You can't ask for more for an affordable sewing machine. The more functions a sewing machine has usually cost more on the price.
✅ Pros:
Easy to set up.
Simple to use without all these extra features to learn how to use.
It's a quiet sewing machine.
Affordable price
❌ Cons:
No Start/Stop button.
No needle stop position up or down.
No automatic thread cutter.
No speed control.
How Many Stitches Can You Sew Per Minute?
This model has a pretty fast sewing speed. You can use it to sew up to 850 stitches per minute. If you are a complete newbie I wouldn't suggest you to sew that fast just to be on the safe side.
Can You Adjust The Stitch Length And Width?
I am happy to say it is a yes. You can adjust both the length and width stitches by using the dial. The maximum stitch for length is 5mm and the width is 7mm.
You should probably follow the recommended stitches length and width from the manual for the stitch style patterns.
Does This Include a Carrying Case?
No, this model doesn't come with a carrying case. It does come with a soft cover to protect the machine from dust when it is not being used. There is a part that you can grab onto for moving it to places.
If you really need a carrying case you can always buy one separately. Just be sure the case will fit this model machine with the provided measurements from above. You don't want to buy something that doesn't fit and have to return it.
How To Thread The Brother GX37 Sewing Machine?
Threading this model is not that hard. The manufacturer has provided a quick reference guide for you to follow along to thread it. The reference guide even has pictures and written words with step by step instructions.
You can click here to download the lower and upper threading guide. The PDF might have a better graphic than the below pictures. I included the below images in case the PDF is not available anymore.
Oh yeah, the reference guide is not only written in English but also Spanish as well. There are only 10 steps to do the Lower threading and 12 steps for Upper threading.
Please click the below images to enlarge the images to open in a new window if you need to know how it works with the threading. Oh yeah, I would also like to mention the user manual will provide you these instructions too.
What Bobbin Size To Use On This Model?
If you need extra bobbins for this model then you should stick with the Brother brand since different companies make their own bobbins for their sewing machines. You can click here to buy additional Brother bobbins.
The model number for the bobbin part is SA156. The machine comes with 4 total bobbins. One of them is supposed to be in the machine.
I wouldn't recommend using other third party made bobbins. They most likely don't fit and the machine won't work properly. It might possibly damage the machine.
If you must use other brands of bobbins then you should stick to the bobbin sizes of 11.5 mm (7/16″).
What Is the Voltage For This Machine?
The voltage for this machine is 110v and it is designed to be used for United States outlet. So you shouldn't be buying this model when you are living outside the USA.
Where Is This Machine Made?
If you are curious where the machine is made, according to the box it is made in the country of Vietnam and the whole box weighs 15.9 pounds. That's including everything like the machine and accessories.
Does This Come With Wide Table?
I am sorry to say, it doesn't. If you need a sewing machine that has a wide table then you might want to check out the Janome JW8100 or Brother CS6000I sewing machine. These two sewing machines include a wide table, but their prices are a little higher.
What Is The Weight, Dimension, Warranty And Manual?
This sewing machine is pretty lightweight. It weighs about 10.14 pounds, so that makes it very convenient to bring it to places with you. Here are the measurements for this machine, it is 12.48″ W x 16.26″ D x 7.01″ H.
This machine is backed up by a 25 years warranty from the Brother brand and you can find the manual by clicking here. The manual is about 108 pages. It includes English and Spanish languages. For just English it is around 53 pages long in PDF format.