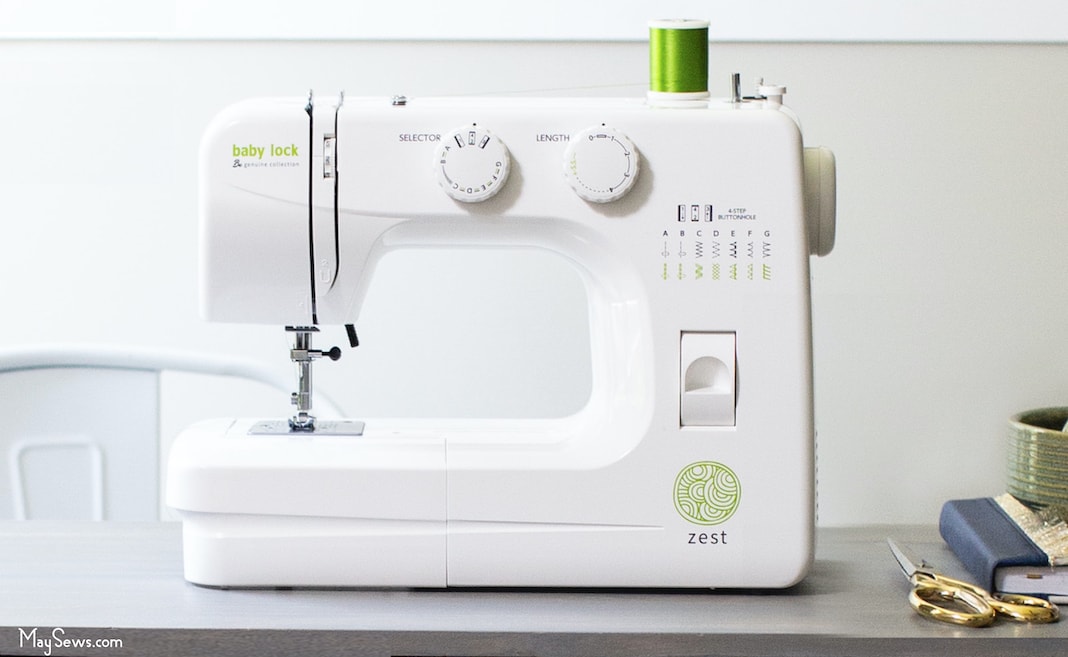 Here is another Baby Lock Zest BL15B sewing machine. This machine is definitely designed to be used for a beginner because it has very basic features and the price is cheaper when it is compared with other Baby Lock sewing machines.
So if you are in a very tight budget, a newbie in sewing and would like to own a Baby Lock sewing machine then this might be a good choice for you.
To be honest personally I wouldn't go with this model because it doesn't have a feature I need the most for my sewing projects. The feature I need the most is the automatic needle threader and this Zest model doesn't have it.
You might not have a problem with it if you have good eyesight. As for me I have very bad eyesight. So I much prefer sewing machines to have the automatic needle threader function. The Baby Lock Zeal has this built-in function. If you like you can read this Baby Lock Zeal review post by clicking here.
Baby Lock Zest Sewing Machine For Sale
You can buy this model by clicking either the below big image or the blue check price button. As of today December 19, 2021, this item is qualified for Free Shipping and NO Sales Tax if you are currently NOT living in California or certain states.
This also comes with two bonuses. The two bonuses are you will get a FREE Tote and sewing zipper pouch. The measurement for the tote bag is 17″ x 8″ x 13″ and the measurement for the zipper pouch is about 4 7/10″ x 3 9/10″ x 4/5″.
You can check out the below big image to see what the tote and pouch looks like. Looks pretty stylish right?
If you decided to go with this model be sure to select "Add FREE Genuine Collection Tote & Novelty Sewing Zipper Pouch" from the selection options when you are doing a check out. Unless you don't want these two bonuses then you can select the other option of "No, Thank You".
I don't know how long these two bonus deals for the tote and zipper pouch will last but as of today December 19, 2021 it is still available.
If I were you I would get it as soon as possible before it is not available anymore. Getting a carrying case for a sewing machine separately can cost anywhere around $50 and over.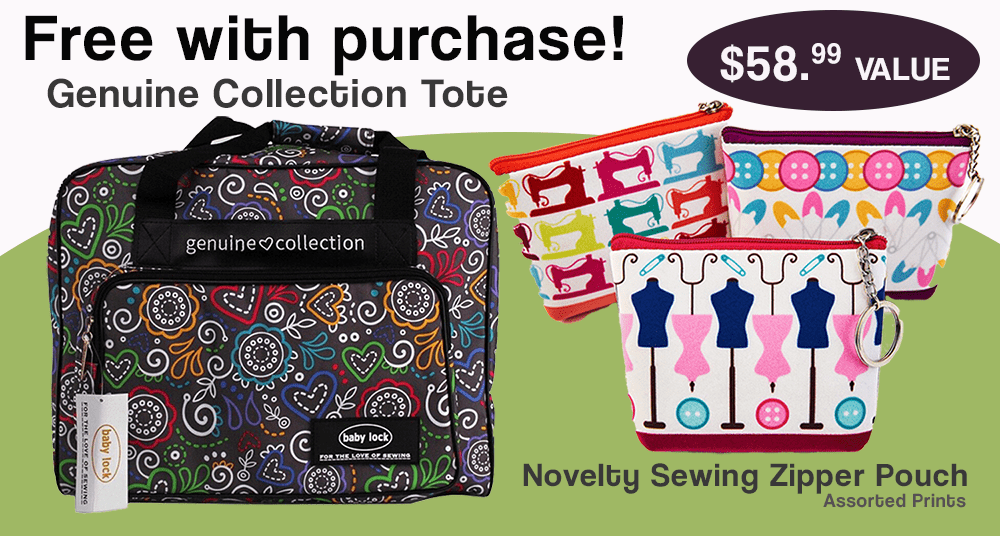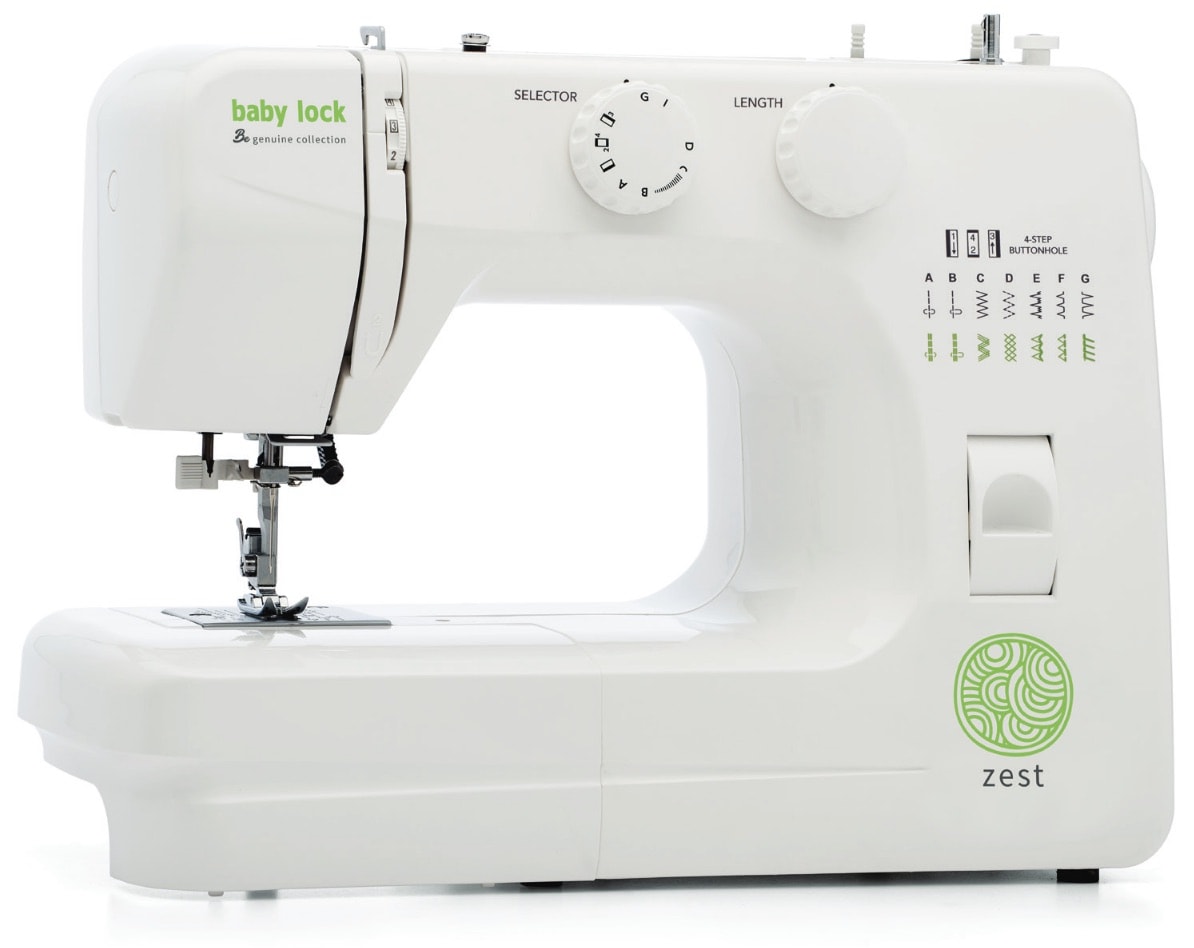 Check Price
Features
Number Of Stitches Pattern – This one only has 15 stitches patterns to select from and that makes this sewing machine great for a newbie to use. That is because for a newbie you don't need that many pattern stitches to select from.
All you need to know is to learn how to use the machine to the fullest and do your best to learn to sew. I think that is the most important thing for a brand new seamstress. Don't you agree?
Adjustable Stitches – The Zest model allows you to adjust the stitches length from 0mm to 4mm. Some other sewing machines won't even allow you to do so. If you like adjusting both stitches for length and width, then I suggest to go with the Baby Lock Zeal model instead.
Free Arm – You wouldn't want to have a sewing machine without the free arm. There are sewing projects that make having a free arm are much easier, like sewing baby clothes, sleeves, cuffs, pants and other hard to reach areas.
Manual Thread Cutter – This little cutter saves you the trouble of finding the scissors to cut your threads when you need to. There are a lot of sewing machines that have this built in feature.
Four-Step Buttonhole – I much prefer it to have a one-step buttonhole feature instead of the four step, but four steps aren't so bad when it includes the sliding buttonhole foot. The buttonhole foot is a snap on to the presser foot holder.
If you are having doubts or not clear on making buttonholes then you should refer back to the user manual.
You should also try making buttonholes on an unwanted fabric first instead of on the actual sewing projects if you are making it the first time or not familiar with making it. That way you will be less likely to make mistakes.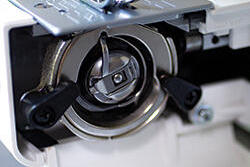 Front Loading Bobbin – It has a front load bobbin system. A front load bobbin system usually doesn't have a clear cover.
It would be much nicer if it had a clear cover to monitor how much thread you still have left in the bobbin before winding some more.
Portable Design With Handle – This model weighs only 13 pounds so it is great to take it to sewing classes and clubs. It has a built in handy little handle for easy carrying to places.
Foot Controller – The machine will be operating with this included foot controller. Most of your average sewing machines will operate with a foot controller. A little more expensive sewing machines might have the built in Start/Stop button function.
Built-in Accessory Storage – This accessory storage is located around the sewing area, which is the de-attached part that turns into a free arm. This storage is a great way to hold extra bobbins, needles, steam ripper and other sewing small accessories.
Reverse Stitch Lever – This lever is frankly for sewing reverse stitches. You usually use this when you are starting at the beginning and ending of the seam and what ever parts where you want to do more reinforced stitches.
Video Tutorials
Here is a video showing you how to wind the bobbin with the Baby Lock Zest model.
You can also watch other topics like "How to Adjust a Stitch, How to Sew a Buttonhole, How to Insert a Bobbin, How to Install the Darning Plate, How to Top Stitch, How to Free Motion Quilt, How to Sew on Unique Fabrics, How to Use the Tension Dial, Changing Presser Feet and a lot more other video tutorials for this model".
It practically shows you almost everything about this model on the video. After you have watched all these you should be able to use it and you might not even have to read the user manual that much. But you should always read the manual before starting to operate this sewing machine.
Anyway, Click here to watch more video tutorials for this model. If there are videos available for a new product that I am planning to buy, I usually watch them first before making the purchase. Because I would like to see how that new product works.
How to Thread a Baby Lock Zest Sewing Machine?
I have seem some people asking "How to Thread a Baby Lock Zest Sewing Machine?" so I thought I would include this video for you to check it out. From the video it is not that hard to thread this machine.
If you are having difficulty just watch the video a couple of times and then you will get it. Besides, this video is not that long. It is around 1:38 minutes long.
Included Accessories
These are the following included accessories to the sewing machine when you have made the purchase.
It comes with:
4 Snap-on feet – Sliding Buttonhole, Zig Zag, Blind Hem and Zipper

Bobbins – This includes 3 bobbins. If you need extra ones then you need to buy them separately. Just to let you know it is Class 15 for bobbin size.

Darning Plate

Needle Package – The package has three needles.

Screwdriver

Seam Ripper

Spool cap
Baby Lock Zest BL15B Review
To be honest with you despite the CONS from below, the Zest model is still a little more popular than the other two models of the Zeal and Joy. It has been out in the market a year or two sooner. The Zest model has an average rating of 4.7 and over 155 users who have given it a rating.
Like I said before, I can't go with this model due to the fact that it doesn't have a needle threader and I have very poor eyesight, but you can still choose this model if it doesn't affect you.
This is a great sewing machine for beginners to use. As a beginner you don't need that many fancy features for a sewing machine. Mostly you might not use them and with all these extra features it might cause a distraction.
✅ Pros:
It is small in size and lightweight.
Easy to use and easy changing stitches.
Great in price.
Makes an excellent sewing machine for youngsters learning how to sew.
❌ Cons:
No needle threader.
No adjustable stitches for the width.
No Start/Stop button.
No automatic threader cutter.
No needle up/down position setting.
Dimension and Weight
This sewing machine is 13 pounds. The measurement is 12.5" for height, 15.5" for width and the 5.75" for depth. It has a 6 inches sewing bed width.
Warranty and Manual
The Zest manual is 56 pages long with three available languages and they are English, Spanish and French. You can download it by clicking here.
Honestly, I think it would be better to separate the pdf in three languages and let the users choose to download whichever language they want instead of combining it all together.
It wastes a lot of time scrolling to the sections where you want to read more about it in the pdf.
Anyway, this sewing machine has a 25 year limited manufacturer's warranty. It is 10 years for parts, 1 year for circuit board, 2 years for electrical and 1 year for labor.