Note: This post may contain affiliate links. If you click a link and buy something we may earn an affiliate commission at no extra cost to you.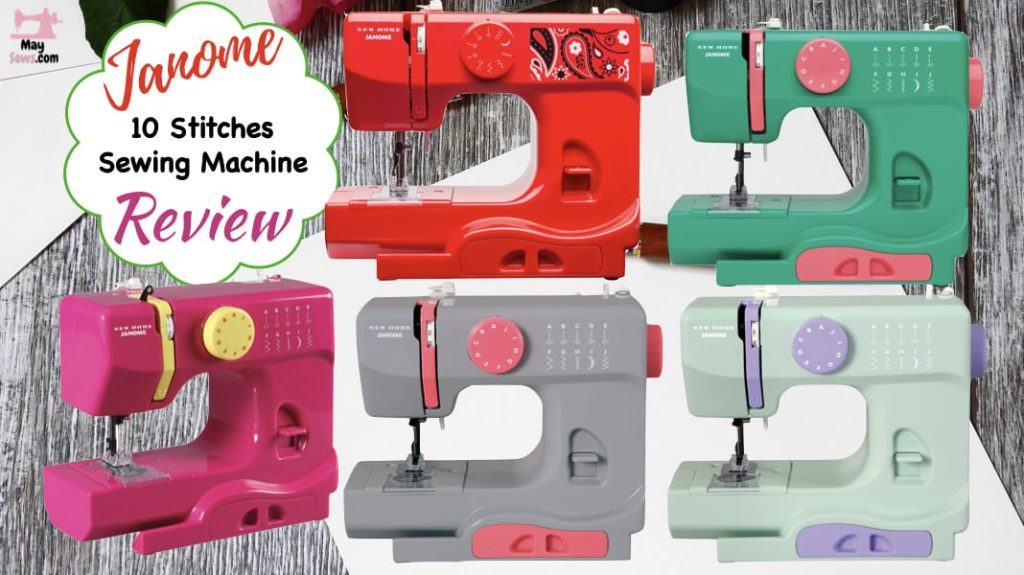 Today, I am doing a review on the Janome 10 stitch sewing machine. This machine comes with many different colors. I say it is about 12 different colors and it is marketing to little kids to learn to sew.
This is a good machine if it works. It is pretty popular out in the market, though I don't recommend this model. Click here to jump ahead to read why I don't recommend this one.
The idea for this model is pretty good but they should fix the quality control for this one. They should build it to last much longer until the kids are ready for an upgrade. After all they didn't have the intention of building this is as a toy.
What Features Does This Model Come With?
This model doesn't really have that many features since it is designed for kids to use. It pretty much has very basic features.
Stitches
This machine has 10 stitches selection. To break it down, it has the following:
5 Straight Stitch variations (A – E) – Basic sewing, inserting zipper
3 Zig-Zag Stitch variations (F, G, H) – Basic mending, garment construction
1 Crescent / Scallop Stitch (I) – For embellishment and applique
1 Multi-Stitch ZigZag Stitch (J) – Stretch fabrics like knits
To select stitches pattern, just move the dial.
Reverse Lever
This does come with backward stitch sewing to reinforce the beginning and end sewing. This is pretty much a basic feature. It is just required to secure the seam without becoming loose.
If a sewing machine doesn't even have this feature then you shouldn't even consider buying it, but nowadays almost all sewing machines come with this feature. So you don't have to worry about not having one.
Free Arm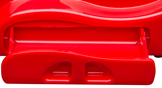 Yes this one does have a free arm, but it is a little different from other models. You don't have to detach any parts.
It is already made as a free arm. The component part for the storage is a pull out like a drawer. It's just a little lower to the reverse lever.
Bobbin and Finger Guard
This one makes it easy to change the bobbin on the top with a clear bobbin cover. The feet are made with children in mind with a finger guard.
This is definitely a plus for protecting little kids from getting hurt. So far I have come across two sewing machines that have a finger guard feature. This one and the Brother ST531HD model.
I much prefer the ST531HD model but the price is much more higher than this one, but the finger guard for that one is made of metal and it is removable.
Here are the rest of the features
4 piece feed dog system
Extra high presser foot lift
Push-Pull Bobbin Winder
Stitch Selection Dial
Adjustable Tension Dial
2 needle positions, left and center
Buy Online
If you still want to buy this model after reading this review then click the below image to check the current selling price. Many people are successful with using this one.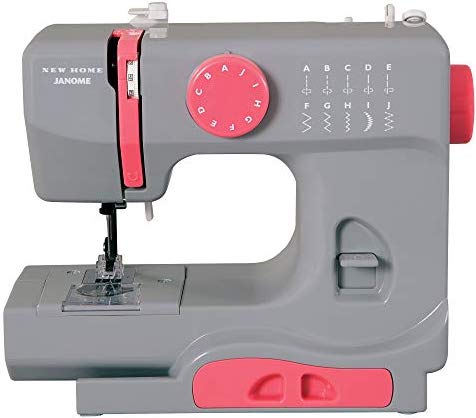 Check Price on Amazon
What's In The Box?
Sewing machine
Foot pedal
Needle threader
Needle
2 bobbins
AC adapter
Instruction manual
Janome 10 Stitch Sewing Machine Review
Based on my research on this model, I definitely wouldn't go for this model. That is because a lot of users are not happy with their purchase and the average rating for this one is pretty low.
To me anything that is rated under a 4, I don't usually consider it. Well, there might be exceptions, but in this case I won't. There are other better models than this one.
The biggest issue for this machine is it doesn't last long. Many have complained it's cool when it works but it doesn't last long and it breaks. It's usually past the return window with the retailer, and then you will have to deal with the manufacturer for repairs.
The manufacturer usually will require you to pay for shipping costs for both ways. I don't think it is even worth the repair since the price for this machine is not that expensive to begin with.
As a matter of fact it is pretty cheap. I guess this is what is called getting getting the same quality for the amount of money that you pay for.
If you really want a nice quality sewing machine made by the same company then I suggest the pink Janome Sorbet model. The price does cost more than this model. If you like, click the blue hyper link to read more about it.
On top of that this model has no thread cutter, not even a manual one. It does come with a needle threader that is not built in the machine. These types of needle threaders are usually very easy to break.
A lot are complaining they are having a hard time threading the needle since the finger guard is in the way and there is no light to see better.
✅ Pros:
Lightweight.
Easy to use.
Great price.
Many colors to choose from.
❌ Cons:
Thread always jamming.
No thread cutter.
No built in light.
Dimensions and Weight
Here are the dimensions and weight. The weight for this one is very light. It is about 5 pounds and the dimensions are 10.5″W x 9″H x 5.8″D. The working space measurement is 4.3″W x 3.8″L
Warranty and Manual
You can find the manual by clicking here. The manual is about 39 pages. It is written in English and Spanish. One page is for English and the next page is for Spanish.