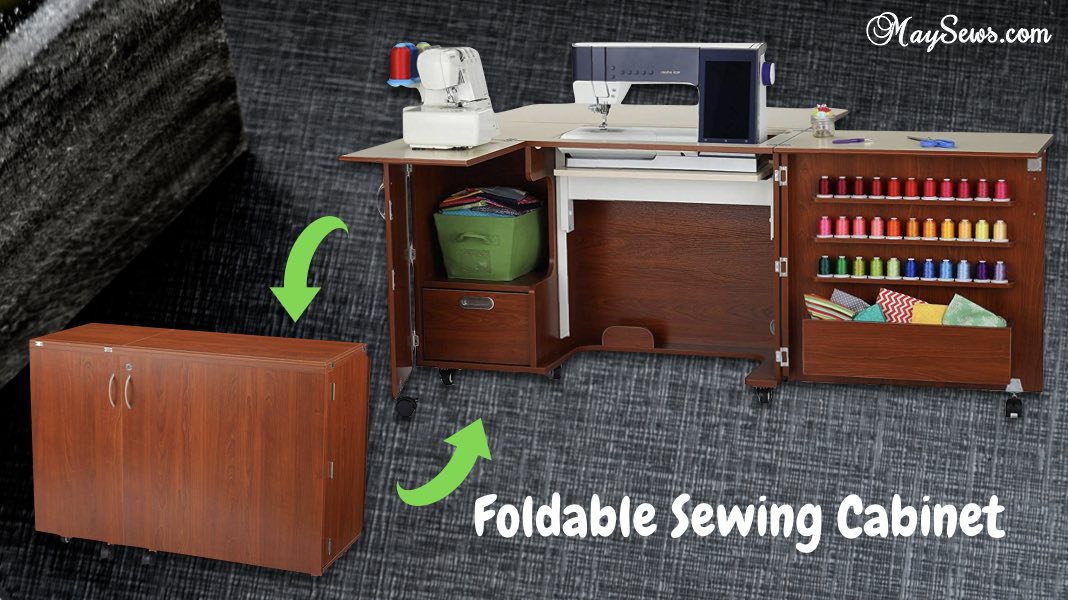 Today, I am doing the Kangaroo Kabinets Wallaby 2 sewing cabinet review. This sewing table comes with a lot of working space to work with your projects, but on the other hand it is kind of pricey.
This sewing table doesn't take up that much space when it is folded or closed for decoration. What I like about this model is it has a built in lock that comes with two keys.
You will definitely need this if you have very little kids that like messing around with your things. Seriously, I have a kid with a disability who likes to mess around with my scissors and cutting knives. He just recently cut one of his fingers without me noticing it. So I like to lock away anything that is possible to hurt him in any way.
You might also like to check out other designs of Sewing Machine Tables With Wheels.
Assembling Video
You might want to check out this video to see if you can assemble this sewing machine table or you can choose to buy the whole thing fully assembled. Click here to jump ahead to the section for buying it online.
This video might be a little long but it is worth the time watching it. The video is 25 minutes long showing how to put it together.
Features
Let's see what this design has to offer when owning it.
Sewing table becoming a cabinet:
When the sewing table is folded up, you can use it for decoration and put things on it, like a lamp, vase with flowers or anything you want to use it for.
The table is moveable with wheels so you can place it anywhere you want it to be.
You can store or hide your sewing machine in the cabinet when it is not being used.
An extra drawer is located on the left side for you to hold your accessories.
You can store your serger on top of that drawer as well if you have one or anything else you would like to place in that spot.
It has a built in lock and it comes with two keys to lock away your sewing items, so no one can mess with it.
Cabinet turned into a sewing machine table:
When it is turned into a sewing table, you will have a lot of working space to work on your projects.
The rollers can be locked to secure it from moving when you are sewing.
It has three shelves designed with 33 spool holders which you can use to hold thread, and below that it has a larger drawer to hold more of your accessories.
The sewing table has a hydraulic lift which gives you three positions to select from like free arm, flatbed and storage.
The back of the table has a drop leaf which gives you more quilting or sewing space if you need it.
You can put a serger on the top left side door of the sewing table when it is opened.
The airlift platform can hold up to 55 pounds and it can fit most of the sewing machines in the lift opening. That being said, you should know your measurements for your sewing machine to be sure it will fit in the opening.
Buy The K8405 Cabinet Online
You can buy this sewing cabinet either on amazon or Sewing Machines Plus. If you are buying it from Sewing Machine Plus then you can choose in the checkout to purchase a fully assembled Kangaroo cabinet in Teak (K8405) or White Ash (K8411) colors with an additional cost.
Of course you have the option to choose not to. After all, the assembled one costs a lot more. Oh right, you will also have the option to add a custom insert for the sewing machine with an additional cost.
The fully assembled table and custom insert is only available at Sewing Machine Plus. Amazon might not have these two options to choose from. Click here to check it out with Sewing Machine Plus website.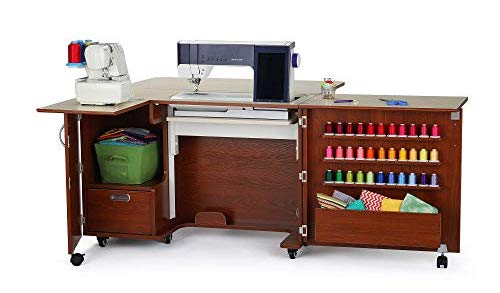 Check Price on Amazon
Product Dimensions
The measurements for the sewing machine table when it is closed are 42.75 inches for width x 19 inches for depth x 30.25 inches for height.
The measurements for the sewing machine table when it is open are 70.62 inches for width x 59.88 inches for depth x 29.5 inches for height.
The following part is very important to determine if your sewing machine will fit or not. Your sewing machine shouldn't be larger than the below measurements for the opening lift and platform.
23.5 inches wide (measuring from left to right)*
12.25 inches deep (measuring from front to back)*
13.87 inches tall*
*Be sure to measure your sewing machine and include knobs, plugs, etc. that extend beyond the body of the machine.
Be sure your sewing machine doesn't weigh more than 55 pounds because that is the maximum weight limit for the airlift platform.
If you need it, there is also a custom insert available. To see where to get the custom insert please read the Buy The K8405 Cabinet Online section.
Review
This is a very cool looking sewing table and it is also great for people who are living in apartments or have small rooms.
So far the average rating for this table is pretty high. Some are complaining the assembly instruction manual is not so good. But it will help you a lot if you watch the above video.
✅ Pros:
Takes less space when it is folded and a lot of working space when it is open.
A stylish and nice looking cabinet design.
Lock away your important crafts or sewing items from others with the built in lock.
❌ Cons:
It is pricey.
Might need a bit of time putting it together.
Manual
If you like you can find the assembly manual by clicking here. The manual is 16 pages long. It requires adobe reader to open it.
Sewing Machines That Are Not Compatible
You may want to read the following list of sewing machines that are not compatible to be used for this table or cabinet.
The reason for that is they are too large for to fit in the cabinet. So if you own one of the sewing machines from below then you shouldn't buy this table.
Brother Dream VX8500D
Baby Lock Destiny
Janome Horizon 15,000
Elna 920 eXpressive
eXpressive 920 (Same as Janome Horizon Memory Craft 15,000)