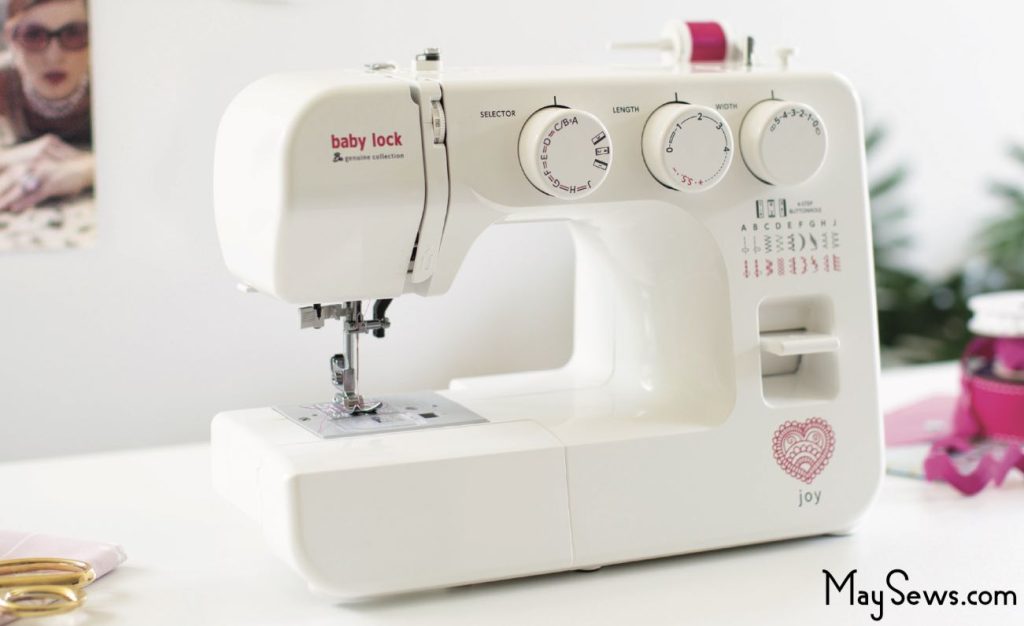 The design for the Baby Lock Joy BL25B sewing machine looks kind of nice. It has a little pink heart on the left side of the the sewing machine. This is another sewing machine that is designed have a beginner in mind.
When I take a first glance at this sewing machine, it gives me the impression that it will be easy to use.
Even though you might think it is not easy for you, you don't have to worry because the Baby Lock company has created all these video tutorials showing you how to use this model efficiently.
I have to say the selling price for this model is $100.00 less than the Zeal model. I think mostly because it has less included snap on feet, less built – in stitches patterns and it has a four-step buttonhole.
What do you think? Will you be going with this Joy model or the Zeal model? You can read the Baby Lock Zeal review by clicking its hyperlink or you can also read the Baby Lock Zest review too. In terms of price the Zest model costs the least. Personally, I would go with either the Zeal or Joy model.
Baby Lock Joy Sewing Machine For Sale
Last time I have checked the MSRP for the Joy model is $399.99 but you can get this under $250.00 as of today, December 27, 2021. It is too bad that this model doesn't include the bonuses of the tote bag and zipper bag like the Zeal and Zest models do.
If you want the tote bag, you would have to pay additional $39.99 for it from the check out process and of course you can choose to NOT add it.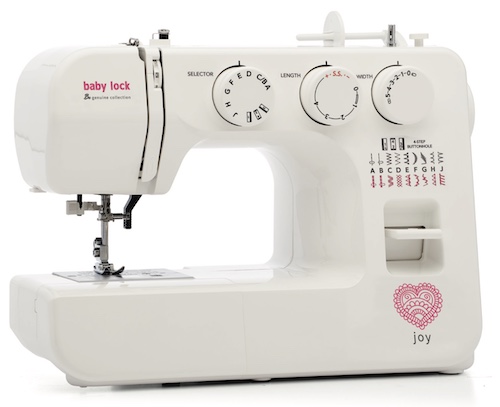 Check Price
Features
Now it is time to talk about what this model has to offer. This is the most important aspect of a product right?
I usually look at the features and the selling price when picking out a product that includes selecting a sewing machine.
Stitch Patterns – This one has 19 built – in stitch patterns for you to work on your sewing projects. It should be plenty enough for a newbie. I think a newbie doesn't need that many. If you are an advanced user then that might be another story.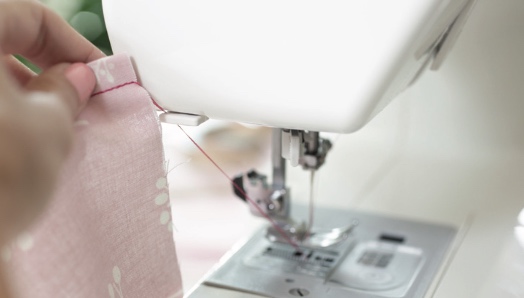 Convenient Thread Cutter – Just want to let you know this is a manual thread cutter. It is usually on the left side of the sewing machine. It is a little below the face plate.
It would be nice if this was an automatic thread cutter, but a sewing machine that has an automatic thread cutter usually costs more money on the selling price.
A manual thread cutter is still awesome to have if you can't find an available pair of scissors.
Seriously, I can't even find my things these days since my kids never bring them back to where they're supposed to be when they took them. So this will be handy and convenient when you can't find available scissors.
Four-Step Buttonhole – This Joy model has a 4 step buttonhole. That means it will have more steps of making buttonholes and it will takes a little longer.
Honestly, it would be great to have a 1 step buttonhole. Don't worry if you are not sure how to make buttonholes because the manual will show you how to make them. Besides, the Baby Lock YouTube channel shows you how to make them on video. Click here to jump ahead to watch it.
Advanced Needle Threader – This feature is a time and frustration saver. I can't imagine what it would be like to continuously poke the needle eyes with the thread. The hole is so tiny and it really puts strain on my eyes.
If you think you are having trouble putting the thread into the needle eyes then I would recommend you to go with a sewing machine that has a need threader system. Seriously, there are plenty of sewing machines out in the market that don't have this built in feature.
This is the first thing I would look for when picking a sewing machine to buy. I won't even consider it if it doesn't have it. This is due to my poor eyesight. If you have no problem with your eyes then you can go without it if you choose to.
Free Arm Sewing – Your average sewing machine usually has this free arm sewing included unless it is a very simple and cheap one. Having this included makes sewing sleeves, waistbands, pants and other sewing projects easier and convenient.
Adjustable Stitch – This allows you to adjust both the width and length. You can do so with the dials from the sewing machine. It has a label showing which dials are for width and length. The maximum length you can adjust is 4mm and the maximum for the width is 5mm.
Accessory Storage – This little storage part is around the sewing area or this is also called the extension table. Don't be confused with the extra extension table.
You usually have to buy an extra extension table separately. Some models do include an extra extension table. This accessory storage is a lot smaller than the extra extension table. The extra extension table is usually for sewing bigger projects.
Anyway, you can use this little storage to store little bobbins, needles, and other small sewing items.
Reverse Lever – Having a reverse lever is useful and easy for sewing reverse stitches. That way you don't need to use the hand wheel to do enforce stitches.
The reverse lever is located on top of the big pink heart icon. You wouldn't miss seeing it because the lever is pretty big.
Drop Feed For Free Motion – Yes the Joy model is made available with a drop feed for free motion sewing. This feature will give you many opportunities to create many free motion sewing projects. It is very simple to drop the feed. All you have to do is just slide or push the lever to the left side.
To raise the feed dog just push the lever to the right side again. You have to remember that to sew normally, you have to raise the feed dog back up again.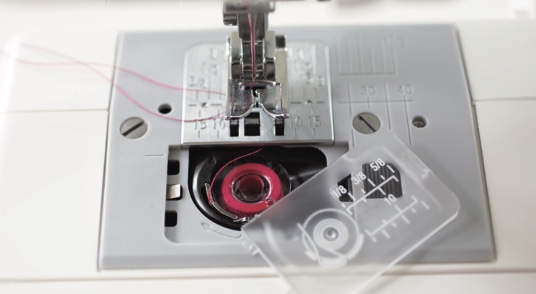 Drop-in Bobbin and Foot Controller – The design for the machine has a drop in bobbin and I think it is much better than a top loading bobbin design. That is because I can see the amount of thread still left on the bobbin with its clear cover.
With the top loading bobbin design I would have to detach the extension table or the accessory storage first and next I would have to take the bobbin case out to see how much thread is still left on the bobbin. It has quite a few more steps than the drop in bobbin design.
There is another way to see how much thread is left on the bobbin by sewing until the thread runs out before winding up more thread into the bobbin.
Speaking of bobbins, this Joy model uses Class 15. Be sure to buy the correct one if you needed extra ones. You can't really have too many of these.
Anyway, the Joy model has a foot pedal to run the machine. Nowadays, sewing machines either have only a foot controller or both with a foot controller and a Start/Stop button to operate the machine. Having both functions on the machine usually costs more money to obtain.
It is pretty obvious, the more features a sewing machine has the more the asking price the machine will have. If you like you can read the following post called Sewing Machine With Start/Stop Button to see which sewing machines have this function.
If you want a Baby Lock sewing machine with both functions then try the Baby Lock Jubilant Sewing Machine.
Video Tutorials
Here is a video tutorial showing you how to make buttonholes with a 4 step buttonhole function. From watching the video with the step by step tutorial, it looks pretty simple to make. The video is pretty short. It is under 5 minutes long.
There are other topics showing how to use this model, like how to wind thread in the bobbins, using free arm and other additional topics.
Included Accessories
Here are the following included standard accessories with the purchase. It is really too bad that it doesn't include a carrying case or a cover case. It would be nice if it did.
You will get 4 snap on feet. Those included feet are: Zig Zag, Zipper, Sliding Buttonhole and Blind Hem.
You will get three bobbins. If need need more you need to buy them separately.
A pack of needles. It has three needles in the package in size of 14/90. You will definitely need to get more because sewing needles are usually easy to break.
As you know without needles, you can't sew at all. According to the manual for general use, use the needle size either 14/90 or 11/75.
You will get a screwdriver, seam ripper, and spool caps in large and small sizes.
Baby Lock Joy BL25B Review
Based on the users who owned this model, there are a lot who are very favorable with this Joy sewing machine. Quite a few were giving this sewing machine to their granddaughter or daughter as a gift and they are very happy with their purchase.
You don't need an expensive sewing machine with a lot of features if you are a beginner. Just a basic, simple and easy enough to use model is more than enough just like the Joy model. Even an advanced user will appreciate using this Joy model.
✅ Pros:

It is quiet when it is being used.
Very easy setting up and can start sewing within 10 minutes.
Many are buying this model for their little girls to learn to sew.
❌ Cons:
No Start/Stop Button.
It jerks a little bit due to the machine being lightweight. This also happens if you are sewing at the fastest speed. If this happens to you then you might want to consider getting a sewing mat to solve this problem.
No speed control function. Just remember you will be using the foot pedal to operate this machine so the harder you press the pedal the faster the sewing machine will go, so if you like to sew slower then you would have to press lighter on the pedal.
Dimensions and Weight
The Joy model weighs 11.5 pounds. It is super lightweight. If you want something lightweight then you should stick with this model. The measurement is 10.25" for the height, 4.875" for the width and the depth is 6.25". The sewing bed width is 6 inches.
Warranty and Manual
You can find the instruction manual by clicking here. The manual is written in three languages and they are English, Spanish and French. It is in a pdf file so it requires a reader like adobe reader to open it.
This model has a 25 year limited warranty. It is 10 years for parts, 1 year for circuit board, 2 years for electrical and 1 year on labor. If you like you can get extra warranty from the place selling this model for more coverage when you go through the check out process page.