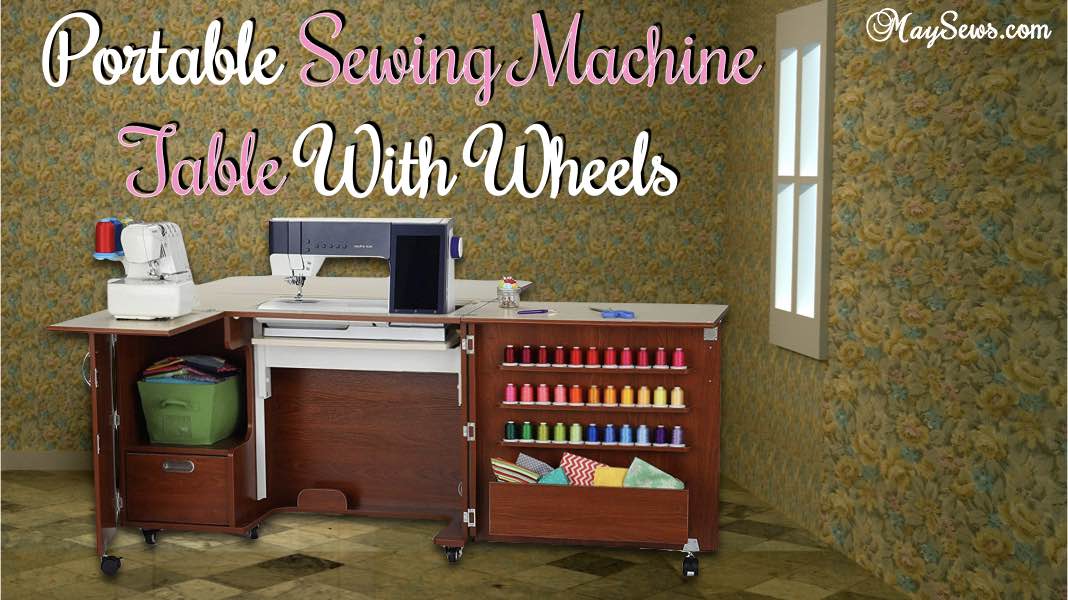 In this post I will be sharing 5 of what I think are the best portable sewing machine tables with wheels with you today.
Having a sewing machine table is a great way to store away your sewing machine and organize your sewing project accessories.
You don't want your little toddler to be messing around with your dangerous items like scissors, pins, needles and other sharp objects.
Little kids are usually curious about all kind of things, so it is best to put them away safe. It is even better to have a lock on them if it is possible. This is to ease your mind.
1. Sauder Miscellaneous Storage Sewing Table
The Sauder Miscellaneous table is my number one choice if I am buying from this list. This design being my number one choice is because it is very popular among consumers and the average rating is awesome. The price is very decent and affordable.
It is made out of wood with a cinnamon cherry finish. The color looks pretty nice and it comes with a lot of storage space.
There are two storage bins behind the door that you can use to store scissors, thread, bobbins, needles and anything that you wish to store.
There is a shelf especially to store your sewing machine on the left side with a hidden door when your sewing machine is not being used.
On the right side of the table it also has two other adjustable shelves with an open and close door.
There are wheels or rollers at the bottom of the table for easy moving to a different location. It looks like one person can get the job done to move it.
The top part of the table is stain, heat and scratch resistant. So this will make its appearance last longer.
Did I mention it is a drop leaf table? Having a drop leaf table will give you more working space for doing bigger sewing and craft projects. Definitely a plus to have.
It comes with a 5 year limited warranty and it does require assembly.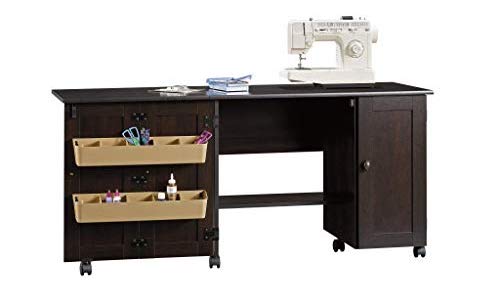 Check Price on Amazon
Let me talk a bit about the measurements for this design. This item weighs about 79 pounds with an assembled height of 28.50 inches, the assembled depth is 19.49 inches and the assembled length is 40.07 inches. When the drop leaf is being used, the measurement will be 63 inches wide.
✅ Pros:
Affordable in price.
Sturdy and easy to move around.
Easy to assemble.
❌ Cons:
Several reviewers received a defective product.
Some say it fell apart and that is because you have to make sure the bolts are tightened.
2. Sewing Craft Center Folding Table
Here is my second choice for a sewing table. This one is in a brown pine wood color. The design for this one is very similar to the above design.
It only has a few differences and those little differences I found are there are two additional handles on the top of the two doors and the knobs are a little different.
The rest of the features like shelves and drop leaf are also included in this design. Click the below picture to read more.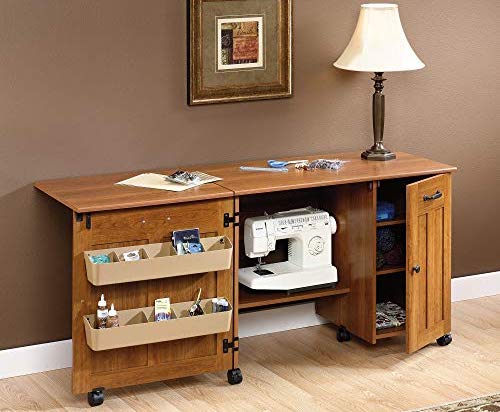 Check Price on Amazon
Here are the measurements for this item. It is 40.1 inches in Width X 19.4 inches in Depth and 28.5 inches in Height.
✅ Pros:
Looks really nice.
Comes with good instructions for easy assembling.
Has rollers for easy portability and the wheels are lockable.
❌ Cons:
Made with particle board wood but in high quality.
3. Arrow K8405 Wallaby II Kangaroo Sewing Table
Our third choice is the Arrow K8405 Wallaby II table. It is my third choice due to being too expensive.
Last time I checked it is priced over $1000.00 and I am certainly sure I'm not able to afford it. Even if I could afford it my hubby would complain a lot about assembling it for me. LOL…….. But once it is put together you will love this sewing table.
This style has two available colors to select from, white ash and teak, and both of them have their own model numbers. If it were me I most likely would pick the teak color since dirt is very noticeable with white color.
Here is another place where you can get this sewing table and you can get them fully assembled with an additional cost. All you have to do is click here.
If you like you can read my full review for the Arrow K8405 sewing machine table by clicking its hyper link. It will also tell you the pros and cons and its included features.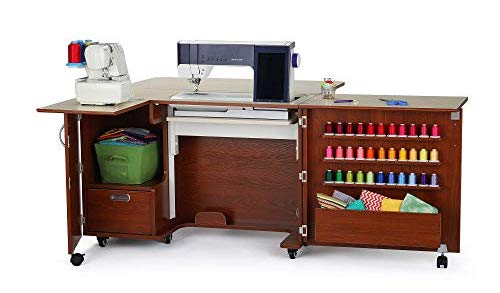 Check Price on Amazon
Best Sewing Table For Small Spaces
4. Giantex Folding Sewing Craft Table
As you can see from the below picture, not only can you use it as a sewing table, you can also use it as a laptop table.
You can hide the sewing machine inside the craft shelf when you aren't using your sewing machine. On the door there are 3 bins to hold your accessories.
When it is folded, it takes very little space and it is about 23.0 inches for Length X 16.0 inches for Width X 31.0 inches for Height. When it is open the measurements are 46.0 inches for Length X 16.0 inches for Width X 31.0 inches for Height.
If you would like to have a bigger size for this style then click here.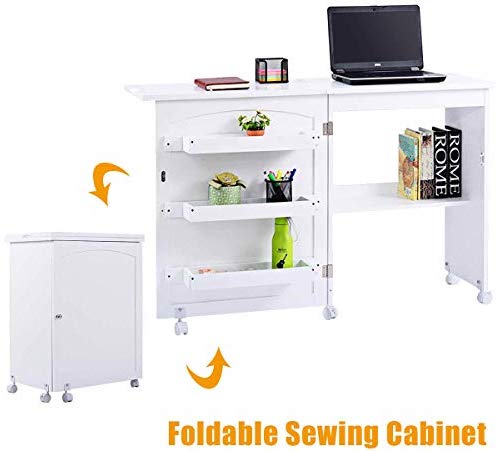 Check Price on Amazon
✅ Pros:
Space saver table.
Great portable cabinet.
Has an elegant looking design when it is folded.
Convenient and a lot of room for accessories.
❌ Cons:
Made with particle board wood.
Might not be easy for a novice to assemble this.
5. Southern Enterprises Eaton Rolling Craft Station Sewing Table
Here is another space saver portable table. This is the only one not foldable other than the drop leaf feature on this list.
For this design it has been made available in two colors. As you can see in the below picture it is in blue and the other one is in white color. There is a lower center shelf and 4 side shelves.
The wheels are lockable so it won't be moving around while being used.
A little side note to know. The top of the table can be used to hold objects up to 40 pounds and each of the side shelves can hold up to 10 pounds.
The measurements for this style are 31.5 inches for width without the drop leaf being used. When it is being used the size will be 51 inches. As for the depth, it is 19 inches and the height is 29.5 inches. That is including the wheels. This item weighs about 47 pounds.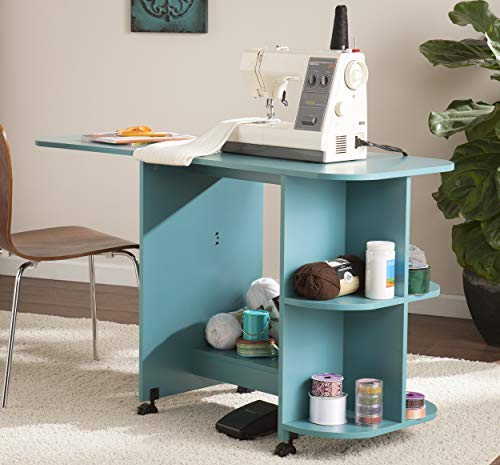 Check Price on Amazon
✅ Pros:
Space saver.
Great price.
Nice working space.
❌ Cons:
Made with

engineered wood

.
Bad assembling instructions.