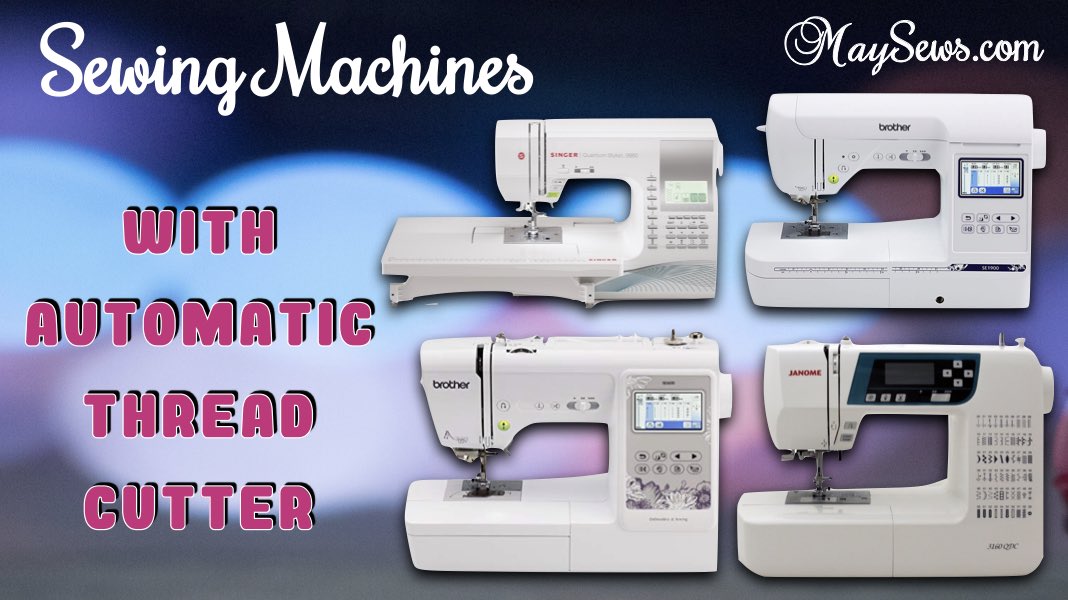 Are you searching for sewing machines with an automatic thread cutter? If so then this post might be helpful to you. I have spent quite some time on finding out which sewing machines have this feature on them and I have found quite a few of them.
Please do not confuse this with a thread cutter where you still have to manually cut the thread with your hand on the machine by pulling the thread on the cutter. It is just that you don't have to use a pair of scissors to do so.
This little cutter is usually either located on the back or left side of the machine. If you read the user manual then you will definitely find its location.
I noticed a lot of people are confused with this little cutter. Most of the sewing machines do have a thread cutter, but it is just not an automatic one. I do find some of the machines don't even have this little cutter. This kind of machine is usually in a very affordable selling price.
Anyway, an automatic thread cutter means the sewing machine is doing all the cutting for you without you having to use scissors or any kind of cutting thing.
To do this all you have to do is press the little button on the machine when you are ready to cut the thread. It is pretty simple and easy, right?
Just to let you know the sewing machines listed on here are pretty popular and have very decent average ratings. There are some other sewing machines that have the automatic thread cutter feature that I didn't list on here. That is because either they're not popular or have a pretty bad average rating. So I thought I would save you more time without mentioning them.
In terms of price, they might be higher than your average introductory sewing machines. That is because they have more built in features.
Some of them you can even use for embroidery and an embroidery machine usually costs more money.
If you need a machine that can do both sewing and embroidery then you should select between the Brother SE600 and Brother SE1900. The SE1900 is a lot more expensive than the SE600 model and that's why the SE600 is my number one choice on this list.
If you like click here to jump ahead to read more about it or click the below links in the table of contents.
#6 Bernette 38 Swiss Design
This one is not bad even though it is my last choice on my list. The selling price for this one is not the highest, but it is still doesn't fit into my budget.
The reason for being my last choice is because it is a less known brand. To be honest this is the first time I have seen this brand. Despite the brand, so far this model has pretty awesome average ratings by consumers.
Features
394 Stitch Patterns – Including 67 decorative stitches and 8 buttonhole styles (1 step)
820 stitches per minute – sewing speed
Includes extension table for sewing bigger projects
Automatic thread cutter
7mm stitch width
Adjustable presser foot pressure
Free arm 170mm
Speed Control
Start/Stop button
Needle stop up/down button
Twin needle button
Touch panel
LCD display
Foot Control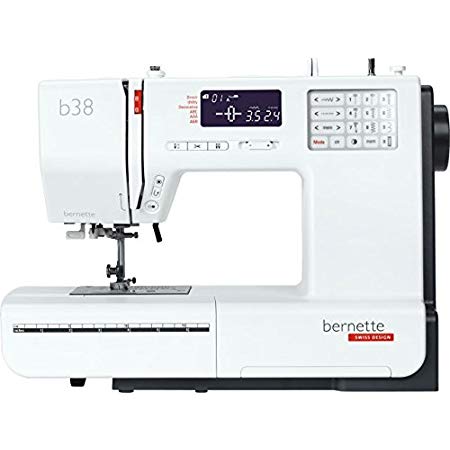 Check Price on Amazon
#5 Janome 4120QDC-B
As you can see from the below picture, it comes with loaded accessories for this model. Learning how to use this model couldn't be easier with the included instructional DVD.
Some others like learning faster by watching it in action, and I am part of that group. So a DVD is a big plus for me if I were to buy this model.
Not only can you use this model for sewing but also for quilting as well since it comes with a bonus quilting kit. So if you would like to quilt and sew then this is the model you should go for.
The Brother SE600 and SE1900 can also do quilting but it is required to buy a quilting foot separately for it to work.
Features
120 built in stitches including alphabet fonts
Reverse button
Free arm
Seven style buttonholes
7 piece dog feed
Automatic thread cutter button
Speed control slider
Snap on presser feet
Auto declutch bobbin winder
Start/Stop button
Locking stitch button

Removable stitch chart

7mm stitch width

5mm stitch length

Hard cover
Extension table
820 stitch per minute
Superior Plus Feed System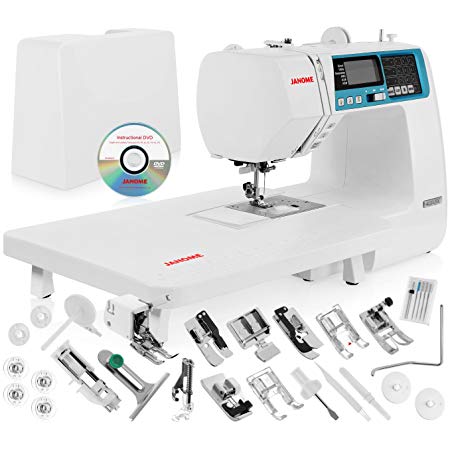 Check Price on Amazon
#4 Janome 3160QDC
Here is another Janome brand sewing machine that has automatic thread cutter function. This one has 60 built in stitch styles.
That is 60 stitches less from the above Janome 4120QDC-B model and the MSRP is a bit lower as well. In terms of sewing speed they are the same.
Features
60 stitch patterns
Free arm
Automatic thread cutter button
6 styles of buttonholes
Hard cover
Speed control slider
Start/Stop button
7 piece feed dog
820 stitches per minute
Extension table
Hard cover
Superior Plus Feed System
Auto declutch bobbin winder
7mm stitch width
5mm stitch length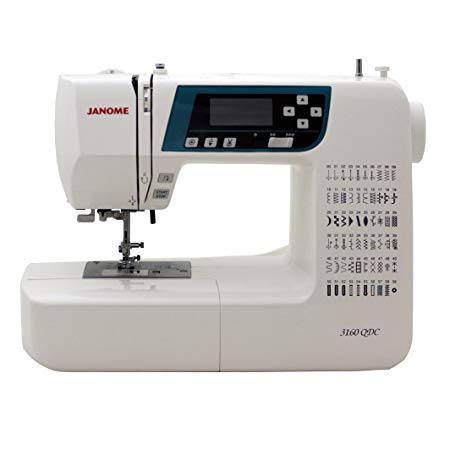 Check Price on Amazon
#3 SINGER Quantum Stylist 9960
This one is my third choice for a sewing machine and it fits into my budget. If you are on a very tight budget and want to have the auto thread cutter then you should pick this one.
The selling price for this one is even lower than the Brother SE600 from the last time I checked it. It is pretty popular among consumers too.
I can say this is more popular than the rest of the sewing machines on this page and it is still maintaining high average ratings. There is another Singer model that has the auto thread cutter function.
The model number for this model is 9985. It looks pretty nice. Some part of the machine is in pink color. You can check it out by clicking here.
Features
600 stitch patterns
850 stitches per minute – sewing speed
Free arm
Auto thread cutter button
13 style buttonholes (1-step)
Extension table
Automatic needle threader
Heavy duty metal frame
Twin needle button
Snap on presser feet
Automatic bobbin winding clutch
Reverse stitch button
Start/Stop button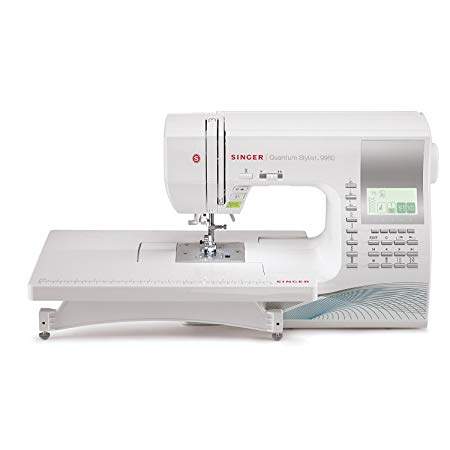 Check Price on Amazon
#2 Brother SE1900
I really wish I had enough money to buy this one but it is not going to happen for a while. LOL…. It is way too expensive for me. If it wasn't for the expensive price, this model would be my number one choice.
It is because this model can do the same thing as the Brother SE600 model plus more. I like the way it looks and it even has an imprinted ruler on the machine for easy measuring access.
Honestly, I can't find that many models that can do either sewing or embroidery. They are either designed for only sewing or embroidery. I just happened to come across these two models that can do both.
So far the average rating for this model is very high. It includes 8 sewing feet with a bigger embroidery field to work on your embroidery projects. If you are curious how much this machine costs then you can click here to find out the current selling price.
I believe the current selling price is worth the money the last time I checked, even though I can't afford it at the moment.
Features
240 built in stitches
138 embroidery designs
Free arm
Automatic needle threader
Sewing speed slider/controller
Stop/Start Button
850 stitches per minute
5" x 7" embroidery field
Automatic thread cutter
Big Color touch LCD screen
USB port to import designs
Free motion sewing
LED light in working area
7 embroidery fonts
Reverse or reinforcement stitch button
Adjust needle up/down position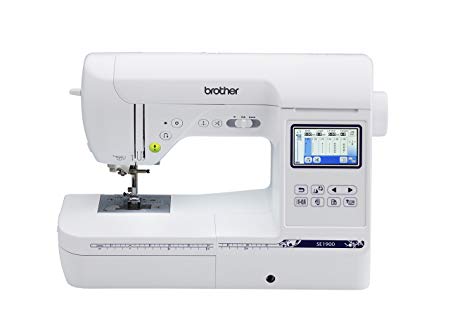 Check Price on Amazon
#1 Brother SE600
The Brother SE600 is my number one choice if I have to choose from this list. That is because the popularity and average rating is awesome.
In terms of price, this one and the Singer 9960 are the only models that I would be able to squeeze into my budget. The rest of them are really out of my spending range.
What I like about this model is I can do either sewing or embroidery with this machine whenever I feel like it. Some other machines are designed for doing embroidery only and the price is usually a lot higher.
The Brother SE600 and SE1900 are the only machines that you can do both for sewing and embroidery with the automatic thread cutter on this list or post.
This model is loaded with features. It comes with 7 sewing feet. If you like you can click here to read reviews and see what is included. If you are on a tight budget like me then you should select this model.
Features
103 built in stitches
80 embroidery designs
LED light on working area
Free arm
Quick set drop in bobbin
Automatic needle threader
Color touch LCD Display
Automatic thread cutter button
4″x4″ embroidery field
USB port to input designs
Sewing speed controller
Reverse or reinforcement stitch button
Needle position button
Start/Stop button
710 stitches per minute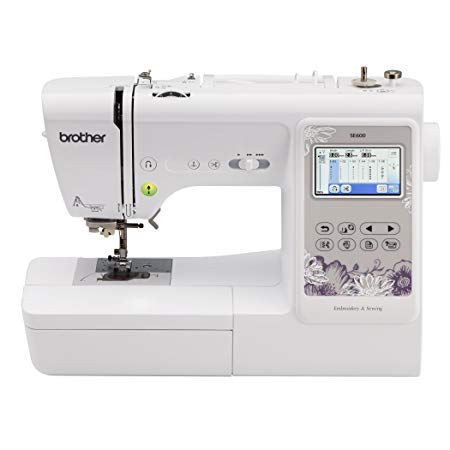 Check Price on Amazon