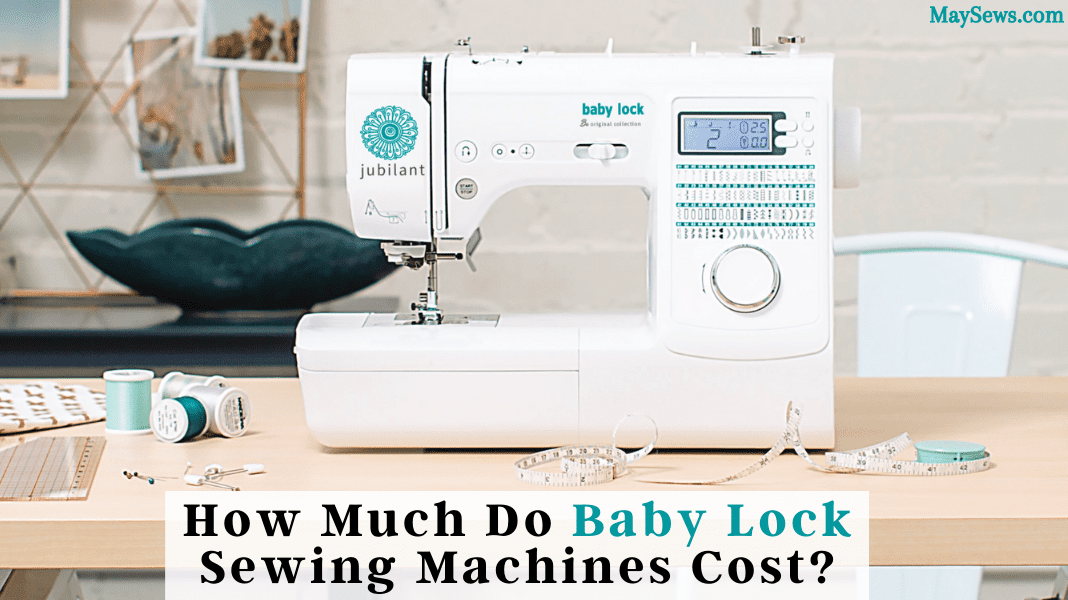 Some of you may be asking how much baby lock sewing machines cost? To answer that question, it depends. It is because of the kind of features available and how many features you would like to have in the Baby Lock sewing machine.
Just remember the more features a sewing machine has the more it will add to the price. The price range for a Baby Lock sewing machine is somewhere between $170 to $5,000.00 and it is possible to be higher than that.
The ones that have the high ticket prices usually can do a lot more. For example, they can do both sewing and quilting and also sewing and embroidery.
An average Baby Lock sewing machine usually costs something around $170 to $400.00. Like I said before the more features a sewing machine has the higher the price will be. So for something costing around $170.00, it will be a very basic one that will allow you to sew.
Beginners' Sewing Machines
Like I always say for a new beginner you don't need a costly sewing machine to be able to sew. I think a simple and fairly easy to use sewing machine is good enough.
There are three Baby Lock sewing machines I recommended getting. These three sewing machines are very simple to use and they are affordable in terms of price.
Those models are called the Zeal, Joy and Zest. I would go with either the Zeal or Joy models, because both models have the needle threading system and the Zest doesn't have it.
I would most likely pick the Baby Lock Zeal model because it has most of the features that I want in a sewing machine if I have to choose only among those three sewing machines. The down side is, it has the highest selling price. You can read my Baby Lock Zeal review article if you want.
The Baby Lock Joy model is another great sewing machine for a newbie. The selling price is in the middle of these other two Baby Lock models. It has 19 stitch patterns and the Zest only has 15 built-in stitches to select from. Click here to read the Baby Lock Joy review in full detail.
I recommend only going for the Zest model when you don't have a problem with manually threading the needle every time. There is a good side of the Zest model and that is, it has the lowest selling price. It seems pretty popular and has awesome average ratings among consumers. If you like you can read the Baby Lock Zest review by clicking its hyperlink.
Advanced Baby Lock Sewing Machines
For those of you who are advanced users and want to get a Baby Lock sewing machine I recommended the following models. To be honest the price for these models are really expensive but it is worth the price tag if it does what it claims to do.
I wish I have the money to get one of these, especially the one that can do sewing and embroidery. This list is sorted according to the price tag from the lowest to the highest. That means number 1 is the lowest and number 4 has the highest price.
By the way all four of these sewing machines have very high average ratings and the most popular among consumers are the Baby Lock Jubilant model and the less popular one is the Baby Lock Altair.
It is understandable due to the price being extremely high. Most of us won't be able to afford it. If you are curious like me and want to find out the MSRP for the Altair then it is around $12,999.00 but you can get it lower than that for around $9,000.00. Now do you understand why I said most of us won't be able to afford it?
Sorry, so far I don't have any reviews for the below models. Maybe later if I have more time I will write them. I will write a little bit about it for now.
1.Baby Lock Jubilant Sewing Machine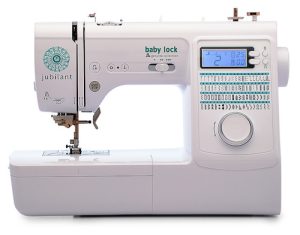 The price tag for this model is still achievable, if you really want to own it.
It has 80 built in stitch patterns for you to select from. Those 80 stitches include 50 utility stitches with 8 one-step buttonhole styles and 30 decorative stitches.
You can use this machine to sew up to 850 stitches per minute and of course it gives you the option to control how fast you want to sew with the speed control slider.
This slider is pretty obvious with how to use it. If you slide it to the left then it will make the machine sew slower and if you slide it to right then it will sew faster. This feature is great for people who are learning how to sew and getting used to the sewing machine.
There are also other included features like, Start/Stop, Reverse sewing, Reinforcement Stitch, Needle up/down and a lot of other features. If you are interested in this model then you may want to Click here to read more about it.
By the way, there is a value of $418.57 of FREE accessories that are included with this model. You may not want to miss this value if you like this model.
2. Baby Lock Verve Sewing and Embroidery Machine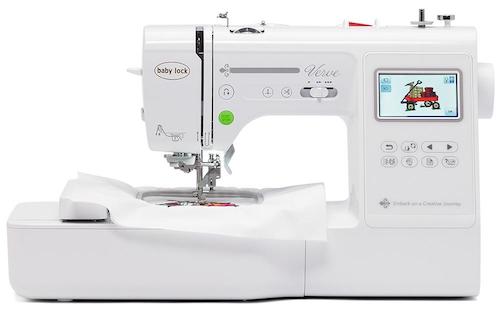 I wish I had the money to get this Baby Lock model. It is because I can use it either to sew or do embroidery.
It would be nice to have both functions for crafty projects in an all in one sewing machine. This model has a lot of built in stitch patterns and functionalities. It has 191 stitch patterns and 95 embroidery designs. You can also do Alphabet letters with four different styles to select from.
The functionality for this Baby Lock Verve has a thread cutting button, twin needle, start/stop button, needle up/down button, reverse sewing button, sewing speed control slider and others.
The downside for this model is the price tag. It is close to $1,000.00. As of today February 1, 2022 the price is $899.00. This model looks similar to the Brother SE1900.
In terms of the selling price both models are about the same, the Brother SE1900 costs $100 more but third party sellers might charge a bit higher for the Brother SE1900 in Amazon.
You may want to click here to find out more about this model.
3. Baby Lock Brilliant Sewing Machine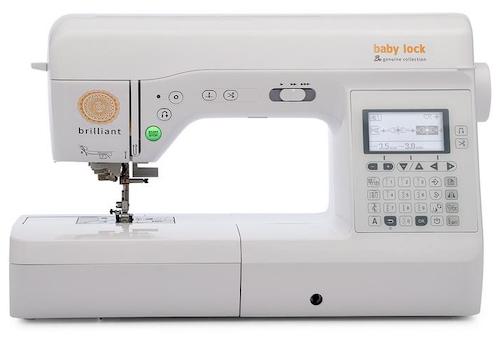 The Brilliant model is the second most popular sewing machine on this list. It looks pretty nice for the design.
It comes with all the features I ever wanted. The price is expensive too. The machine comes with 190 built-in stitches. Those stitches have: 71 Utility stitches with 10 one-step buttonhole styles, 41 Decorative Stitches (large & small), 11 Cross Stitches, 17 Satin Stitches, 10 Decorative Satin Stitches, and 40 Combinable Utility stitches.
It even includes a hands free knee lifter. This is used to lift the presser foot up or down with the tap of your knee instead of your hands. The knee lifter is detachable, so you can choose to use it or not. It is up to you.
I think having this is very useful and convenient. Just to let you know, not that many sewing machines have included this knee lifter.
The model has a programmable stitch function. This allows you to create your own unique pattern by combining decorative stitches and then you can save them in the built-in memory. You can click here to read more about this model.
4. Baby Lock Altair Sewing and Embroidery Machine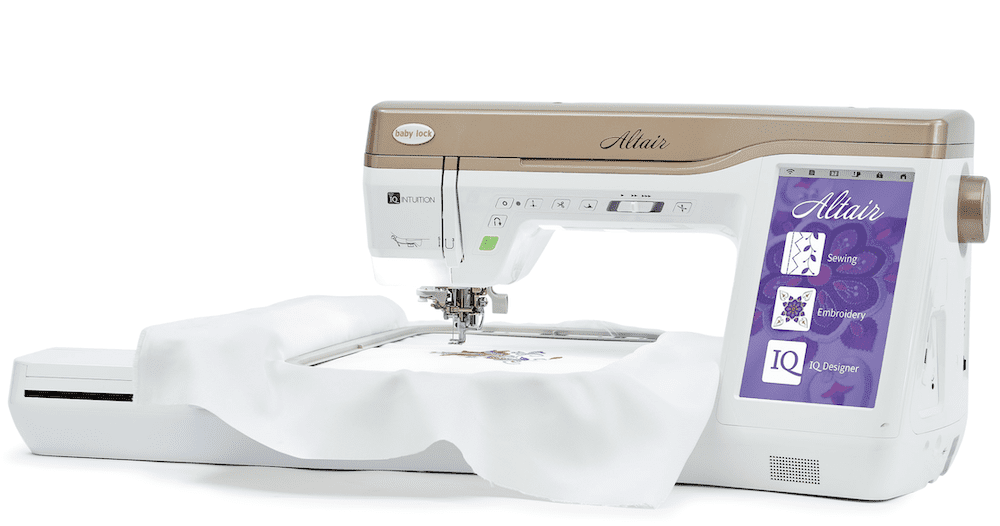 Here is another Baby Lock machine that can do either sewing or embroidery. Personally, I don't have the money for this Altair model.
I would love to own it, but it is way out of my league to get it. Maybe you can obtain this model if you have the extra money.
To me this model might be designed for crafty business owners. If that is the case then it is a good investment for a business owner to invest in. You can't be cheap when it comes to having a business right?
If you are wondering why the MSRP costs so much for the Altair model then click here to find out what this model has to offer and to see if it is worth its big price tag. As for me I think it is worth every penny for this model, but most of us usually don't need that many fancy features and don't need to spend all this extra money.
I have to say this model has 771 built-in stitches and 494 built-in embroidery designs. That is really a lot of stitch patterns and embroidery designs. It has quite a big working space of 11.25″.
Despite the huge price tag, there are consumers who have bought this Baby Lock Altair model and have left a good review.