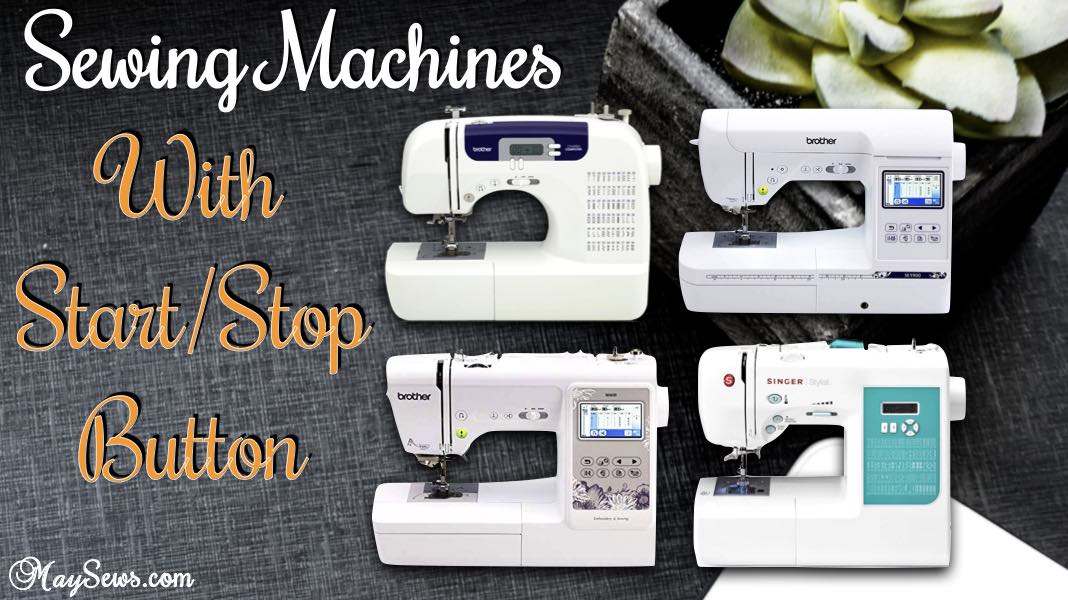 If you are looking for a sewing machine with a Start Stop button function then this post will give you plenty of models to select from. It took me a while to find models that have this feature.
I hope it saves you a lot of time finding the right one for yourself. According to my research these are the ones that have the best ratings and are the most popular.
At least these are the choices that I will select from if I want this function for a sewing machine. The below list has no priority over the others. I just happened to number it according to my research findings.
If you are wondering which ones are the most popular among consumers from the below list, then they are the Brother CS6000I, Singer 7258 and Singer 9960.
If you can't decide between the Singer 7258 and Singer 9960 then maybe the price will help a bit. The selling price for the Singer 9960 is a lot higher than the Singer 7258.
That is because the Singer 9960 has a lot more built in stitches and included accessories. Both Singer models have a metal frame and I believe it is more durable than a plastic frame.
I would like to mention the Brother CS6000I has a plastic frame. Having a plastic frame on a sewing machine usually makes it jerk around when it is being used at a faster speed. It is a little something to remember when making that choice.
As you can see from the below list there are a lot of Brother branded sewing machines that have this function. If you don't like the Brother brand then you can stick with the Singer and Janome brands. All three of these brands are dedicated to make excellent sewing machines.
1. Brother CS6000I
The Brother CS6000I has been out in the market for a very long time. Despite it's having a plastic frame, it is still the most popular sewing machine.
The average rating is awesome and it is still maintaining its high rating after all these years. If you don't believe me you can click here to see for yourself. Oh right, I have written a review for this model. Click here to read a full review of the Brother CS6000I model.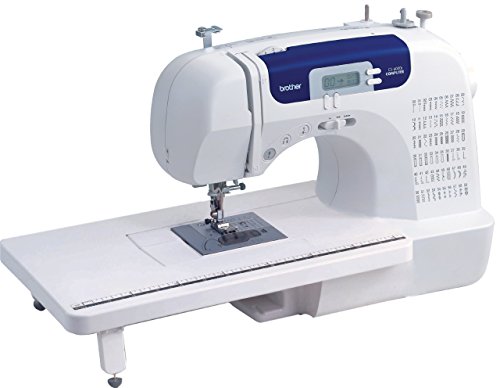 Check Price on Amazon
There is a newer version of this model and its model number is CS7000I. It just happened to be released this year in 2019.
There are really not that many differences between these two models. It does have 10 more stitch patterns for the newer model with a total of 70 built in stitches. So the Brother CS6000I has 60 built in stitches. If I have more time I will write a versus post about these two models.
To be honest I do like the new look of the newer model. Both models are designed for newbies and advanced users to use. Both models can be used for sewing and quilting.
2. Singer 7258
Here is another popular sewing machine out in the market for a very long time. This is the second most popular one and it is very easy to use for a newbie. It comes with 100 built in stitches.
The selling price is a little higher than the Brother CS6000I and the Singer 7258 has a metal frame. If you'd like you can read my Singer 7258 sewing machine review by clicking here.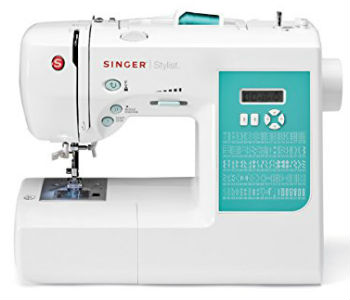 Check Price on Amazon
3. Brother HC1850
The Brother model is pretty popular among consumers. It comes with 130 built in stitches with 8 presser feet included. The extension wide table is included. This is nice to work with bigger projects.
You can use this sewing machine to sew up to 950 stitches per minute. It comes with a 25 year limited warranty and with an instructional DVD showing you how to operate this model.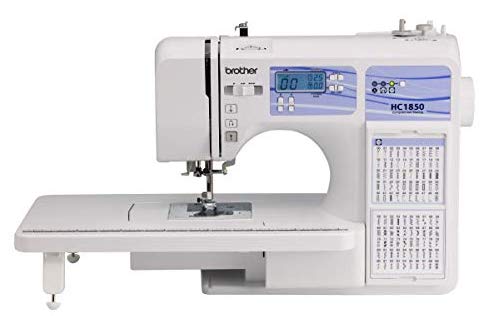 Check Price on Amazon
4. Janome JW8100
The Janome is another major company that makes very good sewing machines. This model is a computerized machine and it has 100 stitch patterns.
It comes with an extension table and a hard cover. It has 7 button hole styles and 22 other accessories. If you want to know more about this model click here to read the Janome JW8100 review.
Check Price on Amazon
5. Janome MOD-50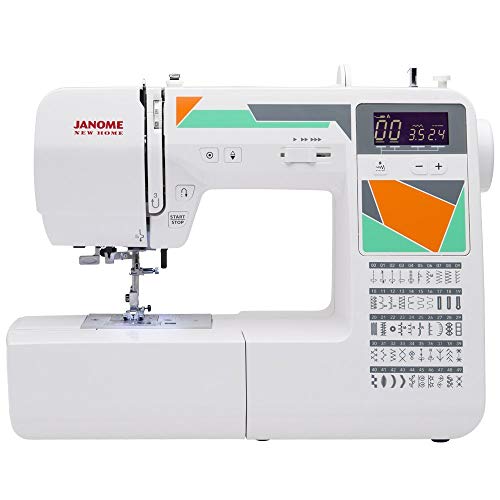 Check Price on Amazon
6. Brother ST150HDH
This sewing is still pretty new. If you are interested in this model please read my review by clicking here.
Check Price on Amazon
7. Brother SE600
This is a great machine for doing sewing and embroidery and you can pick either one to do your projects. When you've decided to do embroidery just put the included embroidery hoop and foot on.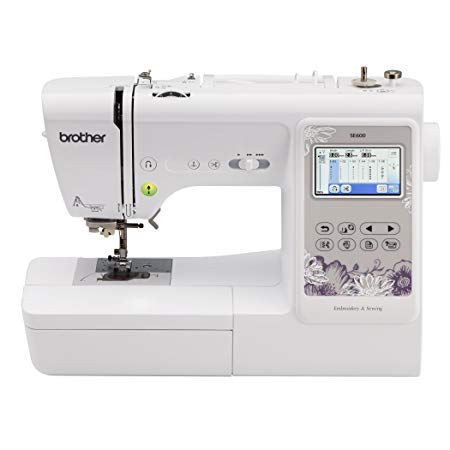 Check Price on Amazon
8. Brother SE1900
Here is another machine that can do both sewing and embroidery, but it may be pricey.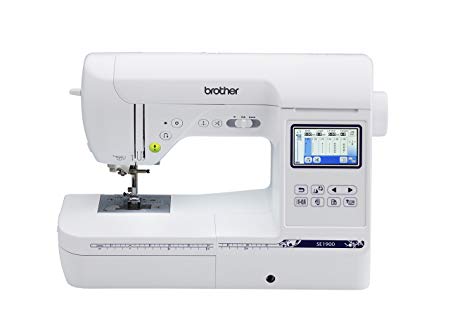 Check Price on Amazon
9. Singer 9960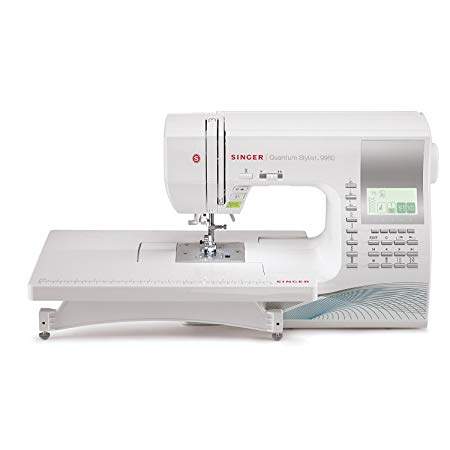 Check Price on Amazon
10. Singer 9985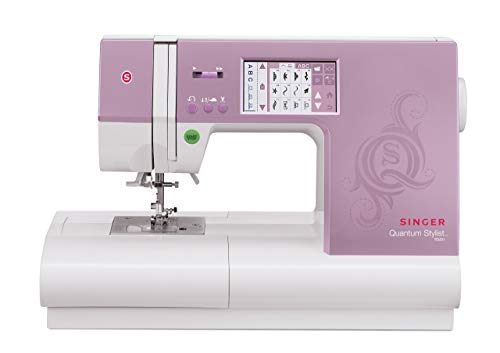 Check Price on Amazon
11. Brother XR9550PRW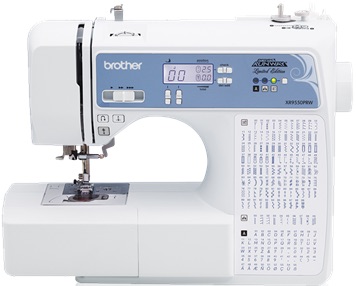 Check Price on Amazon
12. Brother Designio Series DZ3000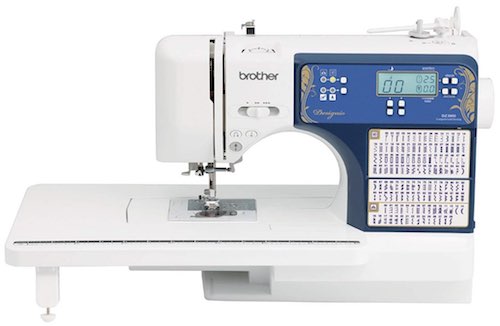 Check Price on Amazon
That's all the models I have come up with that have the Start and Stop button function. There might be more sewing machines, but I think these are the best ones to go for.
Since you are searching for this function I assume you know how it works and I don't need to explain how it works.
Actually that button is self explanatory. Just press that button once and it will start the machine and press it again, then it will stop sewing.
With this button then you will need to use the speed slider to control the sewing speed. If you move the slider to the right side then your sewing speed will go faster.
I have an article that lists out all the sewing machines with automatic thread cutter function. Maybe you might be interested in checking it out.