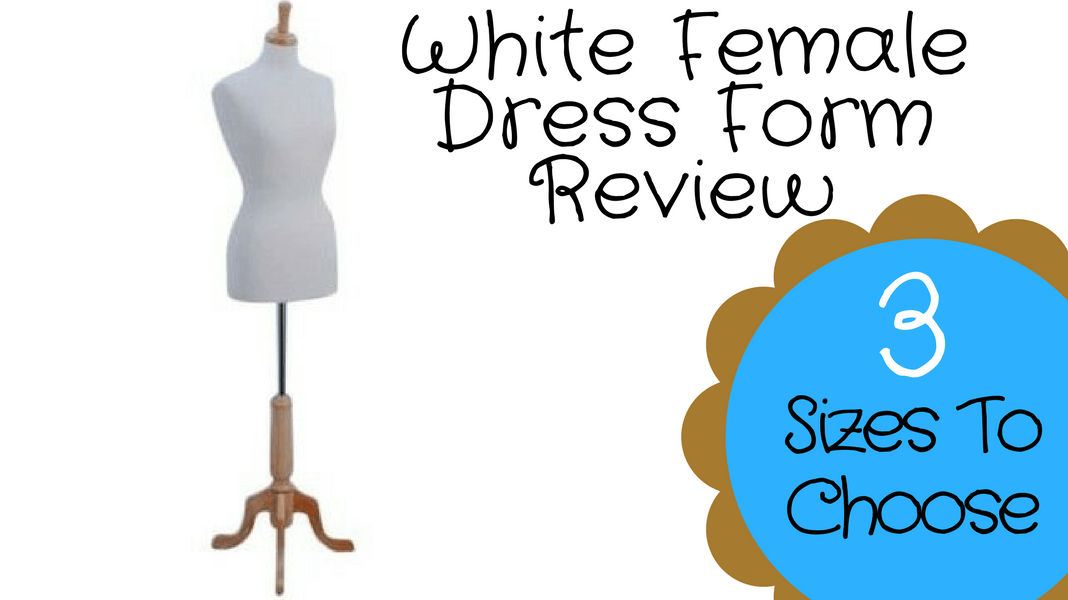 If you are a jewelry or fashion designer and have a shop then you should get one of these white female dress forms. It makes it easy to take pictures for showing nice looking jewelry and clothes that you made to sell.
With this you don't need a model to do it for you. As you know, having a model to do it for you each time costs you way more money in the long run. It is also great for someone who likes to sew and design their own clothes.
On this post I have included three sizes for you to select from. Those sizes are Small, Medium and Large. All three of them come with stands to hold the mannequin. That is awesome, you don't have to buy it separately. All three of them are in white color.
Small Size Dress Form
This one is for a small size of 2 to 4 with the bust line of 33 inches for bust, 24 inches for waist and 34 inches for the hips.
The width for the shoulder to shoulder is 14 inches. The height for the torso is about 27 inches. The dress form is adjustable in height from 4 and a half to 6 feet. You can find the same design in medium size by clicking here.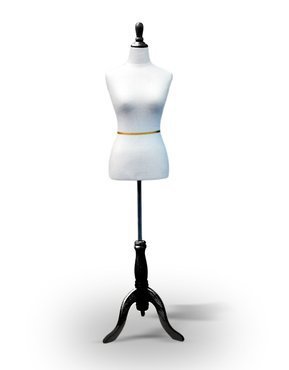 Check Price on Amazon
Review: This small size one has a pretty awesome average rating, but I can't use the small size one to work on my sewing projects. I am more of a medium size person.
If you are or in need of this size then it's the small size you should go for. This one is the most popular one when comparing with the others on here. 
✅ Pros:
Easy to assemble. Requires only 1 screwdriver to get the job done.
The base is very sturdy and looks appealing.
Lightweight and easy to move it around.
❌ Cons:
It smells like chemicals. If you air it out for a couple of days it should be fine. Some put it out in the garage to get rid of the smell.
Medium Size Dress Form
This one is a little less popular than the above one, but it is a good buy. This is a medium size form. The measurement for this one is about 37 inches for bust, the waist is 26 inches and the hips  is 36 inches.
The base of the stand is made with natural wood and it is adjustable from 63 inches to 76 inches. That is from 5 feet 3 inches to 6 feet 4 inches. The height for the torso is 28.5 inches and the width from shoulder to shoulder is 17.5 inches.
The mannequin for this one is made with heavy duty foam allowing you to pin everywhere on the mannequin.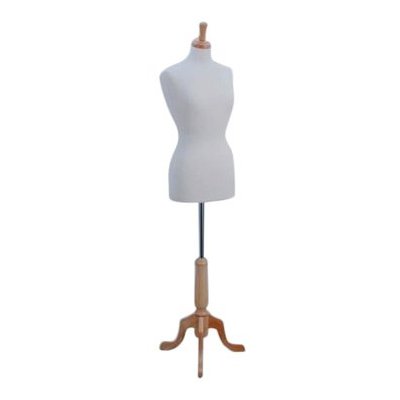 Check Price on Amazon
Review: This medium size one has a very high average rating. It is even higher than the above one while creating this article. Maybe that is because it has less people who gave it a rating.
I most likely will buy this one for my sewing projects to use since this is my size. If you are medium size, then you should go with this one too. Having the correct size is more important than having other features.
Well it is always nice to have more than one different size at home to work with, like if you want to work on family sizes sewing projects.
✅ Pros:
Great for displaying clothes and other items.
It is very easy to use and well made.
Assembling is super easy and fast.
❌ Cons:
It can tip because it is lightweight, but it should be fine for displaying.
Large Size Mannequin Dress Form
Now here is a large 12 to 14 size female mannequin. The design is the same as the first one. It is also by the same seller. It has a black color wood tripod stand.
The dimensions are 39 inches for bust, 31 inches for waist and 41 inches for hips. The width from shoulder to shoulder is 15 inches and the height for the torso is 27 inches.
The base stand is also able to adjust on the height. You can adjust the height from 4 and a half feet to 6 feet. The mannequin is pinnable with your designed clothes.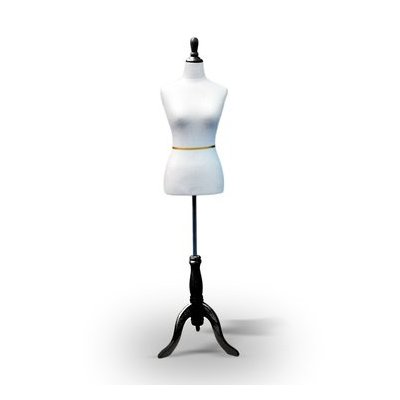 Check Price on Amazon
Review: The average rating for this one is also pretty good, but it is not as popular as the above ones. To be honest I won't be choosing this one since it is not my size. I am hoping to be able to get into the small size, but with a lot of weight loss.(>o<)
✅ Pros:
Good quality for the price.
Lightweight and easy to take it around with you.
It looks sleek and soft.
❌ Cons:
It is a little hard to pin to the mannequin since the form is thin.
I just now noticed all three of the dress forms on here are offered by the same seller after I finished writing this post. I thought you might like to know about that. That might be because I want to pick out the one that I think has the best ratings and is the most popular.