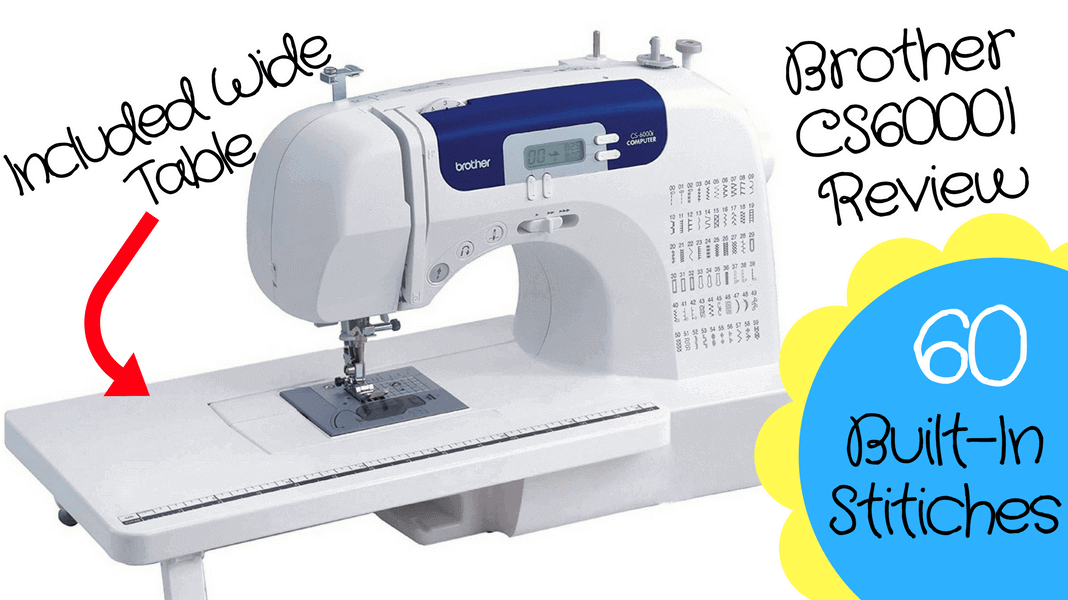 The Brother CS6000I sewing machine is the most popular sewing machine that I can find online with the consumers. If you don't like the Singer 7258 then you might want to give the CS6000I model a try. I most likely will buy this model if I need a new sewing machine for my sewing projects.
It is a little hard to choose between this model and the 7258 model. If you are still having trouble picking the one you want between those two then I have created a Brother CS6000I vs Singer 7258 post for you to check out its features side by side.
Is The CS6000I Good and Is It Worth The Price?
My answer to both questions is yes. It is worth the price for this model and you can read  below why this model is good by reading what I like and what it has to offer.
Features I Like From This Model
60 Built In Stitches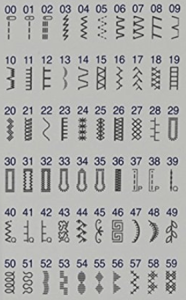 Is 60 built – in stitches enough for you? For a newbie, it is more than enough if you ask me.  But for an advance sewer it might have to depend on the individual's preferences.
Some of you might like to show off your creativity with a lot more stitch styles.
Those 60 built in stitches consist of the following types: 20 stitches for garment construction, 20 decorative stitches, 7 of them are for quilting stitches, 6 of them are heirloom stitches and 7 of them are for auto buttonhole styles.
As for me I don't mind having only 60 stitches to select from and I think it is more than enough for me. I sure would like to repair some of my boys' shirts and pants, especially my younger son's since he makes a lot of holes in them.
Selecting the type of stitches is very easy because the machine has the designs and code imprinted on the machine. You don't have to refer back to the manual for entering it in. You will save a lot of time searching in the manual just for that.
Options Of Operating With Foot Petal Or Not?
The machine gives you the choice of using the foot petal or not. It is really your preference of choosing whichever one you are comfortable with.
The machine still works without using the foot petal. This will be great for people who have disability in their legs or feet and still will be able to have fun with their sewing. Cool nifty options for this machine.
LCD Display Stitch Selector
This sewing machine has a LCD displaying screen to select the kind of stitches you want from the 60 built-in stitches. It is very simple and easy to select the type of stitches you want with the touch of an up and down button.
Adjustable Sewing Speed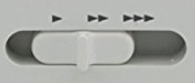 This model also has the adjustment of the sewing speed level. To set the machine to sew faster just use the slide controller on the machine by sliding it to the right to make it fast and sliding it to the left to make it slower.
The maximum speed you can adjust for this machine is up to 850 stitches per minute. That is super fast and awesome for a sewing business to have. That way you will finish your sewing projects much faster if you are an advanced user.
Of course you can set it to as slow as you want for a beginner level. A newbie should start out sewing slow and then adjust accordingly at your sewing experience. I wish I had that feature when I was starting out sewing. At least I wouldn't have hurt my finger at that time.
Easy threading
Another thing I would like to mention is this model has an easy threading system. All you have to do is follow the numbers printed on the machine and before you know it, you actually finished threading the machine. It is super easy.
Needle Up/Down Position
You can set the needle to stop at an up or down position each time with your personal preference. The normal setting for this machine for the needle position is to stop at down which means the needle is in the fabric to be more precise.
If you like you can set the needle to be in a raised position. I like mine to be in a down position for me to make more accurate turns on the fabric.
Automatic Needle Threader
Now I would like to talk a little more about my favorite feature. Right now with my very bad eyesight this automatic needle threader is a must for me. I don't think I will ever even consider buying a machine without an automatic needle threader.
So in other words this feature is a must for me to have for a machine. I just can't do it manually anymore. Without it, I can't sew either. Do you think the thread will stay in the needle until you finished the whole sewing project? It is possible, but what are the chances, right? LOL…… If you are like me you should stick with a sewing machine that has an automatic needle threader.
Bobbin Winding
Winding your bobbin with this model is very easy. There is a diagram printed on the machine for you to follow for winding your bobbins. That means you will know exactly where the thread should be placed, and no need referring back to the manual for instructions.
Dual LED Light
The working area has a dual LED light. It will make your working area so much easier to see even in a darker working location. It will also be helpful when sewing with darker fabrics. Sewing can be fun but you don't want to strain your eyes while having fun, right?
Adjustable Stitches Width & Length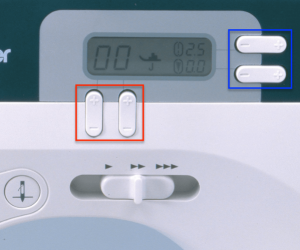 This little machine will allow you to adjust the length and width of the stitches, like how wide and narrow you want it to be.
You can set it between 5mm for the length and 7mm for the width. Take a look at the picture on the right side.
Those buttons squared in red are for selecting the type of stitches. In other words, it is the pattern styles you want to work with.
The squared buttons in blue are for width and length selections. That means you would have to select the type of stitches first, then you will be able to adjust the width and length of the stitches.
The minus symbol is to decrease and the plus symbol is to increase both the stitches type and width and length selections. Of course, the machine has a default setting for the length and width. The symbol will be changed on the LCD screen if you changed the default setting.
Does This Model Have A Foot Pedal?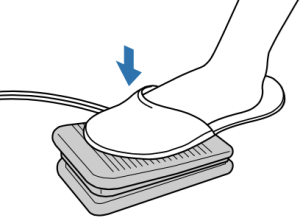 If you are asking if it comes with a foot petal, then the answer to that is a YES according to the manual and the people who have bought it.
It comes as an accessory if you buy this model. Having a foot pedal is a pretty nifty way to work on your sewing projects.
To be honest, when I was starting out sewing I was using a foot pedal to sew. I think it was a lot easier for me and I was more used to having a foot pedal than without it. I mean, I was a lot more productive with it.
By using a foot pedal you can control your sewing speed by your foot. With this model, if you want a slower sewing speed all you have to do is press lightly on the pedal. To increase the speed press harder and if you want it to stop just take your foot off the foot controller or pedal.
Note: Be sure to turn off your machine first before trying to connect the foot pedal. That way is to prevent the machine from accidentally starting sewing.
Can You Turn It Into A Free Arm Style?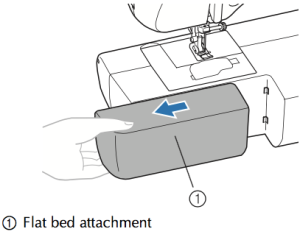 Yes, you can turn it into a free arm as often as you need to with your sewing projects.
A free arm sewing machine is great for sewing hand cuffs, pants, baby clothes, sleeves and other hard to reach sewing areas.
It is always nice to have extra useful features. I am pretty sure this will come in handy. As you see from the picture, just slide the flat bed attachment to the left to remove it.
Do you know you can actually use that flat bed attachment to store your tiny items such as bobbins, needles and presser feet? Be sure to put your items in a bag first before storing them in that storage compartment. If not, your accessories might fall out and they can be lost or damaged.
What About An Extension Wide Table?
Yes, it comes with an oversized wide table. It is pretty cool with a wider table. That means more working areas to be used, and it especially will be useful to work with bigger and quilting projects. Click here to jump ahead to see a picture of what it looks like on the machine.
The wide table is removable, so it is your choice to use it whenever you need it for your large projects. It is more efficient to use a larger table for sewing like sheets and blankets. The table has an imprinted centimeter measurement. You can always use it to measure the fabrics.
Can This Machine Sew Leather?
Some have tried using this machine to sew leather material such as for handbags or purses and even costumes with good results, but I wouldn't recommend using this machine for sewing leather materials. This machine is not designed for this kind of heavy duty material.
If all your sewing projects are sewing leather then I suggest to get one that is designed to get the job done, like this one called TechSew 2700 leather sewing machine. Click here to read more about it and be sure to use a heavy duty needle too.
This kind of machine is not cheap but if you own a shop making all leather items then it is still worth it for the long run.
Video Demo
You might want to watch this demonstration video. At least you will get to see what it looks like. After all, it is better than just looking at a picture. This video is about 4 and 23 minutes long.
Does This Have A Serger?
No, this obviously doesn't have a serger. This is just a normal sewing machine. If you need a serger machine, then I suggest you try out the Brother 1034D. This serger is very popular and has great ratings. The price is pretty reasonable to me. Click here to find out  more about this serger machine.
Is It Low Shank?
Yes, this is a low shank machine. Your previous machine's feet might be compatible, but to be sure you should find that out by going to the Brother website. I think companies usually design their own feet for their machines. They always recommend using their own designed parts.
Is It Good For Quilting?
I would say yes this is good for quilting since it includes a spring action quilting foot. There are a lot users who bought this and said they have done quilting with this machine, and it works as it claimed. As you can see from the above demo video, it is showing a quilting project.
Of course if you do quilting for a living then it might be better to get a heavy duty one, like a commercial one for business. You can give the Brother PQ1500SL and JUKI TL-2000Qi a try if you need suggestions.
A little note is their selling prices might be higher when being compared. But you will earn it back in no time if you have a quilting business. After all, it is an investment and you can probably deduct it off when you are doing your taxes.
Can This Machine Sew Jeans Or Denim?
Yes, you can use this machine to sew denim fabric but you need to use a certain size of thread and needle to do it. According to the manual, you need 30 – 50 size thread and as for needle size, it is 90/14 to 100/16.
The smaller the thread number is indicated the thicker the fabric is and the bigger the number of the needle it means the thicker the needle is.
You should make sure you are using the correct needle and thread for each kind of fabric and if you are not sure, you should always refer back to the manual. The manual has a chart to let you know what size of needle and thread to use for each fabric.
The machine already has a needle size of 75/11 installed when you first open the box from your purchase.
Where To Buy Brother CS6000I
You can buy this model online easily, but as for locally it might be a little challenge. Local stores usually won't carry the items you want. I usually buy them online. It saves me time and car gas on searching for it.
The only thing I don't like is having to wait for it to arrive at my home to use it, not like when you buy it at the store and can use it as soon as you arrive at home on the same day.
You can buy this model online on amazon by clicking the below image. The price is pretty affordable to me when you are buying it directly from amazon and not from third party sellers.
You can also get this from third party sellers on Walmart.com. The price might be a little higher when comparing these two places while writing this review on March 19, 2018.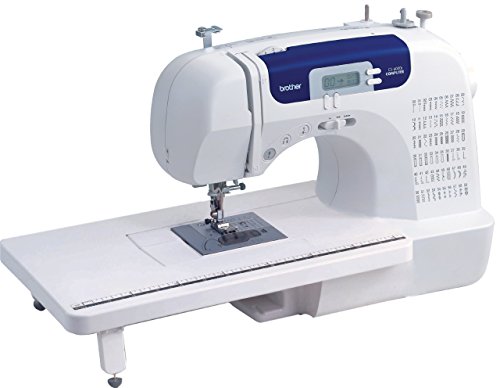 Check Price on Amazon
What Is The Dimension & Weight?
The dimension for this item is 11.4 inches H x 6.7 inches W x 16.1 inches D and it weighs about 13 pounds. It has a 110volt for the cable cord plug.
What Bobbins Or Sizes To Use For This Model?
The kind of bobbin you need for this model is the SA156 and yes, the bobbins are made out of plastic if you are asking. You should only use bobbins that are designed for this model and the bobbins that come with this machine.
If you are using other model's bobbins thinking you can save money then you are wrong. By using other kinds the machine might not work properly and it might damage the machine, so instead of saving it costs even more to fix it or having to buy a new machine.
You can click here to buy some compatible bobbins or click here to buy the original Brother brand bobbins.
Where Can I Buy A Bobbin Case?
If your bobbin case is scratched, then you should get a new one for a replacement. You should never use a scratched one. Doing so can affect your sewing performance, the needle can break and the upper thread can become tangled.
If you need a bobbin case replacement, then contact your nearest local authorized service center or click here to to buy a compatible new replacement. The part code you need to know is  XC3152-021.
Does This Model Comes With A Carrying Case?
I am sorry to tell you this model does NOT come with a carrying case. It does come with  a hard cover case and they are not the same. I hope you didn't get that confused.
A hard cover case is still a very good item to have to cover from dust when it is not being used and to stop your kids from messing with it. If you need a carrying case, you can give the Brother 5300 Universal carrying case a try.
Brother CS6000I Review
This is another awesome sewing machine that has excellent average ratings. This one is even more popular than the Singer 7258 sewing machine. There are many customers happy with their purchase. This is definitely a good buy and with awesome features.
✅ Pros:
Great for beginners learning how to sew.
Lightweight to bring it whereever you want and very easy to use.
Love the auto thread cutter.
❌ Cons:
Since it is lightweight  the machine can move around on the table when sewing in high speed. To solve this you can always put some rubber things underneath the machine, like a rubber placemat.
Some complaining the frame is mostly made of plastic and saying plastic won't last long. If you want a machine made with a metal frame then try the Singer 7258.
What Is In The Box?
This model comes with a lot of items along with the purchase. It comes with the LCD displaying sewing machine.
9 Feet
Spring Action Quilting Foot
Overcasting Foot
Walking Foot
Zipper Foot
Button Fitting Foot
Zigzag Foot
Monogramming Foot
Bling Stitch Foot
Buttonhole Foot
Accessories 
Hard protective Case
Oversized Table
Accessory Pouch
Cleaning Brush
Seam Ripper
Screwdriver
Needle Set
3 Spool Caps
Eyelet Punch
3 Bobbins
Spool Pin
Power Cord Cable
English and Spanish Manual
How To Oil This Model?
You might be asking how to oil this model. To be honest with you, the manual didn't say anything about oiling it. As a matter of fact it tells you not to oil the bobbin case.
In other words you can't oil it yourself and don't need any sewing machine oil. The machine has enough oil in advance from the manufacturer.
If you want oil to be added to your machine then you need to bring it to your local authorized service center to get it done.
Warranty and Manual
You can find the manual by clicking here for this model. The manual is about 1.55MB in size and it needs Adobe Acrobat software to read it which is in pdf format. It has about 68 pages for the English version.
You can also find the French version by clicking here. The size is about 1.53MB and you can find the Spanish from here. File size is the same as the French version.
As for warranty, this machine is backed by a 25 year limited warranty. Hope that is enough years of coverage for you.