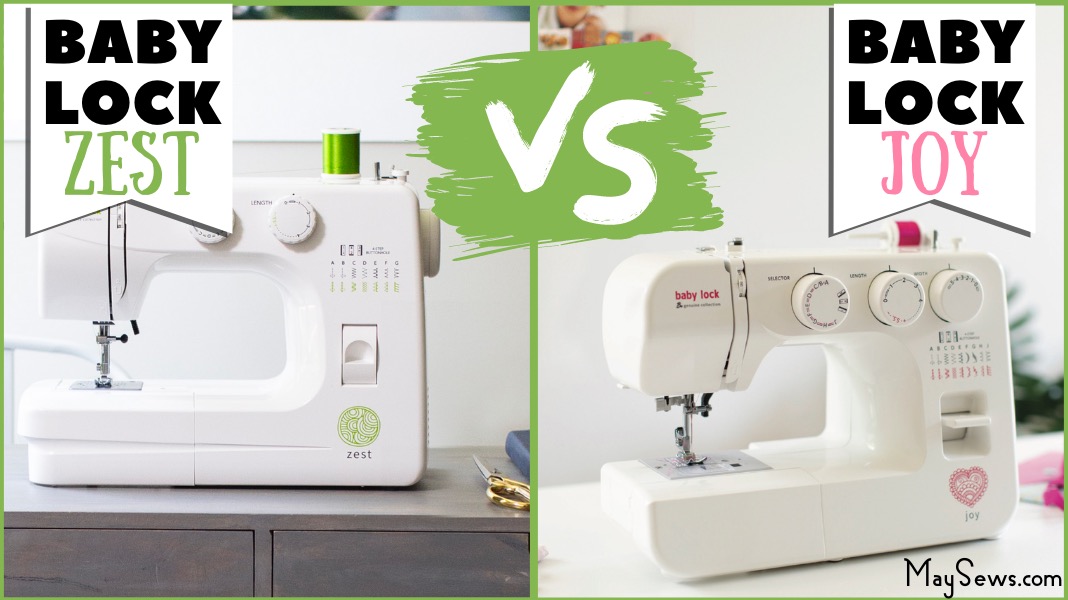 Some of you can't decide on which model to choose from between the Joy or the Zest, so I decided to write a post on Baby Lock Joy vs Zest. Hopefully this will give you some help.
Both models are designed to be used by newbies so it doesn't have that many built in features, but of course advanced users can use these two models.
Personally I would go with the Joy model if I have to choose between these two items. That is because the Zest model doesn't have a needle threader system built in. If your kids have no problem threading the needle manually then you might as well go with the Zest model to save some money.
Teaching your kids to sew doesn't require that many features. A basic and a simple one that is easy to use will do. A basic sewing machine usually doesn't cost that much money unless it is a more advanced sewing machine.
I don't recommend getting one that is like a toy for kids though. Those kinds usually don't work and won't last long.
Oh right, I have written a review for the Baby Lock Joy and Baby Lock Zest. I have also written an article Baby Lock Zeal vs Joy. You may want to read their differences if you are interested in these two models.
Differences For The Joy And Zest
To be honest, there are really not that many differences between these two models.
The Joy model has 19 stitches patterns and the Zest has 15 stitches patterns. That is like 4 patterns less. I think it is really not much of a difference if a newbie is using the machine.
Like I said before the Zest model doesn't have an advanced needle threader system and the Joy model does. Do you prefer a fast threading needle or manually threading the needle each time? Which model would you select on this?
The Baby Joy has a quick drop in bobbin but the Zest has a front loading bobbin system. Which one would you prefer?
You can adjust both stitch width and length for the Joy but the Zest can only allow you to adjust the length.
The Joy model has a pink heart shape icon imprinted on the sewing machine and the Zest has a green circle shape imprinted on the machine.
The Joy model has three dials and the Zest has only two dials. The Joy has additional dials for adjusting the stitch width.
The Zest weighs 13 pounds and the Joy weighs 11.5 pounds. Obviously, the Joy weighs less than the Zest. So it is up to you if you want a lightweight or heavier sewing machines on this one.
The Zest model dimension is 12.5 inches for height, the width is 15.5 and the depth is 5.75 inches. The dimension for the Joy is 10.25 inches for the height, 14.875 inches for the width and the depth is 6.25 inches. According to these numbers the Zest is bigger than the Joy.
The Zest model includes a darning plate.
Both Joy and Zest Have These Features
Both models have a 6 inch sewing bed width.
Reverse lever
Free arm sewing
Foot controller
Manual thread cutter
Accessory storage
Carrying handle
Seam ripper
Uses class 15 bobbin
25 year limited warranty
Included spool caps (large and small)
4 Snap-on feet – Sliding Buttonhole, Zig Zag, Blind Hem and Zipper
Includes 3 bobbins
Includes a needle package
Screwdriver
Presser foot lifter
Baby Lock Joy vs Zest Side By Side Chart
You may want to take a look at this side by side chart to find out the differences between these two models instead of reading the summary. The following chart is better viewing by landscape mode when it is used in smart phones.
| | | |
| --- | --- | --- |
| | | |
| | | |
| | | |
| | | |
| | Yes, auto needle threader | |
| | | |
| | | |
| | Yes, manual threader cutter | Yes, manual threader cutter |
| Max. Sewing Speed Per Min. | | |
| | | |
| | | |
| | | |
| | No, adjustable sewing speed | No, adjustable sewing speed |
| | | |
| | | |
| | | |
| | | |
| | | |
| | | |
| | | |
| | | |
| | | |
| | | |
| | | |
My Verdict
✅ Bottom Line: Between these two models, I would have to go with the Joy model. That is because the Joy model has a built in needle threading system.
I don't mind having to paying extra for this feature. Obviously, I am going with a sewing machine based on features rather than on lower prices.
You may decide something different than me and that is perfectly fine because everyone's  needs are different.
By the way, the Zest model includes two bonuses of a tote bag and zipper pouch. The tote bag is a great way to carry it to different places.
Just to let you know, I don't know how long these included bonuses last. By the time you read this, they may or may not be available.
All I can say is, if you want to go with the Zest model and the bonuses are still available then just get it as soon as possible. It is a bummer if it is out of stock.