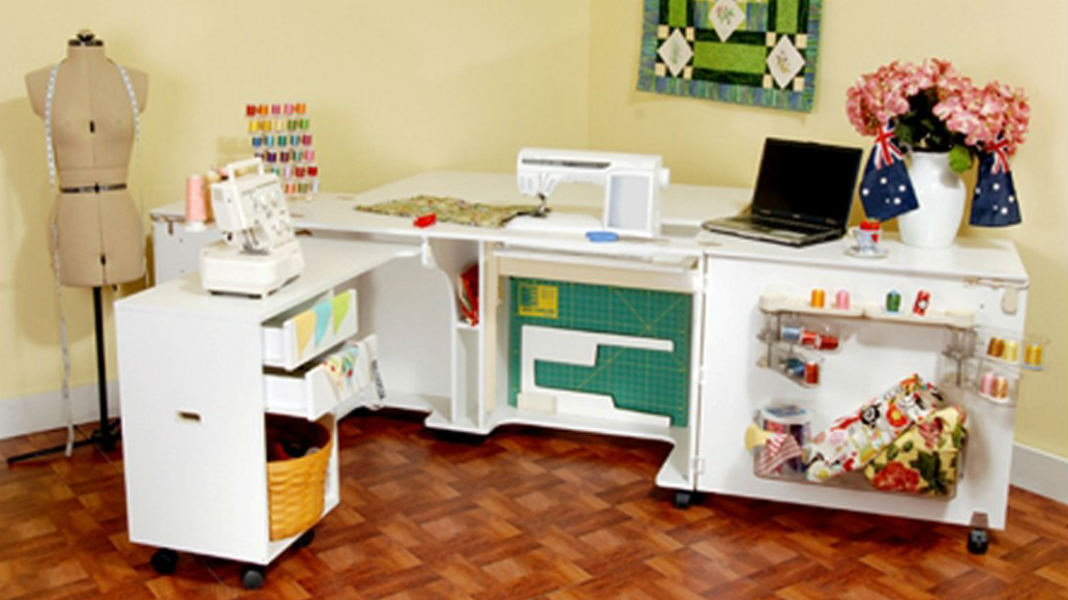 If you ever needed a sewing machine table to put away your sewing machine or organize your sewing projects then the Kangaroo Kabinets K8611 is an excellent choice.
But this table might not be the best option for everyone since  it is pretty expensive. I for one can't buy it since it is way out of my budget. If I want it so badly, I would have to save up a lot to be able to buy it and it will also take me a long time to achieve it.
Aussie Sewing Cabinet or Table
If you do have the money, you should buy it. After all it is an awesome table or cabinet you will be crazy for.  Here are some of the benefits of owning it.
You can put the table in two separate locations if you want to. That is because you can turn it into a cabinet when you are done with your sewing. It will take less space in your room for storage. When it has been expanded, you will have a lot of working areas as you can see the above picture to see what it looks like. You will have about 31.5 square feet of sewing space.

The table has rollers on the bottom for easy moving to a different location. That means no more lifting to be able to move it to some where else. 

In the middle of the table where you put the sewing machine, you can adjust it in three different levels by pushing it up or down. It is super easy to move your machine to be higher or lower. Of course, the lowest level is for storing your sewing machine.

The table has a large door bin, two drawers and four swivel trays to put away your sewing items.

What I like the most about this table or cabinet is, it has two doors with a lock on it. That means no kids having access to the needles or messing up your stuff of getting hurt. That will definitely ease your mind.
 Here are the measurements for the table. When it is being expanded it is about 99 1/2" wide by 80 1/2" deep and when you turn it back into a cabinet with closing doors the measurement is about 99 1/2" wide x 22" deep.

It will  look very nice in your sewing room because it is white color. Most things will go very well with white color for decorating. My whole bathroom is in white color including the cabinets.
Just want to let you know, it does require you to assemble it. It does not come assembled. The sale page has a video showing you how to assemble it. Take a look at the below picture when it is turned into a compact cabinet. Looks neat and cool right?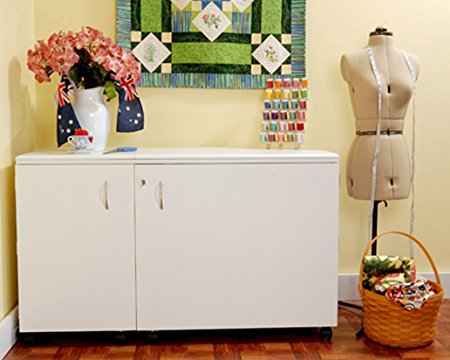 Check Price on Amazon
Kangaroo Kabinets K8611 Cabinet Review
Honestly, there is really not that many people who are giving a rating for this table. The ones who bought it gave it a very high rating. Most of them absolutely love the cabinet and are very happy with their purchase. Click here to see the ratings and read the reviews.
✅ Pros:
It is compact
Sturdy
Very nice looking design
A lot of working spaces
❌ Cons:
The price is expensive for this cabinet, but it is worth every penny and the effort for assembling.