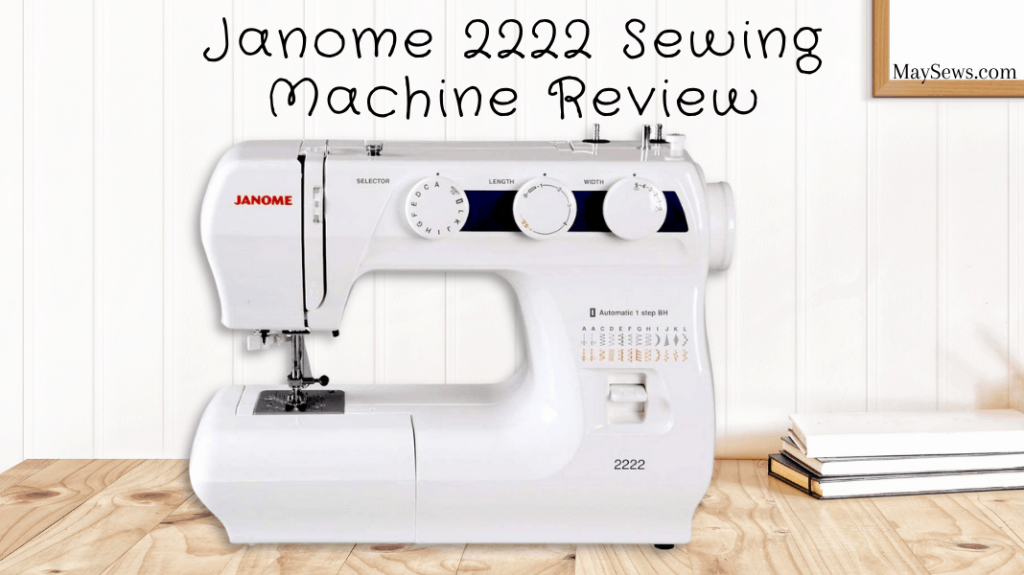 If you are looking for an entry level sewing machine made by the company of Janome then you may want to consider the Janome 2222 model. It is a very simple sewing machine that is great for people who are learning how to sew.
For a beginner level on sewing you shouldn't get a machine that is very complicated to use. You would definitely want something that is simple and easy. If it is hard to use then it might discourage you from sewing.
Anyway, check out below to see what this model has to offer and see if this is the right sewing machine for you to take home. You may want to read the following article on Janome 2222 VS 2212 if you can't decide on which model to get.
Janome 2222 For Sale
You can find this model for sale from the below image and you can also buy it from amazon by clicking here and over here also. These two links might have a price difference. You may want to check to see which one has a lower price.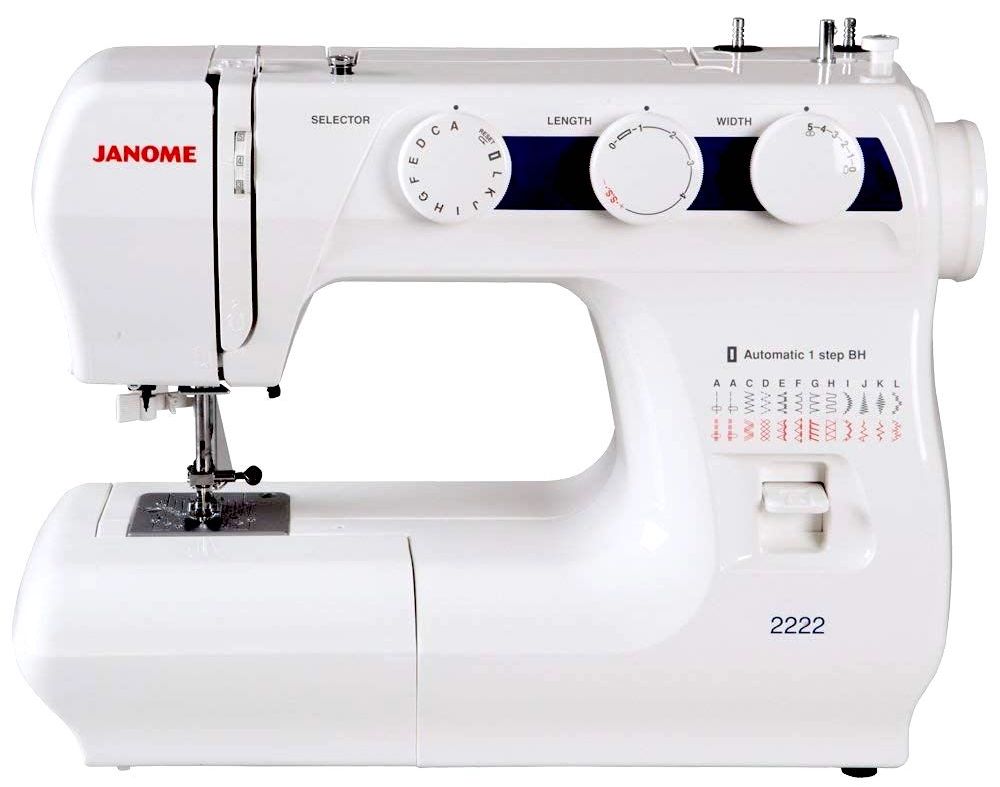 Check Price
Features
In this section we will talk about what features are included with this model.
Free arm – A sewing machine isn't complete without a free arm right? This part is a necessary feature to sew sleeves and cuffs. It's just needed to be able to sew small items. Would you even consider buying a machine that has no free arm?
At least I wouldn't. After all, I started sewing at a very young age and a free arm is needed. The creators making sewing machines are pretty darn smart.
They give you an option to turn it into a free arm when it is needed and to use it as a storage compartment when it is not needed.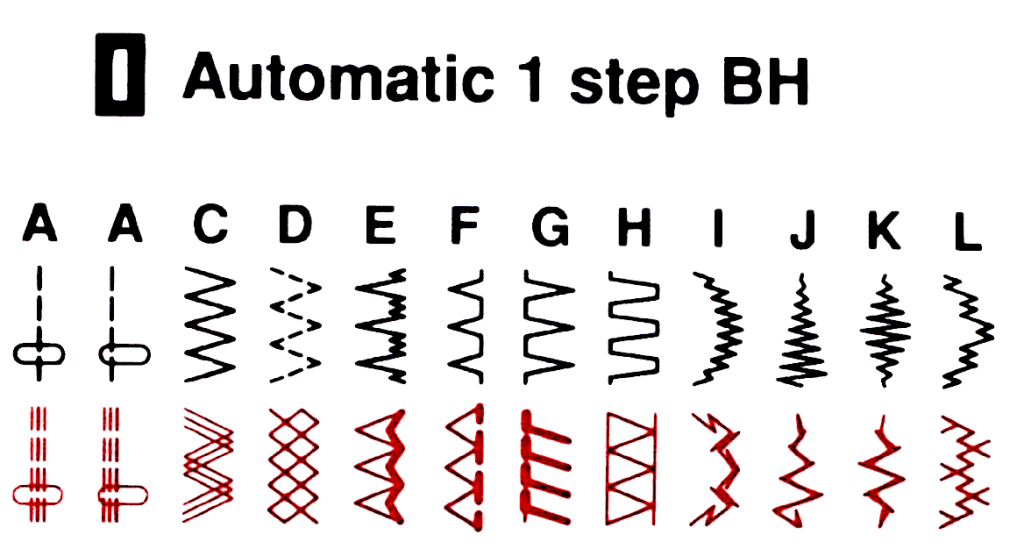 Stitch Patterns – Would we still be able to sew if there was no sewing stitch patterns? The answer to that is yes.
When I was first learning how to sew with those very old sewing machines, they didn't have any stitch pattern selections but only a simple straight one and that is to only sew a straight line to connect all the fabric parts.
This machine has 22 stitches for you to play around with your sewing creativity. To select the stitches you just turn one of the dials with alphabet letters imprinted on it.
It is the first dial on the sewing machine. The other two dials are for adjusting stitches width and length.
This can't even compare to my old machine. This one looks so sleek and with a lot of simplicity that makes you want to sew almost every day. The Janome 2222 is like a dream when it is compared to my old sewing machine. LOL………
My point is that you don't need that many stitch styles to sew. A few styles is good enough and 22 of them is great.
Foot controller – The model only has an included foot controller to operate the machine. There is NO Start/Stop button for an extra way to operate the machine.
If you need to have this function then click here to check out all these sewing machines that have the Start/Stop button function.
The foot pedal is very simple to use. Before doing any of these steps make sure the power switch is off. Step 1 is just inserting the machine plug to the sewing machine socket. Step 2 is to plug the power cord to the outlet. Step 3 is to turn on the power switch from the sewing machine. Step 4, you are ready to sew.
Remember the harder you press on the foot controller the faster the machine will go. That means if you press lighter it will go slower.
Drop feed – It does allow you to drop feed to do free motion quilting but you would have to get the Free Motion quilting feet to be able to do so since it doesn't come with this machine. The part numbers for the quilting feet is 202002004. You can also find it here if you would like to do quilting.
Just to let you know, for normal sewing again the feed dogs need to raise up.
One step automatic buttonhole – A one step automatic buttonhole is making sewing buttonholes a lot faster and easier. It is more accurate and less likely to make mistakes.
Feed dog – This one has a 3 piece feed dog. That is a little lower in terms of numbers of feed dogs. Janome pink sorbet model also has a 3 piece feed dog system. The higher the number of feed dogs in the machine is more superior and it might cost more too.
Reverse lever – Would you rather have a lever or button to sew the reverse stitches? Well, this one has a lever instead of a button. To me it doesn't matter.
Either one is doing the same thing to reach its goal by reinforcing the stitches where you need it to. But I think a button style looks fancier. LOL…..
Needle threader – It is great that this has a built in needle threader. I guess most of the models have the feature, but there are some models that don't have this feature.
If you don't know what a needle threader is, a needle thread is pretty much where the machine helps to put the thread through the eye for you without you having to do it manually every time. You do know the thread is required in the needle eye to be able to sew right? 😛
Maximum stitches width and length – This sewing machine allows you to adjust the width and length to your liking. The maximum stitches for length is 4mm and as for width it allows you to adjust up to 5mm and that is 1mm more than the length.
Thread Cutter – This is a little thread cutter built in the machine for you to easily access to cut your thread. It is not an automatic thread cutter.
An automatic thread cutter is where the machine cuts the threads for you, but on this one you would still have to bring the thread to the cutter to cut it. It is still nice to have it if you can't find your scissors.
More Sewing Features
Snap on presser feet
Push-pull bobbin winder
Extra high presser foot lift
Manual thread tension control
Built-in handle
Front Loading Verticle Oscilating Hook Bobbin
Sewing Light
Two retractable, vertical spool pins
Janome 2222 Reviews
This model has very good reviews, but it's short of a lot of features. If you don't need a lot of sewing features and don't mind the bobbin loading system then go for this model.
✅ Pros:
Easy to use.
Great for beginners.
Quiet and sturdy
Can even use to sew thick fabrics like jeans.
❌ Cons:
No automatic thread cutter.
No Start/Stop button.
No wide extension table.
No adjusting speed control.
No needle positions up/down option.
You can't see how much thread is left in the bobbin without having to take the bobbin out of the machine, and taking out the bobbin is a little hassle and wasting time. It is not as convenient as the other models that have a top loading bobbin system with a clear cover. If this is a NO – NO for you and you want to stick with the Janome brand then you might want to consider the Janome JW8100 and Janome C30 models instead.
What is in The Box?
The sewing machine is also included in the box. Wouldn't you be mad if the machine is not included? LOL……..
Hem guide

Hemmer foot

Automatic buttonhole foot

Satin stitch foot

Overcasting foot

Zipper foot

Seam ripper/Buttonhole opener

Bobbin

Needle set

Small screwdriver

Oil

Large screwdriver

Dust Cover Included
Dimension, Weight
The measurement for this sewing machine is 15.2″ W x 11.6″ H x 6″ D and you will have about 6.5″ W x H 4.7″ H working space. The weight is about 13.2 pounds.
Oiling and Maintenance
This model does require you to oil the machine at least once a year. The parts that you need to oil are behind the face plate and the shuffle hook area. It suggests you to use high quality oil to do so.
The Janome 3160QOV doesn't require you to oil the machine. Hmmmmm, I guess different models have different requirements.
You should clean the feed dogs and bobbin case and hook after you are done sewing. This is pretty much maintenance work. Every sewing machine requires you to do it.
Manual and Warranty
If you want to read the Janome 2222 manual first before getting it then you can do so by clicking here. The manual is about 64 pages. I think it is a little long for a simple sewing machine and that is because the instruction manual has other languages as well, not only English. It is also in Spanish and French languages.
This machine has a 25 year limited warranty by the Janome company. So that's a lot of years coverage for defective materials.