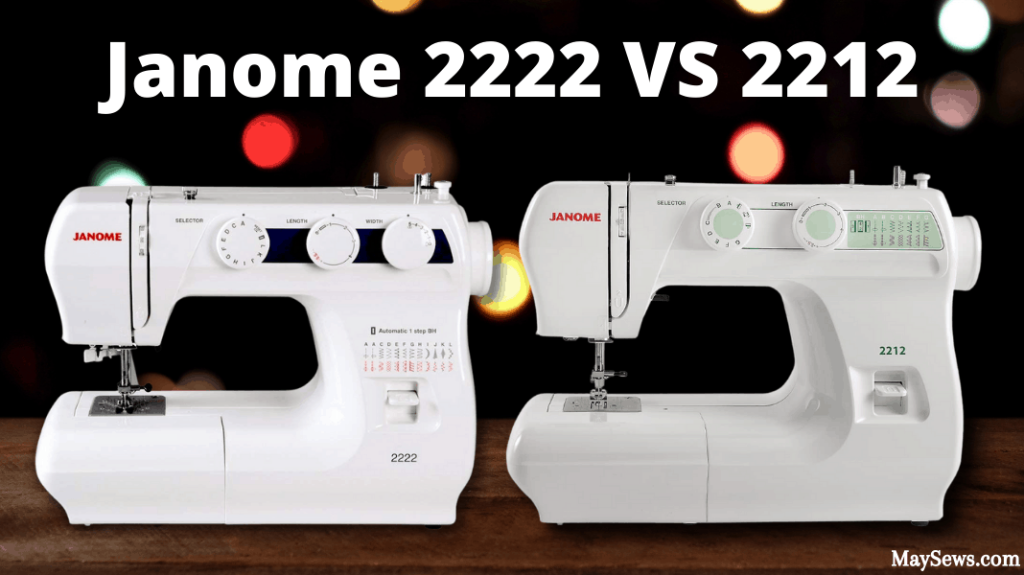 Okay I know some of you would like to know what is the difference between these two models so I decided to write a post on Janome 2222 VS 2212. I did spend quite some time on finding the differences out for you to help you save your time.
According to my research online both models really don't have that many differences, but if I have to choose between these two models then I would have to pick the 2222 model over 2212 despite the price being a little higher.
Both models are designed for a beginner for sewing. If you are an advanced user then you might want your sewing machine to have more features like having a Start/Stop Button, setting needle up/down position, speed control option and others.
The reason is I prefer to have a 1 step over a 4 step buttonhole. A 1 step buttonhole has less work than a 4 step buttonhole and it is less likely to make mistakes than a 4 step. That's why I am willing to pay $50.00 additional.
If you like you can read the Janome 2222 review. Sorry I didn't write a review for the Janome 2212 model.
Oh yeah, of course an advanced user can use either of these two models if he/she decided to get it. The manufacturer could make these two models even better if they turned the bobbin system to be top loaded with a clear cover.
That way we could see how much thread is still in the bobbin before winding more thread in the bobbin for bobbin replacement.
This would save more time and work on having to keep taking the bobbin out just to check. The other option is to let the thread run out by itself to find out.
Click here to get the Janome 2222 model and click over here to get the Janome 2212. You can also read more reviews from those pages.
Here is a summary of what I have found on their differences. I hope this will help you to choose the correct model for yourself to do sewing.
The Janome 2212 model released out in the market a lot sooner than the Janome 2222 model. I guess the 2222 is an upgraded version.
The MSRP for 2222 is $299.00 and 2212 is $249. That is a $50.00 difference.
The 2222 has 22 stitch patterns selection and 2212 has only 12 stitch patterns. That is 10 stitches less.
You can adjust the stitches on the width and length with the additional dial on the 2222 model, but 2212 can't adjust the width. It can only adjust the length and that's why it has one dial short on the machine.
The sewing machines have a slightly different interface due to some color changes. The 2222 has a dark blue color with a weight of 13.2 pounds. The 2212 has a light green color and it weighs 13 pounds.
Model 2222 has a 1 step buttonhole and 2212 has a 4 step buttonhole.
The 2212 doesn't include oil but the 2222 does include it. So if you are getting the 2212 model then you will have to buy sewing oil separately, because both machines are required to oil at least once a year.
Here is a summary of what both models share on traits or features.
A built in manual thread cutter
A sewing light
3 piece feed dog
Turn into a free arm
Drop Feed
Dust Cover
Needle threader
Front Loading Verticle Oscilating Hook Bobbin
Handle for easily carrying to places
Snap on presser feet
Foot Controller
Extra High Presser Foot Lift
Manual thread tension control
Working space of 6.5″ width x 4.7″ height
Measurement for both machines is 15.2″ W x 11.6″ H x 6″ D
Both models have excellent average ratings.