Note: This post may contain affiliate links. If you click a link and buy something we may earn an affiliate commission at no extra cost to you.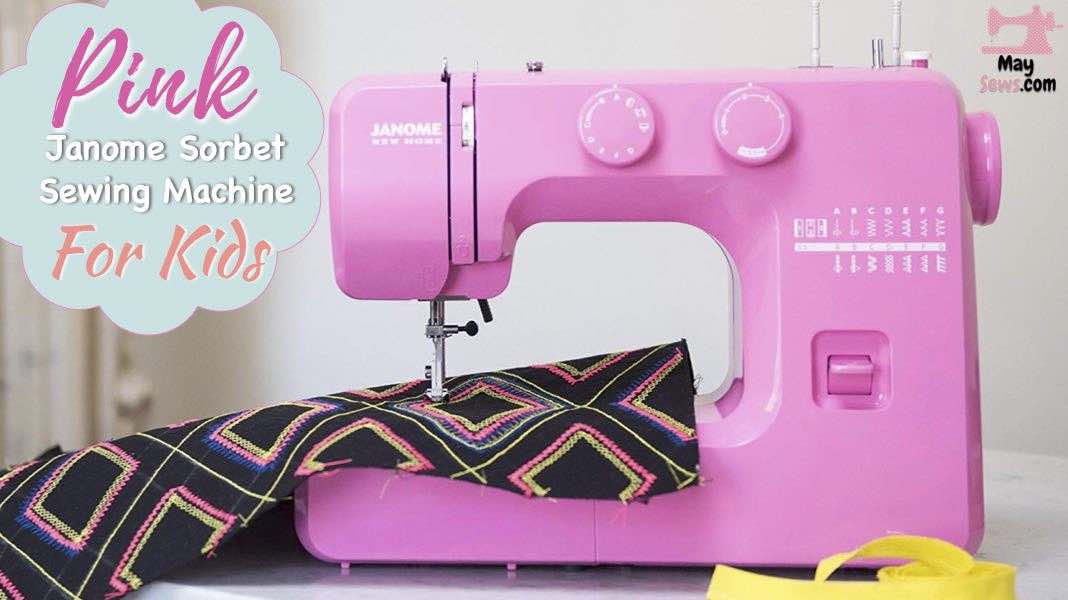 This Janome pink Sorbet sewing machine is an excellent choice for a little girl to learn to sew and it will be great to give as a Christmas or birthday present.
I wish I had this beautiful looking sewing machine when I was young, but instead I had to work with my parents to bring food to the table.
Yes, I was sewing when I was a kid. It is no fun when you are sewing something that is not even for yourself. Thank goodness I survived those hard times. >O<.
Okay enough about me, let's talk about this cute little pink sewing machine. Oh yeah, I forgot to mention there are two other colors for this machine.
Those colors are arctic crystal and blue couture. Actually, all three of these colors look pretty nice. Click here to see what it looks like for the blue couture, and for the arctic crystal click here.
Video
Check out this video for a walkthrough for this model. If you are serious about buying this model then I suggest you to spend some time watching it.
The video is not that long. It is about 4 minutes. In the video, the presenter is using the blue couture color one for demonstration. In terms of features, everything is the same except it is in different colors.
Features
Here's what this model has to offer in terms of features.
Stitches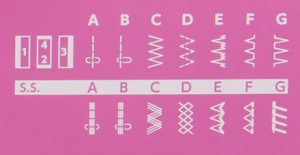 This model doesn't have that many built-in stitches. It has about 15 of them and that makes it simple to pick one without spending too much of your time deciding on one.
To break it down a little more on the stitches styles, it has 7 basic stitches styles and another 7 more for stretch stitches styles. The last one is for the buttonhole style.
The stitches pattern is imprinted on the sewing machine. You wouldn't miss seeing it on the machine.
Choosing a stitch style is very simple. All you have to do is turn the Stitch Selector Dial to the setting mark which is imprinted on the machine, and to the stitch style you will be using.
For example, if I am choosing stitch style D then all I have to do is turn the Stitch Selector Dial to stitch D and match it to the setting mark and that is it. Stitch D is imprinted on the Stitch Selector Dial.
3 Piece Feed Dog System
A 3 piece feed dog system is enough to feed the fabric for smooth sewing. If it is just for simple sewing you really don't need a higher number feed dog system. This one will do just fine. Your little one might not even know the difference.
That being said, having a higher number of feed dog pieces will give you more control on different types of fabrics and overall better performance of the sewing machine. This is more for advanced users.
4 Step Buttonhole
When comparing with One Step and Four Step Buttonholes, the One Step is a lot easier. The Four Step requires you to sew four parts and this machine has a four step buttonhole maker.
You will also need to turn the dial each time you finish each part. It does take a little longer and is more complicated than the One Step.
The first buttonhole is always the hardest when you don't know how to do it. Once you did the first one then you won't be hesitating on making the second one. You just need to get used to doing it.
Loading/Changing Bobbin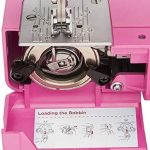 This is pretty nice that you can load or change the bobbin on the top. It is very easy to do so with this model.
To do so just open the hook cover and you can insert the bobbin. As you can see from the picture, the cover is opened and the cover has some imprinted pictures showing you how to load the bobbin.
You do have to detach the extension table part first and make sure the needle is in an up position. To change the needle position, just turn the handwheel towards you.
If you need more bobbins for this model then click here to get extra ones. You can never have too many bobbins for your sewing machine.
Reverse Lever
The Sorbet model does come with a reverse button for backward sewing stitches.
To be able to sew backward stitches, you would have to press down the lever and keep on holding it until you are done backward sewing.
It will start sewing forward stitches again by releasing the button. You should always do backward stitches for the beginning and the ending of sewing. This is to prevent the seam from getting loose.
Manual Thread Cutter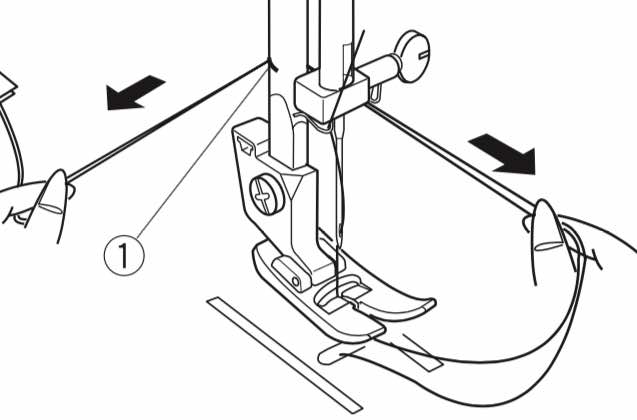 It does come with a manual thread cutter. Most of you might not even know where it is located. This one is a little different than the other models for the thread cutter's location.
I get used to seeing it located around the left and a little higher from the presser foot, but this one is located at the back of the presser foot instead.
The manual does have a little drawing showing you where it is. It is on page 12 on the manual and it is not located in the table of contents. I had to read the whole manual to be able to find it.
More Features
Free arm – has a storage compartment to store your small accessories
Adjusting width (max. 5mm) and length (max. 4mm) stitches
Adjustable thread tension
Extension table
Has a heavy duty metal frame
Operating by a foot pedal/control
Can sew up to 800 stitches per minute
Dual retractable vertical spool pins
Darning Plate included for free-motion sewing
Extra-High Presser Foot Lift
Snap-On Presser Feet
Built in light for sewing area
Buy The Janome Pink Sorbet Sewing Machine Online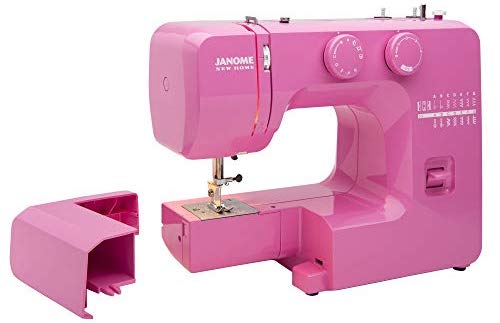 Check Price on Amazon
Accessories
Four Presser Feet Included:
General Purpose Foot (on machine)
Blind Hem Foot
4-Step Buttonhole Foot
Zipper Foot
Standard Accessories:
Bobbins
Needles
Foot pedal
Seam Ripper
Darning Plate
Quick Start Guide
Instruction Manual
Janome Pink Sorbet Sewing Machine Review
The average rating for this model is very high. A lot of consumers are very happy with their purchase despite all the cons listed below.
I will be honest with you. If it were me I wouldn't go for this model. My biggest issue for this model is not having an automatic needle threader.
That means I have to manually put the thread into the needle every time when the thread comes out and I can tell this happens a lot.
I can clearly tell you, it is almost impossible for me to put the thread into the eye hole. I don't mind not having an automatic thread cutter and a Start/Stop button.
I can always use scissors and operate the machine with the foot pedal to compensate that and I love having a metal frame for a sewing machine.
If you have no problem with your eyesight and you are a beginner or hobby sewer then you should go for it. You don't need to invest in a much more higher price sewing machine.
✅ Pros:
Simple to use.
Sturdy and high quality.
It looks cute.
Lightweight and easy to travel with.
Affordable price.
❌ Cons:
No automatic thread cutter.
No Stop/Start button to operate the machine.
No automatic needle threader.
3 piece feed dog only. If you are an advanced user then this one might not be the right choice for you. I would suggest you to try the Janome JW8100 model.
Dimensions and Weight
This machine weighs about 13 pounds with the following measurements 15.2″W x 11.6″H x 6″D. The working space is about W 6.5″W x 4.7″H. You might also want to know the throat size too. It is 6.2″W x 4.2″H.
Manual and Warranty
This machine has a 25 limited year warranty. The manual is fairly short. It is about 28 pages long, so you don't need to spend that long reading the instructions learning how to operate it. You can find the manual by clicking here.