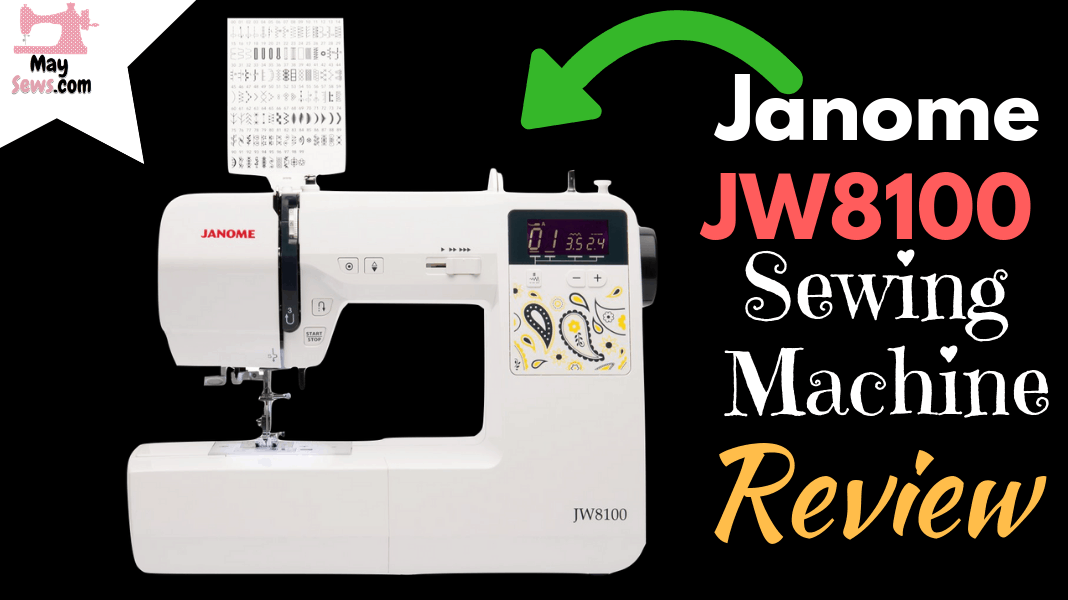 You will find this Janome JW8100 sewing machine review to be very thorough. Well, I will try to be as thorough as possible.
The appearance for this Janome JW8100 machine is pretty nice. The outside might look all plastic but the interior of the machine is made out of metal and at the same time it is not too heavy to carry around.
This machine is roughly 13 pounds and it is a good weight for being still without skipping while sewing. If the machine weighs too little it can jerk around when you sew, especially when you are sewing at a very fast speed.
Who Is This Machine For?
This machine can be used by a complete beginner because it is pretty simple to use. Just spend some time on reading the manual to learn all the functionalities and how it works if you decide to buy this model.
It usually requires some of your time to learn how to operate a new gadget that you have bought. Once you have learned it then you will be able to operate it in a breeze.
Of course this machine can be used for experienced users, especially those who love doing heirloom and quilting.
Is It Worth The Price Tag?
I believe this sewing machine is worth the price tag. It is a little higher than other popular models. That is because this model has a heavy metal frame, a lot of built-in stitches and features, not to mention you can do quilting and heirloom. With just these two items, it's already added up to a total of 45 stitches.
When you are doing quilting you will have 18 different styles of stitches to pick from for your projects, and as for heirloom you will have 27 styles to choose from.
The people who bought this model are pretty happy with their purchase. Click here to read for yourself and read below for features.
What I Like About The Features Of This Janome Model?
There are a lot of things I like about this model. My most favorite features are the built in needle threader, one step buttonhole, and it has a metal frame. What is your favorite?
Stitches
Let's talk about the number of stitches for the model. Like I said before this model comes with a total of 45 styles of stitches just for doing quilting and heirloom projects. The whole total of stitches is 100 styles to select from.
The other 55 stitches are for 20 basic stitches and fashion, 28 stitches for home decor and the other 7 stitches are for buttonholes.
Auto Declutch Bobbin Winder
Winding bobbins can't be any easier with this auto declutch bobbin winder. This basically winds thread into the bobbin and it will automatically stop when it is full. It won't overfill so you don't have to worry.
Loading Bobbin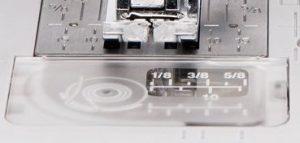 Loading the bobbin is much easier with this model. It is because you can load it from the top instead of underneath the sewing machine. It is harder to load from underneath.
The cover is also clear. That way you can see how much thread is still in the bobbin. If it is close to empty then you can start preparing to wind some more.
It is kind of like giving you a little head up for what to do next. If the cover was NOT clear then you would have to find out by sewing all the thread out.
One Step Buttonhole
A basic or beginner sewing machine usually comes with only 1 buttonhole style but this comes with 7 one step buttonholes and I think it is pretty awesome.
A one step buttonhole is a lot easier than a 4 step when making buttonholes. It is automatic and doesn't require turning the selection dial like the 4 step.
It is also more accurate, saves time and gives less chance of making a mistake. It is pretty much sewing the whole buttonhole in one step. You can't get any easier than this.
A 4 step requires more manual work with 4 parts. The machine won't sew until you turn the selection dial for each part.
It will also require you to measure the size of the buttonhole and mark on the fabric where it should be located. If you need to sew the same size of the buttonhole then you need to repeat the same process again.
That's why I think the one step is more awesome and convenient.
But if you are comfortable making buttonholes with a 4 step then stick to that. You should always stick with what makes you the most comfortable.
Thread Cutter

I want to address the thread cutter on this Janome model. Some are saying this model doesn't have a thread cutter but that is incorrect.
It does have a thread cutter but it is a manual one. That means you would still need to use your hand to use the little cutter built on the machine.
It is just not an automatic one, like machines that will cut the thread for you every time when you are done sewing.
If you really need an automatic thread cutter than I suggest the Brother SE600 model. This model comes with this feature.
LCD Display
This one has a backlit LCD display. On the screen, it will tell you what stitch style you are currently using and you can always change the stitch styles with the plus and minus directional buttons. It is just a little lower on the displaying screen.
You can also adjust the sewing stitch width and length with those same buttons. The maximum stitch for length is 5mm and the maximum stitch width you are allowed to adjust is 7mm.
This is a little more than other types of machines. Others are usually around 5mm. So it is 2mm more for this one.
Needle Threader
This is a must have feature for me. I wouldn't consider a sewing machine without it. That is because without it I don't think I can sew at all.
My eyesight has become so bad. I don't think I can put the thread into the tiny hole in the needle.
It will definitely take forever. I would rather give up sewing if I couldn't get the thread through.
I recommend you to select a machine to have this function if you want to have less frustration like me. LOL……..
I am happy to say this model has this function. It is very easy threading the needle with this built in function. Please check out below to see how easy it is to thread the needle with this machine. Below image credit goes to Janome.


Threading the system couldn't be easier with the imprinted guide on the machine. Just follow the steps and you are done way faster and you don't have to refer back to the manual each time.
Feed Dog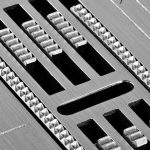 The Janome JW8100 has a 7 piece feed dog system. A sewing machine can be available with two to eight feed dog systems. The higher number of feed dogs for a sewing machine is better.
This will give you more control, accuracy and ability to handle more types of fabrics when you are sewing.
If you don't know what it looks like, just take a look at the picture of these feed dogs. This picture is showing it has a 8 feed dog system.
Free Arm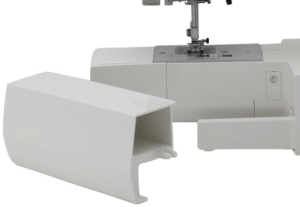 A sewing machine without a free arm feature is not cool, but I am happy to say this model includes the free arm feature.
Having a free arm is for making sewing cuffs, sleeves and pants much easier. It's also great for sewing baby items. All you have to do is detach it from the machine.
That detached part can be used for storing small items, like bobbins, feet and needles.
Stitch Chart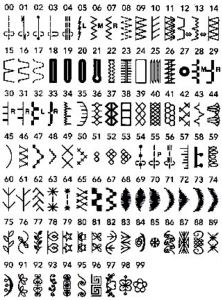 Having a stitch chart at hand is pretty nice. That means you don't need to refer back to the manual each time you want to change stitch styles.
I am pretty sure you are not able to remember all the numbers for their respective stitch styles. Well not at first if you have really awesome memory, after all it has 100 of them.
You can always remove the chart from the machine if you don't want it to be attached or want to put the machine in storage.
It is pretty flexible because of its removable feature. It can't get any easier than this if you ask me.
Extension Table
This item includes an extension table. This will give you even more working space for your bigger sewing projects like quilting.
The machine looks pretty darn nice with the attached extension table, but you might need a larger table to place this machine on.
You might not notice, the extension table has measurements imprinted on it. This is kind of nice when you can't find a ruler at hand to measure your fabrics or other things.
I know some of you might be wondering what the measurements are for the extension table, so I took some time and looked them up for you. The measurements for the extension table are 16″ wide x 11″ deep.
Hard Cover
This comes with a hard cover. It is great to cover your sewing machine for safety when it is not being used. It is also great to keep the dust out of the machine.
Seriously, this is a convenient item to have. It can build up a pile of dust before you know it when it is not being used.
If you don't have a cover for the machine then the first thing you need to do is clean it before you can start sewing and cleaning takes time.
Speed Control Slider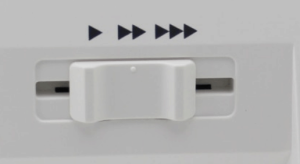 Having this function for a sewing machine is great too. It basically controls how fast you want to sew with your projects.
As you can see from the photo, it has three settings. If you slide it all the way to the right then that will give you the fastest sewing speed and moving it all the way to the left will give you the slowest speed.
I say the middle one will give you medium speed. You should always sew at a speed that you are most comfortable with and don't set it to the fastest one if you are not ready, especially if you are a newbie on sewing.
You might get hurt from doing so. I would suggest the slowest speed for a complete newbie. Once you get the hang of it then try other speeds.
According to my research online this machine can sew up to 750 stitches per minute. To me it is pretty fast.
Buy Janome JW8100 Online
If you are interested in this model then click the below button or picture to check the current selling price. As you can see from the below picture, it includes a hard cover and an extension table.
Check Price on Amazon
Start/Stop Button
This function is pretty obvious. By pressing this button, it will start to sew and pressing it again it will stop the machine from sewing.
This feature is great to have. With it you don't have to operate the machine only with the foot pedal. But sometimes it is nice to have a change of sewing with the foot pedal as well, maybe like you are tired of pressing the start/stop button. LOL…….
This machine does include the foot pedal as an accessory.
Reverse Button
By pressing this button you will cause it to sew backward and it is great to use it to sew some of the parts for reinforcement on the seam like the beginning and end of the seam. Most of the sewing machines usually will have this function.
Locking Stitch Button
You might think this feature is like the Reverse Button, but it is not exactly. This button is for creating stitches to be invisible in the beginning and end of sewing. Basically, it is to tie off the end of the thread to be invisible without it getting loose. This will be great for the parts that need to be invisible.
Needle Up/Down
This machine has the ability to memorize the needle to be up or down when you stop sewing. It is up to you to set it to be up or down. For example, it will be helpful to set it to the down position for making turns on the corners.
Snap On Feet
There are four included snap on feet. That means it eliminates the need to screw and unscrew just to change a different kind of foot.
It does save a lot of hassle and you will get more work done without the screwing process. It is super simple to change the presser feet with this added functionality.
Manual Thread Tension Control
This sewing machine allows you to manually adjust its thread tension due to different types of fabrics that you are using. You can do so by just changing the dial.
Handle
The item does have a built in handle for easily carrying it to places. To do this, you should use one hand to hold the handle and the other one to support the sewing machine.
Light
The working area has a built in light and you can manually change the light bulb when it is out.
Accessories Or Included Items
These are the following accessories that come with the machine.
Satin Stitch Foot
Even Feed Foot
Quarter Inch Foot
Zig-Zag Foot
General Purpose Foot
Zipper Foot
Automatic Buttonhole Foot
Pink and White Pincushion
Horizontal Spool Holders (large and small)
Extra Spool Pin
Needle Set
Seam Ripper
Lint Brush
Bobbins (class 15)
Screwdriver
Stitch Card and base
Extension Table
Hard Cover
Instruction Book/Manual
Dust Cover
Foot Control/Foot Pedal
Power Cable
What Are The Dimensions and Weight?
The dimensions for this model are W 16″ x H 12″ x D 7″ and it weighs about 12.7 pounds. The working space for this machine is about W 6.7″ x H 4.3″, but this is expandable by using the extension table.
Janome JW8100 Review
A lot of users are super happy with their purchase of this model. The average rating for this sewing machine is extremely high. You can click here to read the actual reviews by the users who have bought it.
✅ Pros:
Very easy to use.
Lightweight and easy to carry to places like sewing class.
Many say the machine is quiet while it is being operated. It wouldn't wake up your kids when they are taking naps.
A lot are saying it's great for quilting.
❌ Cons:
No automatic thread cutter, but it does have a manual one.
A few are saying there are missing parts like screwdriver, stitch chart.
Sewing light could be brighter and cover more area.
Warranty
This machine is backed up by a 25 year limited warranty from Janome. It is provided with 25 years of mechanical parts, 5 years on electrical parts and 1 year to cover labor.
FAQ Section
What kind of bobbins should I use?
This model uses Class 15 Bobbins. The machine comes with a few bobbins and the plastic one will do just fine.
If it were me I would use the same brand from the sewing machine company, because different companies make different sizes of bobbins to fit their machines. If you need more Janome bobbins click here to get more.
How big is the throat size for this machine?
The throat size for this model is about 6.7 inches.
Can this machine handle denim?
Yes, it can, but you will need the right needle to be able to use it, like the heavy duty kind.
What are the voltage specifications for this machine?
This machine has a dual Voltage 80v – 240v.
Does this machine have low shank foot?
Yes, it does.