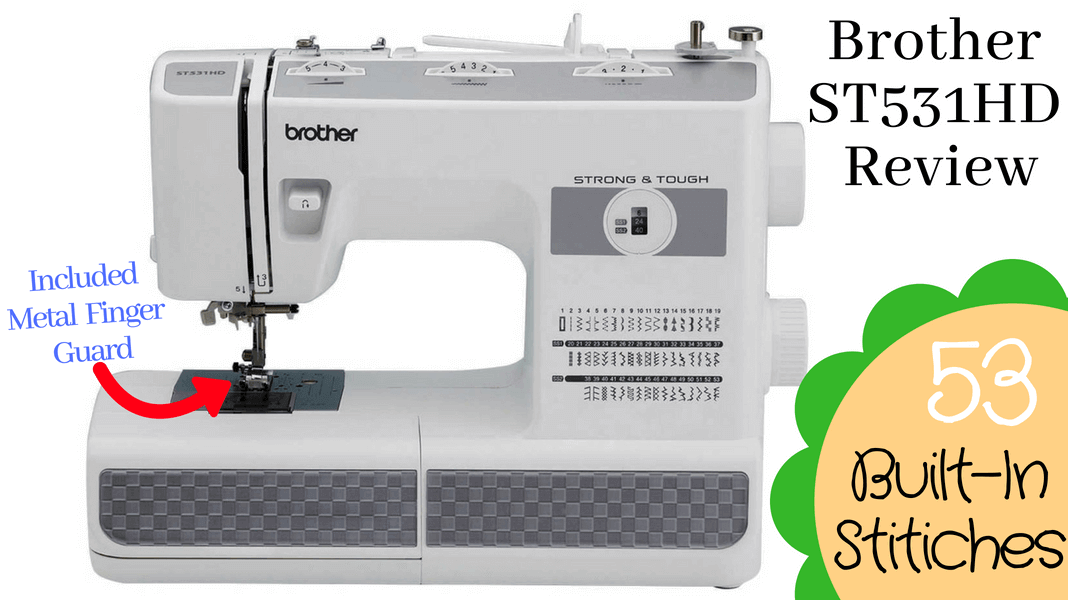 The Brother ST531HD sewing machine is the first Brother brand sewing machine I have found to have a metal frame and that is very nice to know.
This machine is pretty new and it's just released last year in 2017. So there might not be that many people who know about this model. This model is built to be strong and tough to sew anything from silk to six layers of denim. Pretty cool right?
The retail price is not so bad either. It definitely won't break your wallet if you are shopping smart.
Should You Buy This Model?
Well, if you need a machine that can sew up to 6 layers of denim fabric and need to use it all the time then my answer is yes. The Brother brand is a very well known brand to design very reliable sewing machines, and not to mention it has a metal frame.
If you decide to go with this model and if you have a Costco membership, then I suggest you to buy it from them if it is possible. You might save a lot more money by buying it from them. I know Costco offers this model.
If you don't have their membership then you can buy it by clicking the below big picture and you can also check its current selling price.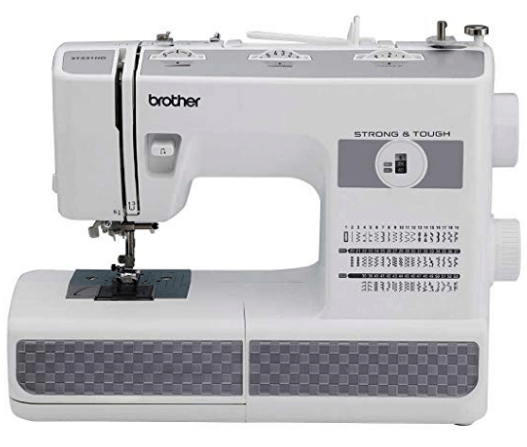 Check Price on Amazon
Features
Okay let's talk about the benefits of owning this model. I usually do a lot of research on what they have to offer to me about a product that is over $100.00 before buying it. I am pretty sure you are doing the same thing.
53 Built in Stitches
It comes with 53 built in stitch selections for you to work on your projects. These 53 built in stitches include overcasting, zigzag, blind hem and decorative stitches. We all like having more decorative stitches to work on right?
Free Arm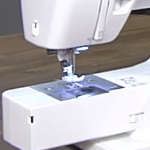 This model does have a free arm available if you decide to use it. If you don't know what a free arm is, it is pretty much to make the sewing area smaller or have less space to sew.
This makes it more flexible to sew pants, cuffs and sleeves on a shirt. It is pretty much to sew hard to reach areas.
It's definitely a very useful feature to have and it will make it more useful when sewing baby clothes. As you know, baby clothes are very tiny and they are hard to sew.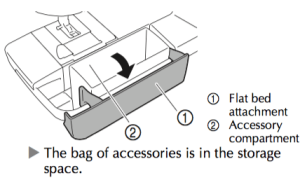 When the free arm is not in use, you can use that part to store your accessories like bobbins, needles, and other small things.
To access the storage section on the flat bed, just swing the lid toward you and that should open the storage space.
Finger Guard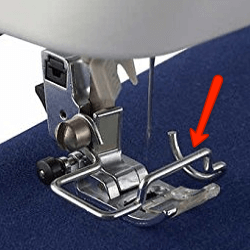 This model comes with a metal finger guard to protect your finger from getting hurt. This is a very awesome feature and the very first machine I have come across to have a finger guard. Seriously, this is a pretty handy item to have.
I have hurt my finger with a needle before when I was first learning how to sew. It was super painful and very bad to even think about it every time.
The needle broke and the thread got into my finger so it was painful to pull the thread out of my finger. You don't want that happen to you either.
You should definitely get this for someone who is just learning how to sew and sewing in a very fast speed. After all, you can use this machine to sew with the speed of up to 800 per minute. Sometimes accident do happen. We should lower our chances of getting hurt as much as possible.
Durable Metal Frame
This is the first Brother brand I came across with a sewing machine that has a metal frame. I like sewing machines to have metal frames because I believe it is more durable than a plastic one and it's less likely to jerk around when you are sewing with very high speed.
It does have a little trade off though since metal is heavier than plastic. It might not be a better option for you if you need to bring your machine wherever you go all the time.
Built-In Handle
This item doesn't come with a hard cover case to protect the machine from dust when it is not in use. It also does not come with a carrying case for taking it with you to places, but the machine does come with a built – in handle for you to carry it to places easily.
It is located in the middle top of the machine. If you decide to buy a carrying case separately then you need to find one that is bigger than the following measurements 12.21"W x 16.10"D x 7.87"H. It might be a little hard to buy a carrying case for this one since the depth is a little big.
One-step, Automatic Buttonholes
Sewing buttonholes and buttons couldn't be easier and more accurate with the included buttonhole foot and sewing button foot.
These two items will save you a lot of time and have better results than from doing it by hand. Of course the machine has a built in button hole stitch pattern for you to use.
Tip: You should practice making a buttonhole on a fabric that you don't need before doing it on your actual sewing project. That is to help lower the risk of making a mistake or ruining it on your actual project.
Metal Needle Plate
The needle plate is made with metal instead of plastic. That makes it more durable and stronger and also gives you a smoother fabric feeding for sewing.
The plate also has imprinted measurements on it to help you sew in a straight line.
Heavyweight Needles
It comes with 3 packs of heavy gauge needles & twin needle. Those sizes are #11, #14 and #16. The higher the number of the needles the thicker the fabric it can sew, such as sewing jeans for the size of #16.
You can use the #14 size needle to sew medium weight fabrics like sewing broadcloth. As for needle size #11 can use it to sew thin fabrics like sewing silk.
You can also use the twin needle to sew with this machine. You can use the same color or different color of thread for the twin needle. For using different colors of thread only the twin needle can make it possible for creating decorative stitches for your projects.
Reverse Sewing Lever
This reverse sewing lever is a handy little item to have when it comes to sewing. This is basically to sew backwards.
Some parts of your clothes might need reinforcing seams to make it more secure like the part on the edge. You can do so by pressing the reverse sewing lever on the machine.
Easy threading system
Like I always say, an easy threading system is a must to have for a sewing machine especially for older people or for someone who has bad eyesight. I wouldn't even consider buying a machine that doesn't have this feature.
My reason is pretty simple that I can't see the needle hole anymore. It would take me forever to put the thread in the needle hole without it.
I would rather not sew instead of wasting time for something I can't do. I can always ask someone else to help me but that is a hassle whenever the thread is out of the hole. Don't you agree?
How To Switch From SS1 To SS2 For Stitches?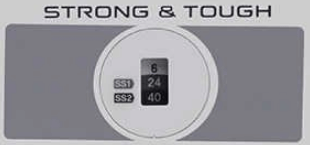 I have seen some of you are having trouble switching to SS2 for selecting the stitch patterns. That is because the SS2 setting is hidden by the dial.
Tip: Just be sure to remember to raise the needle in the up position whenever you need to select a stitch pattern each time by turning the handwheel toward you (counterclockwise).

To get to SS2 setting, first you need to set the dial to SS1 and then turn the dial further to the left by using the stitch length dial which is located on top of the machine, the first dial counting from the right side from the above image.
Then you would use the pattern selection dial to choose the pattern you like for your project. The pattern selection dial can move either direction back and forth to increase or decrease the number selections.
To get to SS1 setting you would do the same thing from the above instructions I have stated.
Brother ST531HD Review
Like I said before this model is pretty new since it was released around May 2017, so it will have less people giving it a rating and it is less popular than the CS6000I model.
The majority for this machine has a favorable rating online. It does have a high average rating. It is definitely higher than the ST371HD model. If you want to know the difference between the ST371HD model then read the post of Brother ST531HD VS ST371HD.
This machine might not have a lot of built in stitches to select from, but it is great for sewing thick fabrics like jeans and it is a better option for someone learning how to sew with the finger guard feature.
✅ Pros:
It does perform as it is claimed to be able to sew a lot of layers of fabrics.
This machine makes sewing easy and smooth.
It is well worth the price because it performs heavy duty and it's durable.
Great quality.
❌ Cons:
This model has no automatic thread cutter, so it requires you to either use scissors or the thread cutter on the left side, just a little higher from the presser feet of the machine to cut the thread each time.
No wide table included to work with bigger projects.
Selecting a pattern to work on is a little hard for this model when comparing with other machines. The only reason I say that is because if you forget to raise the needle position then it might cause the presser foot, the needle or fabric to be damaged. So you should be very careful and remember to raise the needle position up by turning the handwheel toward you or counterclockwise each time when selecting the pattern.
Should You Oil This Machine By Yourself?
This model is NOT recommending users to oil it by themselves. This is to prevent the machine from being damaged.
The machine should have enough oil by the manufacturer when you have first made the purchase according to the manual and it should eliminate the unnecessary periodic oiling by the user.
If problems occur with this machine, such as if you are hearing an unusual noise or the handwheel is having a hard time turning then you should stop using the machine immediately and you need to contact your local authorized dealer or nearest authorized service center.
What About Storing It?
Yes, of course you can store the machine when it is not in use, but you shouldn't store it in a very cold or hot area, or places with frequent temperature changes.
You should also not store it in a place with very high humidity or steam and not expose it to direct sunlight. Doing so can damage the machine.
What's In The Box and Included Accessories?
Of course, 1 Brother ST531HD sewing machine and you can take a look at the below accessories.
Included 6 Feet
Button Sewing Foot
Blindstich Foot
Spring Action Zigzag Foot
Buttonhole Foot
Non Stick Foot
Zipper Foot
Included Accessories
Finger guard
Spool pin
3 piece needle set (#11, #14, #16)
4 Bobbins
Twin needle
Power cord
Foot controller
Operation manual
Instructional DVD
Does This Come With A Walking Foot?
Yes, it does come with a walking foot. This is how the machine is being operated with the foot controller. That means to adjust your sewing speed level and to start and stop the sewing machine is by using the foot controller.
Just to let you know this model doesn't have a start and stop button on the sewing machine. If you want to have both functions of a foot pedal and a start and stop button then try the Singer 7258 or the Brother CS6000i models, but these two models might NOT be able to sew up to six layers of fabrics. So there is a trade off.
When I was first learning to sew, I was operating the machine with my foot. I have to admit I didn't get used to operating the machine without my foot.
What Kind Of Bobbins or Bobbin Case To Use?
The kind of bobbins you need to buy is with the model number of SA156. This model does come with 4 bobbins. One of them are supposed to be on the machine. If you need some more bobbins then you can get additional ones by clicking here.
If you need to buy a bobbin case then you need to buy it with the model number of XE9326-001. Other kind of bobbin cases are usually won't fit because each one of them are designed for certain model machines.
If you can't buy the bobbin case anywhere else for this model then you should try the Brother website. They usually carry accessory parts. You can't use this machine without a bobbin case, right?
What Is The Product Dimension?
The measurement for this model is 12.21"W x 16.10"D x 7.87"H and weighs about 14.3 pounds.
Warranty and User Manual
This machine has a 25 year limited warranty. You can also find the user manual by clicking here. The manual is in pdf format and it is about 2.77MB in size.
The manual is written in English and Spanish. It is about 104 pages including the Spanish version. The English is about 50 pages long including the index page.