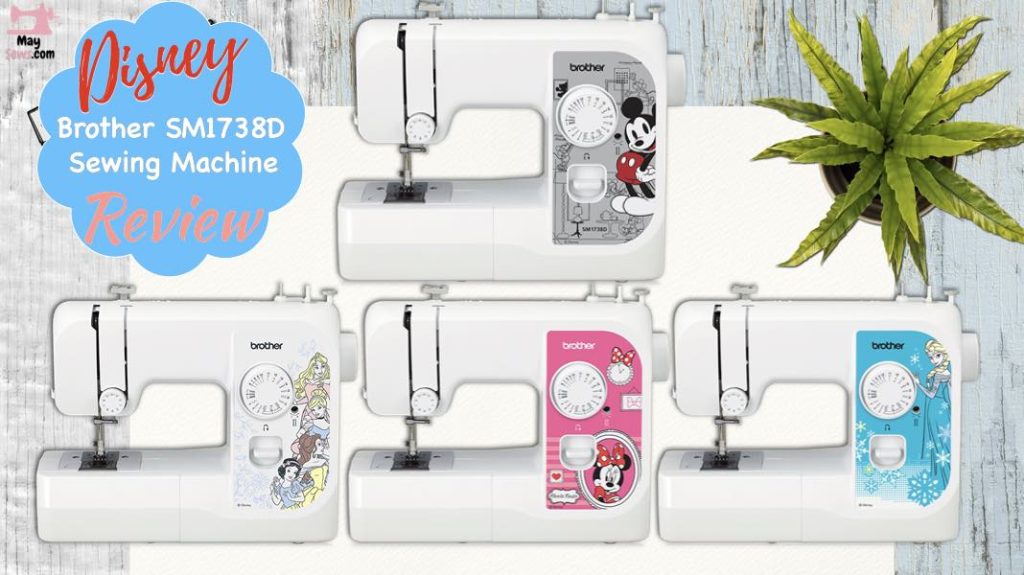 This Brother SM1738D sewing machine is for a complete beginner who is learning how to sew. It is usually best for kids and of course Walt Disney fans since it comes with four Disney face plates.
These four face plates are interchangeable. You can change them whenever you like. The title for these plates are, Mickey Mouse, Minnie Mouse, Elsa from the movie Frozen, and Disney Princesses. These face plates are just like stickers. It is very easy to put them on the machine.
My favorite ones are Frozen and Minnie mouse. Which is your favorite?
Features
The Brother SM1738D is more of an introductory sewing machine that doesn't have that many features built in, but it does have the required ones.
17 built-in stitches – just use the dial to select the type of stitch you want to use. As you can see they are imprinted on the knob.


A reverse lever button to use for reinforcement for the beginning and ending of sewing.

A free arm to be used for sewing pants and cuffs. Just detach it from the machine and this part can also be used for storage.

The stitches length and width are already preset from the manufacturer, so there won't be any need for adjustments.

A manual threader cutter. It is located on the left side of the machine.

It has a built – in handle for easily transporting to places.

You can use this machine to sew up to 750 stitches per minute.

A built in light for the working area.

A clear bobbin cover to monitor how much thread supply you have left on the bobbin.
Feed Dog
This model has a 6 point feed dog. It is three more than the Janome pink Sorbet sewing machine. A sewing machine that has a higher point feed dog will make the overall performance better. So this one should be more superior than the pink Sorbet one.
Auto Bobbin Winding System
Once you have set it up, the machine will wind up the bobbin with thread for you. It is pretty simple to do it. Please note: For whatever reason if you have lost or damaged the bobbins, please don't just replace it with any kind of bobbin you have.
Doing so will cause it not to work properly and can even damage the sewing machine. Be sure the bobbin is made for this machine to use. If you have to buy some get the SA156 bobbin class 15 type bobbin. Click here to buy some Brother brand bobbins.
Buy Online
There are quite a few places selling this model online that have it in stock the last time I checked. Here is another place where you can buy this model by clicking here, if the below link is out of stock.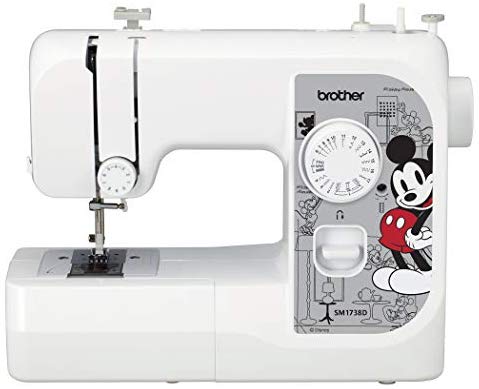 Check Price on Amazon
Accessories
3 piece needle set
4 Disney face plates
Twin needle
Extra spool pin
Darning plate
Bobbins (4)
Foot controller
Power cord
Operation manual
Instructional DVD
Included Four Feet
Zipper foot
Button sewing foot
ZigZag foot
Buttonhole foot
Disney sewing machine cover to keep dust away. The cover looks kind of cute with Mickey mouse on it.
Brother SM1738D Reviews
The average rating for this model so far is pretty high. I think there might be a slight little problem if you are buying it for your very young little girl to learn to sew, because it doesn't have a speed control button.
It's only operating by the foot pedal without a start/stop button. You might have to teach her how to use the foot pedal and always sew at a very slow speed since she is just learning how to sew.
It is possible for her to get hurt if she is not paying attention and stepping on the foot pedal too hard.
The harder she presses the foot pedal the faster the machine will go. So be sure to teach her well how to control it. There are quite a few parents complaining about that.
Oh yeah, there are guys who are using this sewing machine for their projects. They are pretty much using the Mickey Mouse face plate. So this is pretty popular. Click here to read more reviews.
✅ Pros:
Easy to use.
Affordable in price.
Lightweight.
Looks cute with Disney face plates.
❌ Cons:
No needle threader. You have to manually thread the needle or buy one separately.
No automatic thread cutter. It does have a manual one.
Can't adjust thread tension.
Dimensions
These are the measurements for this model – 15.43″W x 5.79″D x 12.13″H – and it weighs about 10.6 pounds.
Manual and Warranty
This comes with a 25 year limited warranty. You can find the manual for this model by clicking here. The file size is about 23.24MB and you will need an adobe reader to open it.
The manual is about 94 pages and that includes the Spanish version. The English section is about 45 pages long.