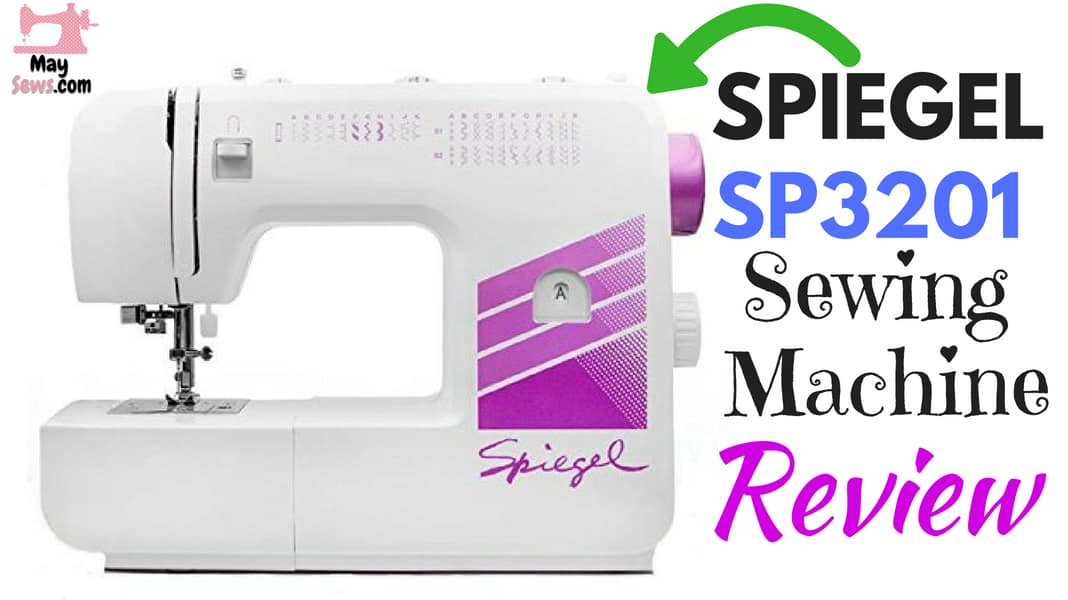 The Spiegel SP3201 sewing machine is a new hot item right now. It really hasn't been released for that long this year in 2018 and so far users are loving this model.
This brand is pretty new to me. Actually correction, this is the first time I have heard of this brand for a sewing machine. This machine looks pretty decent and simple. It is designed to be used for mostly novices and for experts if they prefer this one.
I like simple things and I don't like having to use complicated gadgets. That means it will take me more time to learn to use it if it is complicated. I just don't have the patience these days.  😆 But for this sewing machine model it shouldn't take that long to learn how to use it.
There is another sewing machine with the model number of 60609 made by the same company which I don't recommended buying. At least I wouldn't buy it.
The average rating for that machine is pretty low. I say it would be lower than a 4 and it is complicated to use. The price is much higher than the SP3021. It does have 350 more stitches selection. If you like you can click here to read more about it.
Features For This Model
This is a very simple to use sewing machine mostly designed for newbies, so it wouldn't come with that many built in features, but it will have enough required features for you to sew with.
Stitches

This machine has only about 32 utility and decorative stitches to select from.
This should be more than enough for a beginner learning how to sew. To select different pattern stitches for this machine is pretty easy. Just use the pattern selector dial to select the one you want. The pattern selector dial can be turned both ways.
To get to the S1 and S2 stitches patterns, you would have to turn the stitch length dial all the way to the right. In the middle of the machine, there is a tiny little window that will show you which pattern you have selected with an alphabet letter.
Of course, you can adjust the stitch width by using the stitch width dial if you want to. The manual will show you how to do it if you are still having trouble.
Thread cutter
The thread cutter makes it easy to cut your thread when you need to, while you are not having scissors at hand. The thread cutter is located at the left side of the machine, just a  little higher than the needle and foot.
Don't be confused with a thread cutter and automatic thread cutter. They are not the same thing. The thread cutter on the left side of the machine is a little thing that can help you to cut the thread but you would still have to use your hand to put the thread in that little cutter.
An automatic thread cutter is the thread being cut by the sewing machine itself whenever you need to cut the thread. Sadly, this machine doesn't have this function.
Having it would certainly save you some time in the long run and would make it more convenient.
Reverse Sewing

Okay this machine has a reverse sewing function. It is a pretty nice item to have for sewing at the end of the seam several times to enforce the sturdiness of the seam from getting loose.
To use this is pretty simple. When you are at the end of the seam just press the reverse sewing lever and sew a few reverse stitches.
When you are done sewing with the reverse stitches, just by releasing the reverse sewing lever the machine will keep sewing forward again.
You can also remove your work if you think you have made a mistake by turning the hand wheel toward you.
Automatic Needle Threader
Yes, lucky this machine has this feature. I think most of the sewing machines will have this feature included. Really, it will take a lot of time to put the thread in the needle if you don't have good eyesight.
Of course, you will have the option of not using that function if you prefer to do it by your hands instead, but using it will save you plenty of time and you will get your project done sooner.
I certainly won't even consider a machine if it doesn't have this function. I could put the thread in the needle when I was younger, but I have very bad eyesight. It will most likely be impossible for me now.
Free Arm
If you are asking, can this be turned into free arm? The answer is yes. You can do that with this machine. By changing it into free arm it will be much more easier to sew hand cuffs and hard to reach areas.
To change the sewing part into free arm just slide the accessory box toward left and that should do it.
Easy Threading System
This model has an imprinted threading system on the machine that will guide you along the process. So it will be easy to do it without referring back to the manual for instructions and that will save you time having to look for it.
Just follow the sequence numbers imprinted on the machine and you will be fine, but if you are doing it the first time then you should read the instructions thoroughly from the manual.
If you are still having trouble threading the machine then I suggest you to click here to watch this video showing you how to do it. You might have to scroll down a little bit on the page to be able to see it there.
Winding Bobbin System
A sewing machine without a winding bobbin system wouldn't be considered a sewing machine in my opinion. Don't you agree?
If the machine didn't have this feature then you would have to buy pre-wound thread in the bobbins every time to be able to sew and I think that would be silly to not include this feature.
It is just not convenient at all. Would you consider buying a machine without it? To wind thread in the bobbin is easy for this model.
You would also just follow along the imprinted diagrams on the machine. It is really not that complicated. The manual will show you how to do it in words and provided with pictures too.
LED Light
This machine has a LED light to help you to see better when you are working on your project. The light is pretty bright. The lamp is powered up or on by turning on the power switch, and it will be off when you turn the power switch off.
One Step Automatic Buttonhole
Making buttonholes couldn't be easier with the provided buttonhole foot for this model. It will be much faster and more accurate. There is only one buttonhole pattern to select from.
It is always recommended to make a buttonhole on a sample fabric first before doing it on your actual sewing project even with the provided buttonhole foot and pattern.
Adjustable Thread Tension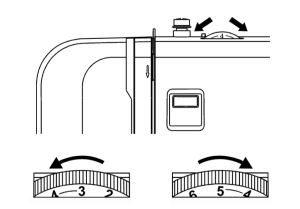 Okay, it is time to talk a little more about the thread tension. Yes, you can adjust the thread tension to your liking with the tension dial.
It is fairly simple to adjust the thread tension if you think it is either too loose or tight. You can find that out by looking at the seam that you have sewed.
If it is too loose then you need to increase a number on the dial by turning the next number up and if it is too high then you need to decrease the number by turning the dial to the next lowest number.
The basic setting is on number 4 for the thread tension. So if it is too loose then you would have to change it to number 5 and if it is too tight then you would have to turn the dial to number 3.
Length and Width Stitch
Yes, there is a dial you can adjust the length and width for the stitches with if you prefer to.
Handle
This machine doesn't come with a carrying case, but the handle will help you to carry it easily.
On and Off Button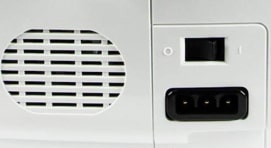 It comes with an On and Off switch button on the right side of the machine. Even though it has an Off button, you still would have to unplug the cable cord from the outlet when you are performing maintenance, like cleaning or changing the lamp and also when it is not being used.
You always have to turn the switch to Off when you are changing needles, bobbins, anything you are doing with the presser foot and other things related to this machine.
Buy The Spiegel SP3201 Online
I don't know other places where you can get this model online other than at amazon. The current selling price for this model is pretty decent and affordable to me, if you buy directly from amazon instead of buying it from third parties who are selling it on amazon.
Those third party sellers usually are selling it at a higher price than bigger retailers. So if you really want this model and amazon has it in stock then you should get it.
You don't want to ending up paying more when you come back at a later time for this model. When I said buy from amazon, I mean amazon is the seller. I hope there is no confusion.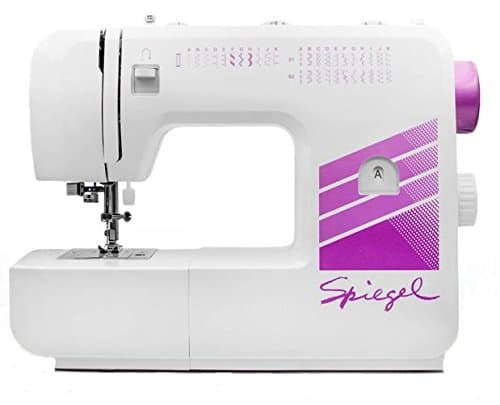 Check Price on Amazon
What Is In The Box?
Okay, you might want to know what comes in the box like accessories. The box includes the Spiegel SP3201 Sewing machine, a cover to protect the machine from dust when it is not being used, and please read below for the included accessory list.
You will find all the accessories inside the storage box which is the part where you can turn your sewing machine into free arm.
Accessories
Zipper Foot
Buttonhole Foot
All purpose Foot
Seam Ripper/Brush
L-screwdriver
Second Spool Pin
3 Bobbins
Spool Holder
Spool pin felt
1 Pack of needles with 3 #12 size needles
Spool Holder
Edge/Guilting Guide
Note: The included cover is not made out of hard plastic. It is more like a paper towel like bounty but in gray color instead. That means it can be folded.
What Kind Of Needles And Bobbins Should You Use?
Sewing needles are usually very easy to break. After all, they are very tiny and thin, so it is a good idea to get additional needles for this machine. The machine only comes with 3 needles. Before you know it, you will be out of needles very soon.
You pretty much can get any kind of needle that is compatible with this machine as long as it is Universal sewing machine needles. Click here to check this one out.
You should change to a brand new needle whenever your needle either has damaged points, is bent, or blunt. If not, then it might create problems for you.
This machine uses a class 15 bobbin. You can pretty much buy any kind of class 15 bobbin brand to use for this machine. If don't know which one to pick, then click here to try this one.
Having more bobbins is better because you can pre-wind some bobbins with thread at an earlier time before you are starting your projects. That way, you don't have to stop working on your project and need to load thread in the bobbin.
What Is The Dimension And Weight?
The measurements for this model are 17.5 x 13.5 x 8.75 and weighs about 15 pounds.
Spiegel SP3201 Review
Considering the price for this model is pretty affordable and the average rating seems pretty high so far, I would consider buying it. If the rating for this model is turning bad then I will update this post later.
✅ Pros:
Looks simple and clean.
Easy to use.
Reasonable and affordable in price.
❌ Cons:
No automatic thread cutter.
It is mostly made out of plastic. So it might not be as durable as metal material.
No stop or start sewing button option on the machine. It can only be operated and adjust sewing speed by pressing the foot pedal.
Manual and Warranty
I think this machine has a 25 year limited parts warranty, but I am not very sure. If you are having issues with this machine then you can contact Spiegel by calling the following number 1-800-842-2878.
You can find the manual by clicking here. The manual is written in English only. No other languages, like Spanish and French. The manual for this model is about 50 pages long and it's about 5.6MB in size. It is in PDF format.
The manual is very easy to understand and provides a lot of images to reinforce your understanding. The manual has a lot of helpful tips and a trouble shooting section. So be sure to read it if you are buying this model.