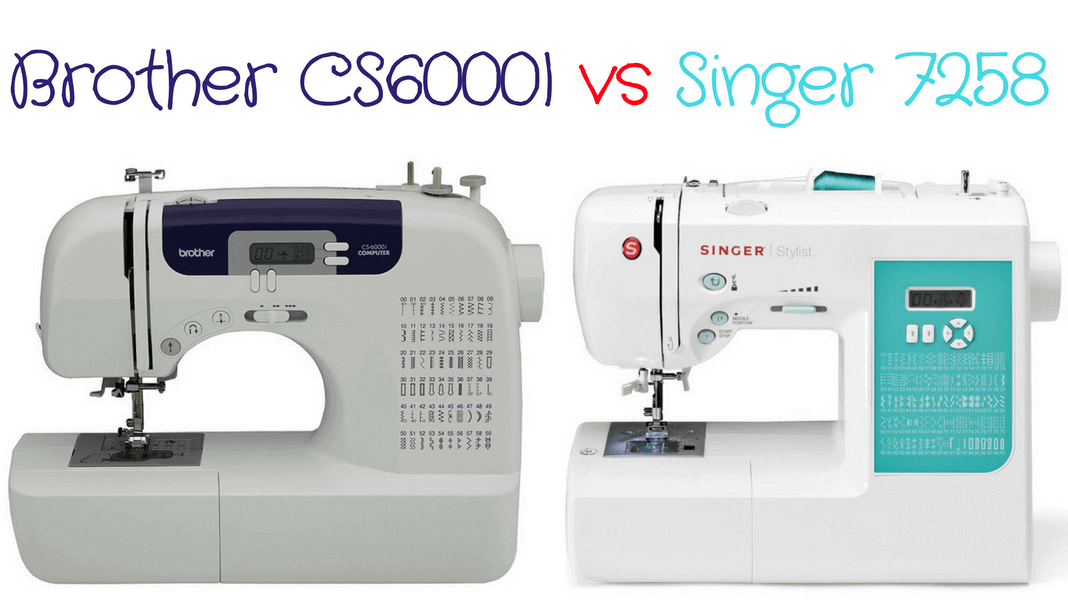 This article is about the Brother Cs6000I vs Singer 7258 sewing machine. Yes, some of you might not be able to decide on which one to go for.
I don't blame you because I am doing the same thing too. So this post will show you all their features in side by side for you to see. That will certainly save you plenty of time from looking it up all by yourself.
If you are on a smart phone it is best to view it on a landscape mode instead of portrait. When you are on portrait mode the tables won't show them side by side but landscape will.
If you use a finger to tap on those fields then it will explain what those fields are for and of course if you are on a desktop or laptop you can do so by using the mouse to point at it.
For example, if you tap or point the mouse on 60 and 100 on the field, it will tell you that means the number of built in stitches for the sewing machine.
Comparing Singer 7258 and Brother CS6000I
Here is a summary of what I found for these two models if you don't want or are having a hard time reading the below charts. I did spend a lot of time on finding out the information for these two models.
If you find this article is helpful and saves you time on making the right decision, please leave a comment below and I will be even more happy if you share it online. Thank you in advance.
Both Machines Have The Same Features Or Things
Two of these models have the same following items or features.
Auto Needle Threader
Quick Set Bobbin
Free Arm
Easy Bobbin Winding
Adjustable Sewing Speed
Light
Needle Position Set To Up/Down
25 Years Limited Warranty
Brother CS6000I Differences
Let's talk about the different things the Brother CS6000I sewing machine has.
>> The selling retail price is lower. If you must know the retail price, it is $179.99 on the Brother site.
>> More popular among the consumers – What I mean on that is a lot more people choose this model and give it a rating.
>> It is lighter when comparing it's weight for the final product. It is about 1.75 pounds in difference. The weight for this model is 13 pounds.
>> It comes with 60 built in stitches with a lot of accessories, like hard case, and extended table.
>> The maximum sewing speed for this machine is 850 and that number is per minute. That is like 100 more sewing speeds than the other one.
>> It has an automatic thread cutter that means no need for a pair of scissors to cut your thread every time.
>> You can adjust the width stitch to 7mm.
>> No high presser foot lifter.
>> It comes with a wide table for you to have more room to work with your projects.
>> You can sew with this machine with twin needles.
>> It comes with 7 number of styles of 1-Step Buttonholes.
Now let's talk about the downside.
Brother Maintenance
I really don't know if this is really a downside or not. Maybe you might not mind at all. I found out on this Brother model that you can't oil it by yourself. You would have to bring it to your local Authorized Service Center to do it for you.
It is common sense to think they will charge you a fee for the services and that fee might be pretty high. This is part of the reason I am hesitating to get the Brother model.
I do like the idea of not needing to oil the machine since it has enough lubrication when you first purchased it. But as you know almost all machines need oiling to work properly.
Whenever it needs it then you have to go to the authorized service center to get it done and be prepared to pay the service fee every time.
According to the brother website, if you are a light to moderate user, about 2 to 3 hours per day then you should clean and oil the machine for about 500 hours of use at the authorized service center.
As for a high speed user or heavy to consistent users then you need to clean and oil the machine at about 300 hours of use at the authorized service center.
Brother Frame
The frame for this model is mostly made with plastic and that is why it is lighter than the Singer brand. I believe a steel frame is more durable than a plastic one.
What I am saying is, it will last longer. But if you don't mind what it is made of and need a lighter one then you should choose the Brother one, especially if you need to move it around or bring it to places all the time. Click here to check the current selling price for the CS6000I model.
Singer 7258 Differences
>> The retail selling price is higher and it is around $229.99 and that price is currently on sale on Singerstore.com. They normally sell it at $299.99.
When I checked on amazon for this Singer brand it is selling $174.99 as of today's date of March 25, 2018. So if you decided to go with this brand you know where to check the price first before you make that purchase. Who knows, you might be able to save some money.
>> Talking about stitches, this model has 100 built-in stitches. Is this enough for your creativity? It is more than enough for me to use for my projects. It also comes with a lot of accessories, like 10 feet, foot petal, dust cover and a lot of other items.
>> There is no auto thread cutter. That means you would have to use scissors to cut the thread each time.
>> It has 6mm adjustable width stitch.
>> This one comes with a high presser foot lifter.
>> It doesn't come with a wide table.
>> You can select between 6 number styles of step 1 buttonholes.
>> This model is a lot less popular when comparing to the other model, but it is still pretty popular.
>> The weight is about 14.75 pounds.
Singer Maintenance
You can do the maintenance your own self. All you have to do is buy some Singer brand sewing machine oil and perform oiling and clean it yourself.
You will save a lot of money without paying big fees for the long run. Besides, sewing machine oil is pretty cheap, but it does require you to buy the Singer brand oil that is designed to be used for sewing machines.
Singer Frame
The frame for this Singer brand is made with metal and of course it is heavier. That means it is less likely to be moving around when you are sewing at the maximum high speed allowed.
For some of you, it might be a little inconvenient to carry it around with you since it weighs about 14.75 pounds. To be honest with you, it is a little heavy for me but I don't need to bring it with me to places and if I need to move it to a different room then I can always ask my husband to do it for me.
See The Features In Side by Side Chart
If you are in a hurry then this chart might be a better option for you instead of reading the summary for these two models. I do recommend you to read the maintenance and frame parts for both models. That is how I made my own decision.
If you want you can read the full in depth Singer 7258 review and Brother CS6000i review by clicking its hyperlinks.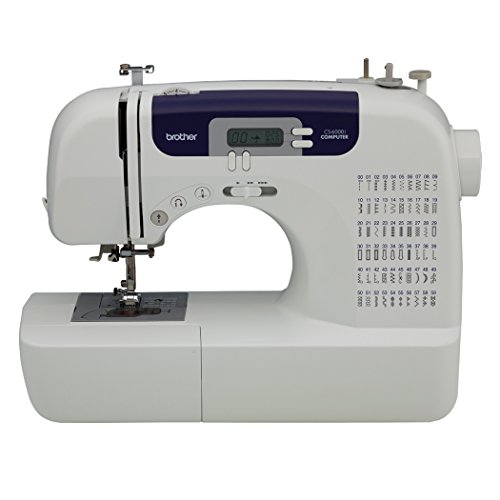 Brother CS6000I

Model Number

4.5

Average Online Users Rating

7,288+

# of Online Reviews

850 Stitches

Max. Sewing Speed (Per Minute)

7

# Of Styles 1-Step Buttonholes

Yes

Needle Position (Up/Down)

Yes

Adjustable Sewing Speed

No

High Presser Foot Lifter

11.4″ H x 6.7″ W x 16.1 D"

Machine Dimensions
4.4

Average Online Users Rating

2,600+

# of Online Reviews

100

# Of Built-In Stitches

750 Stitches

Max. Sewing Speed (Per Minute)

6

# Of Styles 1-Step Buttonholes

Yes

Needle Position (Up/Down)

Yes

Adjustable Sewing Speed

Yes

High Presser Foot Lifter

14.5" L x 7.5" W x 12" H

Machine Dimensions