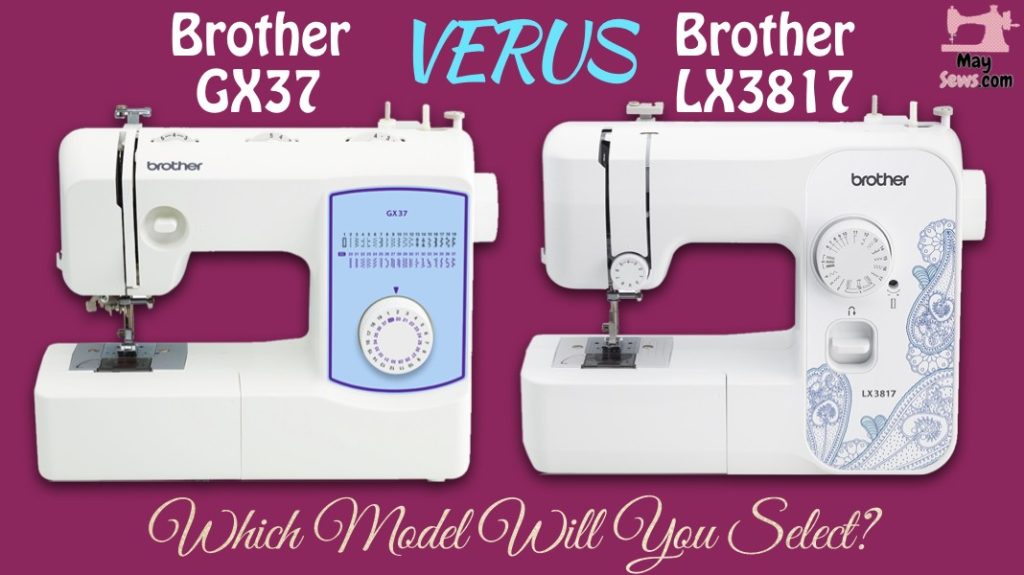 This post is about the Brother GX37 vs LX3817 sewing machines. If you can't decide which model to go for then this article might be able to help you make the decision.
From the first glance at both models, I would go with the Brother GX37 model. That is due to my online research that the Brother LX3817 has a very low average or bad rating.
If you really like this model then you should probably try the RLX3817. This model is renewed or refurbished from the same LX3817 sewing machine. They just put the R in front of the model number and it has a much better rating, and the price is also lower since it is refurbished.
I don't usually like to go with a product that has a very low average rating especially if I have to spend over $50.00 for a product.
I just want my money to be worthwhile but of course sometimes products do not deliver performance as expected. That is usually due to quality control.
You can lower the risk by reading reviews online of a certain product before you make that choice. This is usually how I make choices on buying a new product online.
Anyway, read below to find out the differences between these two Brother models. If you want you can read my Brother GX37 review by clicking the hyper link.
The Brother GX37 and Brother LX3817 Differences
According to my research online, the Brother LX3817 might be released out in the market sooner than the GX37, but it has much lower ratings. In terms of market selling price the LX3817 might be a little lower than the GX37 while writing this article.
Both models don't have an automatic thread cutter or speed control. Having a speed control function is good for people who are brand new to sewing. Otherwise both models are pretty simple to use and they are operated with a foot controller.
Brother GX37 Sewing Machine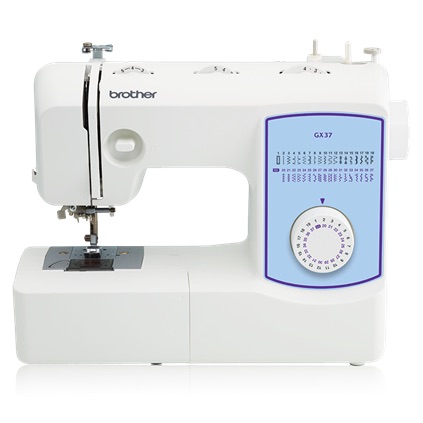 Buy at AmazonBrother LX3817 Sewing Machine
Buy at Amazon
These are the following items the LX3817 has:
7 feed dog points

38 stitch functions

17 built in stitches

850 stitches per minute

Included: Buttonhole Foot, Button Sewing Foot, Zipper Foot, Zigzag Foot

Dimensions for the sewing machine are 12.13″W x 5.75″D x 15.43″H

Weighs 10.36 pounds
These are the following functions the Brother LX3817 DOESN'T HAVE:
You can't adjust the width and length of the stitches because it doesn't have this function. It has a manual needle threading system which means you have to put the thread in the eye of the needle by your hand.
If you have bad eyesight and don't have a steady hand you will waste a lot of time just by doing this part before you can even start sewing.
Included Items In The Box: Accessory pouch, bobbins (4), seam ripper, needle set, ball point needle, twin needle, cleaning brush, eyelet punch, screwdriver, spool caps (3), extra spool pin, power cord and operation manual
These are the following items the GX37 has:
7 feed dog points

74 stitch functions

37 built in stitches

850 stitches per minute

Included: Buttonhole Foot, Button Sewing Foot, Narrow Hemmer Foot, Blind Stitch Foot, Zipper Foot, Zigzag Foot

Automatic needle threading system

Quick Reference Stitch Guide

5mm maximum stitches length

6mm maximum stitches width

Dimensions for the sewing machine are 12.48″W x 16.26″D x 7.01″H

Weighs 10.14 pounds
Included items in the box: Accessory pouch, bobbins (4), seam ripper, needle set, ball point needle, twin needle, cleaning brush, eyelet punch, screwdriver, spool caps (3), extra spool pin, power cord and operation manual
Both Have Same Functions & Accessories
Free arm
Bobbin winder
Reverse sewing lever
Accessory storage
Handle
LED light
Manual thread cutter
Quick set bobbin
Stitch Pattern selector type is dial
Electric voltage 110v
1 style of buttonhole
Presser foot lever
25 years limited warranty
My Verdict