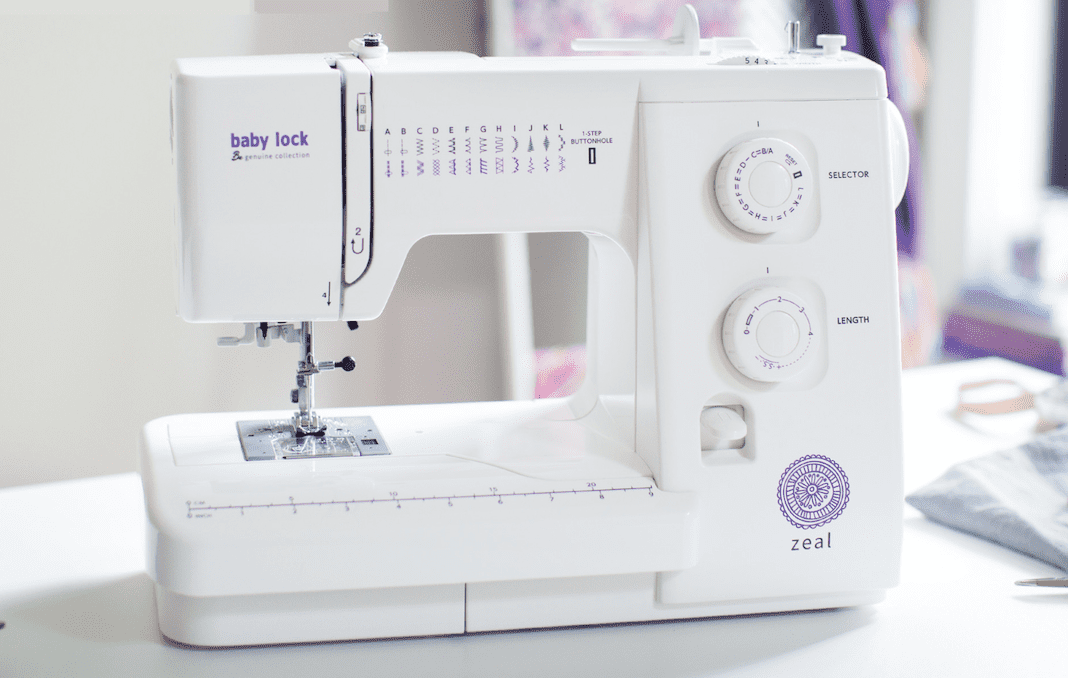 Are you looking for some Baby Lock Zeal or BL35B sewing machine reviews? Then this post might be helpful to you. Baby Lock brand sewing machines usually cost more than other sewing machine brands according to my research.
It is also a little hard to buy this name brand where I usually do my shopping locally. It is NOT impossible but a little hassle to make another trip to a different location.
I much prefer for them to ship it to me online. If you really want to buy this brand locally then click there to check to see if they have the Baby Lock brand sewing machine locally. Please enter your zip and set the distance from where you live to find the retailers.
The Zeal model can still be achievable to obtain in terms of price. The MSRP is $599.00 but you can get it under $350.00 from the place where I am going to send you if you are still interested in this model.
If you really want to own a Baby Lock brand sewing machine and are also on a very tight budget then I recommend getting either the Zest model or the Joy model.
I would also like to mention, the lower selling price for a sewing machine will also have less built in sewing functions. I am pretty sure this is to cut back on their overhead of making it.
The Zest model costs less than the three models I have mentioned above. The Joy model is the second least expensive and the Zeal model is the most expensive. I most likely won't go with the Zest model because it doesn't have a built in needle threader despite having the lowest cost.
The other two models do have the needle threader function so I most likely would consider these two models. Okay, enough of the price differences for the models since this is not a comparison post.
Baby Lock Zeal Sewing Machine For Sale
You can get the Baby Lock Zeal sewing machine by clicking the below big image or clicking the check price button to find out its current selling price. By the way, if you buy from the below links you will get a free tote bag and zipper pouch for a total value of $58.99.
This tote bag fits the Zeal sewing machine inside. It is great to have a carrying bag to take your sewing machine to clubs and sewing classes. Now you don't have to buy a carrying bag separately with this BONUS included with the purchase unless you select the option saying you don't want it.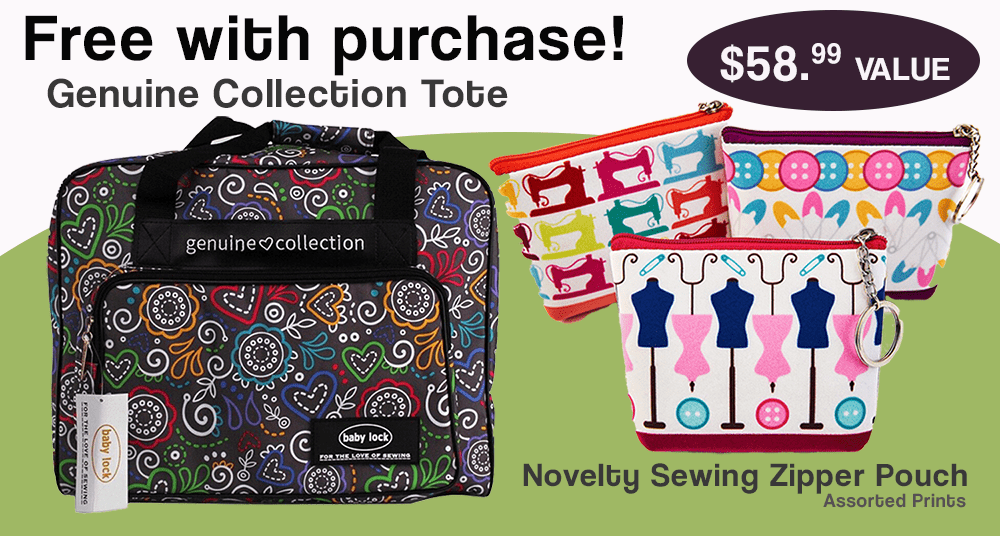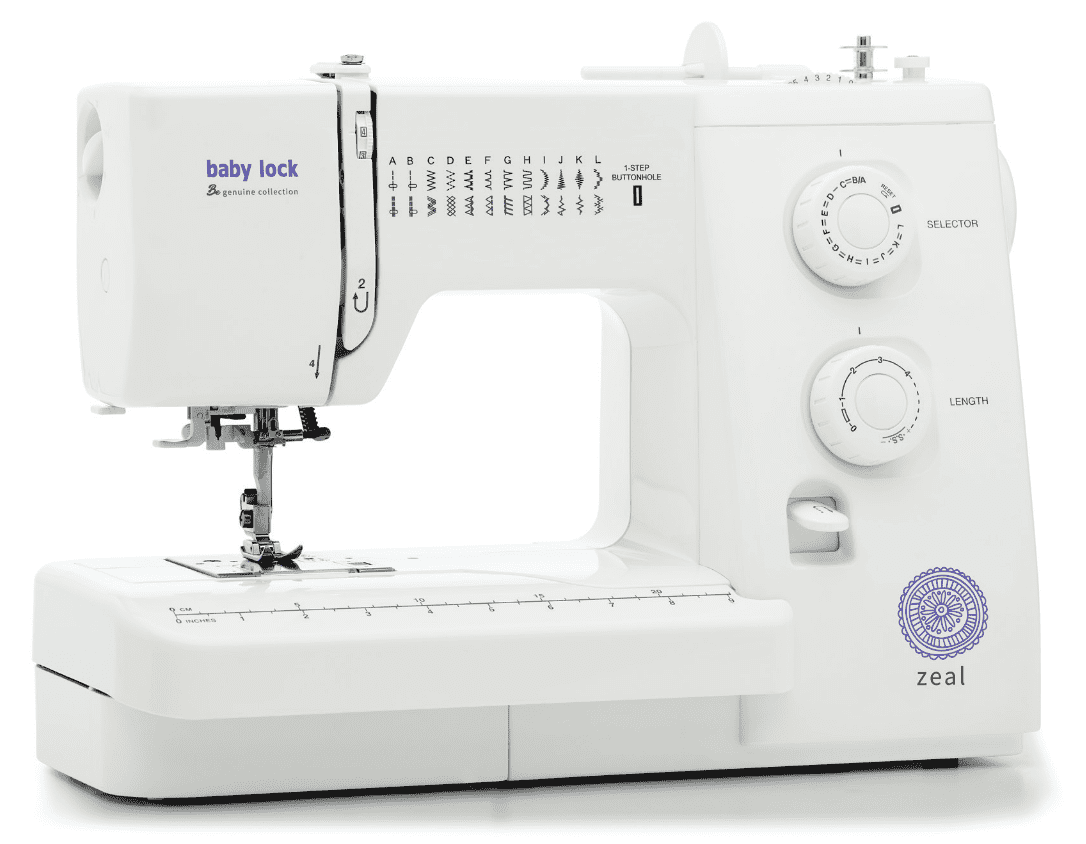 Check Price
Features
#Number of Stitches – This model has a total of 25 built in stitches selections. The stitch patterns are imprinted on the sewing machine for easy reference.
Since it doesn't have that many stitch selections, you might be able to remember which alphabet letters refer to each stitch pattern when you do more stitch selections.
Not everyone needs a lot of fancy stitches to choose from that are never going to be used. If this is you then this model might be a good fit for you.
One Step Buttonhole – Oh by the way, this model has a one-step buttonhole instead of a four-step buttonhole and that is what I like. Yes, I like having less steps for making my button holes for my sewing projects and I would be less likely to make mistakes on making them.
This is possible because of the included one step buttonhole foot. Changing sewing feet couldn't be easier too.
All you have to do is just snap the foot on. It doesn't require any tools like screwdrivers to do so unless you need to change the presser foot holder.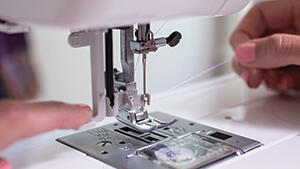 Needle Threader – This is great that it has a built in needle threader. Trust me you will save a lot of time and frustration on threading the needle.
With this feature, it will be much faster and easier. You will be glad that you choose to have this feature included. Like I always say I can't sew without a needle threader. 🙂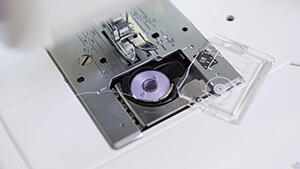 Drop in Bobbin – With this model, you just load the bobbin from the top of the machine, simply drop the bobbin into the area where the bobbin is supposed to be and pull the thread through the slot and the sewing machine will do the rest for you. How simple is that?
Did I mention you can see how much thread you have left in the bobbin before you need to wind some more for replacement? This is possible because the cover for the bobbin area is clear color.
By the way, this model uses class 15 bobbin for the size. Be sure to get the bobbin which is compatible to this machine if you are deciding to go with this model. Different companies do have their own bobbin sizes.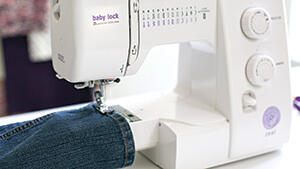 Free Arm Sewing – To be honest almost all sewing machines have this feature. It is like mandatory to have for sewing.
I mean it is kind of required to sew sleeves, hand cuffs and other small parts. It definitely makes sewing small parts easier when it is turned into a free arm.
Drop Feed For Free Motion – This feature will be handy if you want to do free motion sewing projects. This is possible because of the drop feed dog option. Please do remember for this model to do regular sewing the feed dog must be up.
Adjustable Stitch For Length and Width – This model makes it possible to adjust the stitches for both length and width. Some average sewing machines don't have this function but this model does and I do know a lot of people would like to adjust their own stitches according to their preferences.
It is kind of nice to have this available. That way you have the option to do so or not. Anyway, here is the stitch range you can adjust for the length from 0mm to 4mm and as for the width range from 0mm to 5mm. It looks like you can adjust the width a little bigger.
Thread Cutter – This little cutter is on the left side of the sewing machine. It is not an automatic cutter. It requires your hand to pull the thread to this little cutter to cut the thread. It is still nice to have, if you can't find your scissors when you need them.
Foot Control – This model uses a foot pedal to operate. The sewing speed varies depending on how much pressure you are pressing on the foot controller. The harder you press the pedal the faster the machine will go and the lighter you are pressing on the pedal the machine will sew slower.
Built-In Accessory Storage – I have to say the built in storage for this zeal model is a little different than the rest of the sewing machine companies.
Other sewing machines usually have the little storage on the side of the sewing machine that is facing you, but this model's storage is underneath the free arm or underneath the sewing area. Both designs are required to detach the part to be able to turn into free arm sewing.
Other Built in Features:
Reverse Lever

Carrying Handle

Light

Thread Tension Dial

Presser foot lifter

Presser Foot Pressure Dial
Video Tutorials
If you are interested in this model then you might want to watch these video tutorials. There are quite a few of these video tutorials in the topic of "How to Select Stitch on the Baby Lock, How to Sew a Buttonhole, How to Free Arm Sew, How to Thread the Baby Lock Zeal and How to Wind and Insert a Bobbin".

It is always nice to see how it works with this model. I much prefer watching in videos to see how it's done in action.
Included Accessories
Snap on feet – There is a total of six included snap on feet and they are automatic buttonhole, button fitting, overedge, zipper, general purpose and blind hem.
Bobbins – You will receive four bobbins with this model. I am pretty sure the more bobbins you have the better since this little thing is tiny and it is easy to be lost. It is also nice to have extra for winding different threads in different colors.
Screwdriver – I am pretty sure you already know what is a screwdriver. This is included for you to use it to remove or attach the presser foot holder and to do maintenance on the sewing machine. I mean anything that requires you to screw and unscrew on the sewing machine.
Seam Ripper – I usually use this to rip out the seam if I made a mistake from sewing and I use this tool for making buttonholes to cut an opening for buttons.
Quilting Guide – Obviously, this little thing is to be used for quilting. The quilting guide will help keep the seam spacing constant.
Spool caps/holder – This includes a large and small spool cap for winding threads.
Additional Spool Pin – The additional spool pin is for bobbin winding without unthreading the machine.
Lint Brush – This little item is included for cleaning the feed dogs and hook race. It is to use for brushing out dust and lint.
Felt Cushion – This is just another part for winding the thread to the bobbins.
Foot Control – For operating the sewing machine.
Needles – It includes five assorted sizes of needles. It contains 2 needles in the size 14, 2 needles in the size of 11 and a stretch needle.
Baby Lock Zeal BL35B Review
The Zeal model has been out on the market for several years now and it receives an awesome average rating. Most of the users who own this model are super happy with their purchase.
A few of them are not happy due to the sewing machine being defective. This kind of problem can happen to any kind of product.
I know it is a hassle to return and exchange but sometimes you might not have a choice. Buying a new product really depends on our luck. It was pain in the neck when I had to exchange my exercise bike to the store.
The bike was super heavy and we were half way finished assembling and found a part was defective. So we had to dissemble all the parts and try to put it back in the box to take it back to the store.
Anyway, Baby Lock does make durable sewing machines. I would give this model a go if the features fit your sewing requirements.
✅ Pros:
It works as it's supposed to.
It is a quality sewing machine.
Nice and super easy to use.
It has a great price.
❌ Cons:
No Start/Stop Button, but you will be operating this machine with a foot controller.
No automatic thread cutter.
No setting for up/down needle position.
No speed control.
It is a little loud when sewing.
Dimension and Weight
This model weighs about 14.9 pounds with dimensions of 10-3/4" for height, 16-1/8" for width and the depth is 8″. The sewing bed width is 6 inches. Sorry, I don't know the sewing stitches per minute.
Warranty and Manual
You can find the manual for this model by clicking here. Sometimes I like reading the manual first before making a purchase of a product, especially for a gadget.
I like to see how that gadget works. The manual for this model is written in three languages and they are in English, French and Spanish. So it has a total of 92 pages.
The Zeal model has a 25 year limited manufacturer warranty. That includes 10 years for parts, 2 years for electrical and 1 year for labor. Hope this is to your satisfaction.