Note: This post may contain affiliate links. If you click a link and buy something we may earn an affiliate commission at no extra cost to you.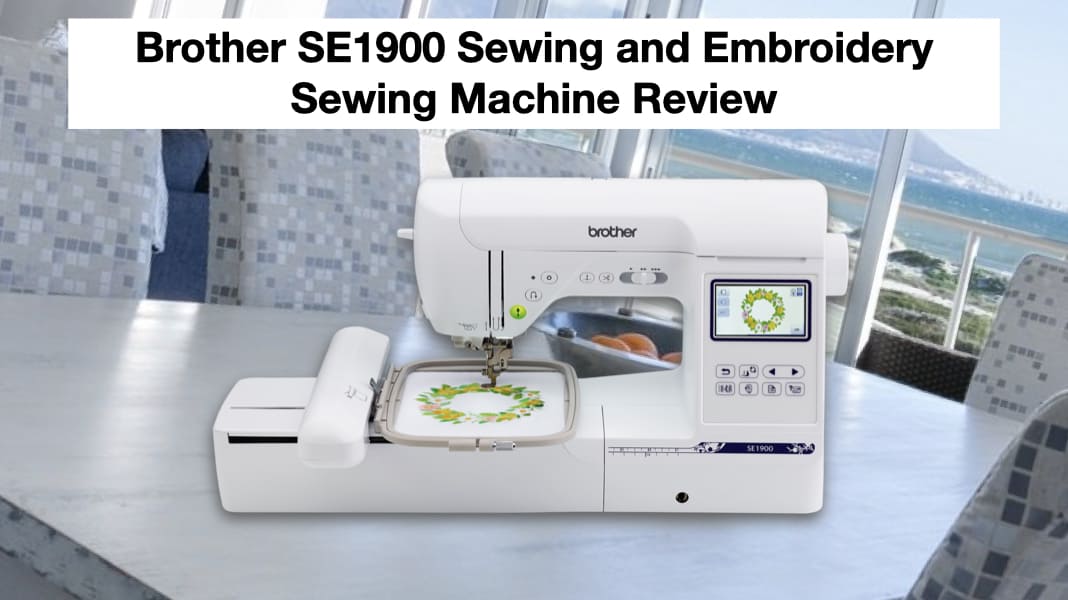 If you are looking for a machine that can do sewing and embroidery then the Brother SE1900 might be a good fit for you. There might not be that many models out in the market that can do both. Most of them are designed to either do one or the other but usually not both.
When I first found this model, I fell in love with it. 😀 The appearance of this machine is really nice. It comes with a lot of built in features and accessories. This is one heck of a machine I could ever ask for.
So sadly there is a downside to it. 😥 It is the selling price. It is pretty expensive. Most of us might not be able to afford it, but if you can this model is a very good investment.
To those of you who can't afford this model, I am happy to say there is good news. When I was doing my research, I came across a replacement for this model that is way cheaper and most of us can afford it.
It is made by the same company of Brother and this model is the SE600. This model can do the same for sewing and embroidery. You can click here to check out the SE600 model.
If you need a petite dress form for your sewing projects then click here to read more about it.
Should You Buy The SE1900 Model?
That is a really tough question to answer because everyone has their own needs in terms of features and budgets.
If it were me I would go for this model if I had enough money. This is like the newer model of the SE600 and it has more included features and accessories.
I do recommend going for the SE600 model over this model if you are in a tight budget and you don't want to put too much stress on your finances. To check the current selling price and availability in stock click the below picture.
You can also buy this model from Amazon by clicking here if it is not available in stock at the below image or if it has a more satisfactory price.
By the way, the below image link doesn't require you to pay sales tax if you don't live in California state and it is available for FREE shipping.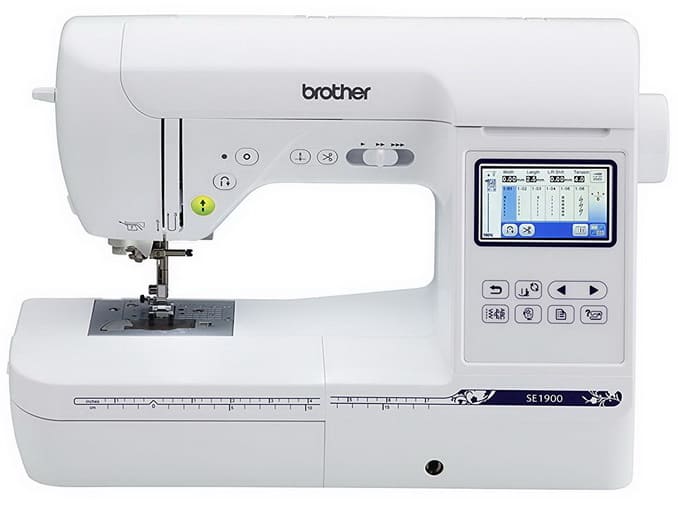 Check Price
Features
What I like about this model is it has a cover to hide the spool cap, spoon pin, bobbin winder, thread guide plate and bobbin winding thread guide & pretension disc.
This way it makes it easier to carry the machine around without bumping the edge parts, such as the bobbin winder and it makes the machine look so much prettier and sleek when the cover is closed.
When you are ready to work on your project just open the cover and when you are done just close the cover to hide all those parts. Not to mention the cover has imprints of all the sewing stitches for your referral. This is a really cool design.
The top of the machine has a built in handle in the middle. This is to make it convenient for transporting to a different location like sewing classes.
Stitches and Designs

This model includes a total of 138 built in designs for embroidery and 240 stitches. That is plenty to work with your sewing projects.
Fonts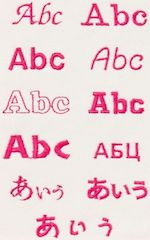 Did I mention you will have 11 fonts of style to select from. This is great for working with personalized sewing projects like with names and words. You can even use Japanese fonts if you know what they mean.
As for me I don't know Japanese language. I do wish they had some Chinese fonts even though I don't know that much but I can always look them up or ask others who do know them. LOL……
Okay, here is what kind of fonts are included in the machine. There are 7 English fonts, 1 Cyrillic font and 3 Japanese fonts. You can use the editing function to change the font size, put each letter in a different color and arrange the letters.
Bobbin Size
If you need extra bobbins for this model then you will need to get the one with the model number of SA156. I suggest you not to just use any plastic bobbins. You should make sure the bobbin is compatible with this sewing machine model.
If it were me I would stick with the Brother brand for the bobbins because others might not be compatible and each company usually makes their own size bobbins. If you need to get extra Brother brand bobbins then click here.
Oh yeah speaking of bobbins, it will include a total of 4 bobbins. One of them is supposed to be in the machine already.
USB Port

This model has a USB port that makes it possible to import your own .pes embroidery design patterns to the system to be used for sewing.
This will expand your creativity. If you like you can always buy more embroidery designs from iBroidery.com.
You do have to buy a flash or thumb drive separately to be able to use this feature since it isn't included in the purchase.
You do have to make sure that the flash drive is compatible for the sewing machine to work. Click here to read a list of flash drives that are compatible or not compatible.
Automatic Thread Cutter
With a high retail price for this model, I would expect it to have this function included for this machine. Automatic thread cutter is not a must have for me but it is still very nice to have.
This function is pretty easy to use. When you need the machine to cut your threads for both upper and bobbin threads, it only requires you to press the little icon with a scissor imprinted on the button and that's it. Of course you need to wait until the machine comes to a stop from sewing to do so.
You can also use the built in little thread cutter on the left side of the machine to cut the thread. So you will have two options to cut off your sewing thread and if you want you can add your scissors for a third option.
Automatic Needle Threader
An automatic needle threader is a must for me when I have to choose a sewing machine. It will save me a lot of time and frustration. If you are planning to do embroidery for your projects then you should add this feature to your list. It does require a lot of needle threading.
Of course you can get a sewing machine without a needle threader function for a cheaper price and then buy a separate needle threader, but those threaders are fairly easy to break.
I had bought a bunch of them and they didn't last me that long and I had to buy more again. I don't think I was saving money back then because I kept on needing to buy new needle threaders. So I think it is a better idea to buy a machine that has this built in feature for the long run if you are thinking of saving money instead. This is just what I think.
Built In LED Light

Having a light in the working area is pretty necessary, especially if you are working in a dark room or place.
This model has a super bright light around the sewing needle. This will also be great for sewing dark fabric and doing embroidery.
You really don't want to strain your eyes too much when it comes to sewing. Having a light around the sewing area is for you to see better and lessen the chance of errors or hurting your fingers. As you can see in the picture, this model has provided a pretty bright light.
Free-Motion Sewing
This model supports free motion sewing with its drop feed feature. This will be great for quilting projects, but you might have to buy a quilting foot for it.
This is even better if you are an artist because this model allows you to draw your own designs by using the threads. It is pretty nifty and allows you to create even more of your designs. Your mind is the limit of your designs.
Start/Stop Button Or Foot Controller


With the built in Start/Stop button it is pretty convenient to operate this machine. You wouldn't miss seeing this button. It is right in front of the sewing machine with an arrow facing upward on the button.
This button will give you three color indicated lights. All three of them have a meaning to it. When it lights up green color it means the machine is ready to sew or it is already sewing.
When it lights up red color it means the machine can't sew. When it lights up orange color it means it is winding thread into the bobbin. It will also light up orange color when the bobbin winder shaft is moved to the right side.
To start the sewing machine just press that button and to stop sewing just press it again. This option is very helpful if you hurt your foot.
You can also operate the machine by using its provided foot controller. Just plug the foot controller into the machine and you can start sewing.
It is cool to have two ways to operate the machine. It is your choice to pick. I would suggest to use the one that you are most comfortable with.
Reinforcement Stitch and Reverse Stitch Buttons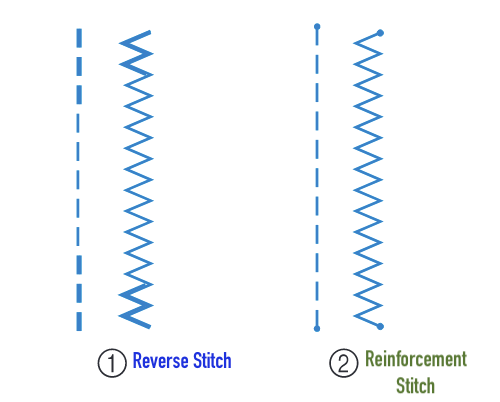 This Brother brand model is a little different than other Brother models. This model has two buttons on the sewing machine for the functions.
One is for the Reinforcement stitch and the other one is for the Reverse Stitch. Other models usually combine these two functions into one button.
For this model you will need to press the Reverse Stitch button to sew at the beginning and end of sewing if you want to secure the seam for them to not go loose. It is the button that kind of looks like a U turn icon.
The other button that has a circle icon in the middle is the Reinforcement Stitch button. You can use this button to sew a single stitch repeatedly and tie-off.
I believe you can use either button to secure the seam but the seam will look different depending on which button you choose to use.
Please take a look at the above image to see the outcomes of those seams for these functions.
This machine will allow you to set it to automatic to sew reverse or reinforcement stitches at the beginning or end of sewing for you.
Buttonholes and Buttons

Making Buttonholes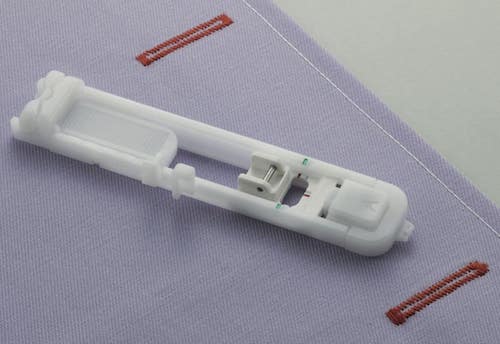 Making buttonholes couldn't be easier with the included buttonhole foot. It is a one step buttonhole stitch.
This will save you plenty of time if you have to make a lot of buttonholes when compared to a 4 step buttonhole.
Did I mention there are 10 styles of one step buttonhole for you to select from?
Sewing Buttons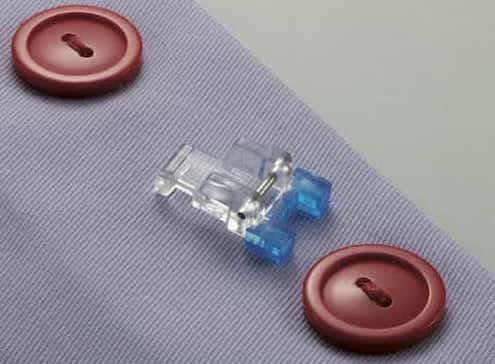 Sewing buttons are easy, accurate and save time too with the included button sewing foot or button fitting foot.
With this button sewing foot you don't have to sew buttons by hand. Instead let your sewing machine do it for you.
It will be much faster and has better results than doing it by your hands.
Knee Lifter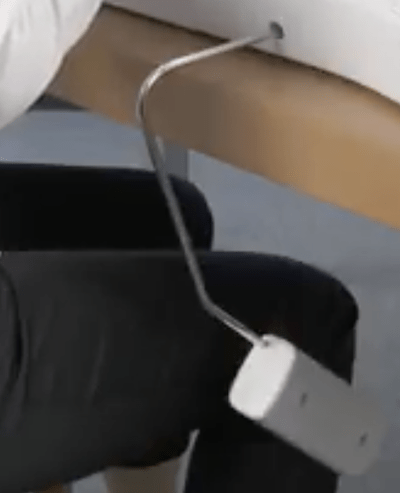 I think having a knee lifter added to this machine is cool. That means you will have an option of lifting the presser foot up either by your hand with the presser foot lever or the knee lifter.
A normal sewing machine doesn't come with this feature. So far this is the only machine I have come across with this feature. I am pretty sure there are other models that have this feature. It's just that I haven't come across any until now.
To be honest, I didn't even know how this works until I did some research online. Now I think this is an awesome feature to have. It makes it very convenient to sew.
I used to use a machine that had this feature built into it without having to lift up the presser foot lever by my hand instead of my knee. Actually there was no pressure foot lever.
The Brother SE1900 gives you the option to choose. By using your knee to lift the presser foot it will leave your hand free to handle the fabric at the same time.
It will skip the step of using your hand to lift it up with the lever. Skipping a step will save you some time too.
To me it is a lot more convenient and easier using the knee lifter. Not to mention that is how I started sewing from the first place and I have gotten used to it. If it's given with this option I will most certainly take advantage of it.
Of course you should choose the options that you are most comfortable with instead of the others.
Don't worry, installing the included knee lifter is very simple. It only takes two steps and you can definitely do it. LOL…
More Included Features
7 feed dogs – This model is considered to have a very high amount of feed dogs. The higher the feed dogs a machine has the better. It gives you more control of the fabric.

Needle position button – This button allows you to raise or lower the needle. If you press this button twice then it will sew one stitch for you.

Setting needle position

– You can set the needle position to be either up or down whenever you stop sewing. For example if you set it down it will be easier to make turns with the fabric.

Thread cutter – This is built-in on the machine on the left of the head of the machine. It is just a little higher from the sewing area. To use this feature just manually use your hand to pass the thread through the cutter to cut it. Yes, this feature is not as convenient as to just press the button to get the job done if these two are compared.

Sewing speed controller – This button will allow you to control your sewing speed like how fast or slow you want to sew and it is a great feature to teach someone how to sew. This machine allows you to sew up to 850 stitches per minute. Fast enough right?

Free arm – This can be turned into a free arm to be used for sewing handcuffs and leg pants. Just unattach the flat bed and that will turn into a free arm. Just reattach it when you are done using it. The flat bed can be used for accessories storage.
Adjusting stitch length and width – Some of you might want to adjust your own stitch length and width and this model makes it possible to do so. The stitch length is 5 mm and the width is 7 mm.
LCD displaying screen

– The LCD displaying screen is 3″W x 1.6″H. It will turn on when the machine is turned on.

Handle

– This machine has a built in handle to make it easy for you to carry it around to wherever you want it to go.

Twin needle – You can use this model for twin needle sewing. It does include 1 twin needle for use. Sewing with a twin needle allows you to use different colors of thread to sew with your project designs.

SE1900 Video
You may want to watch this video to see how to set up this machine or how it works. It is always nice to see what the actual product looks like.
What's In The Box?
Included Accessories
Here are the following items that are in the box. There are a total of 8 feet included with this model.
The SE1900 sewing machine
For Embroidery:
5″ Wide X 7″ Height embroidery hoop
Embroidery foot
Embroidery bobbin thread
Embroidery arm
Embroidery Design Guide
For Sewing:
Overcasting foot
Zipper foot
Buttonhole foot
Blind stitch foot
Monogramming foot
Button fitting foot
Zigzag foot
Knee lifter
Grid sheet set
Foot Controller
Needle set
Twin needle
4 spool caps (1 small, 2 medium, 1 large)
Scissors
Bobbin (4)
Seam ripper
Eyelet punch
Accessory bag
Screwdrivers (small and large)
Disc-shaped screwdriver
Horizontal spool pin
Thread spool insert
Spool net
Standard bobbin case
Alternate bobbin case
Cleaning brush
Bobbin center pin and instruction sheet (US and Canada model only)
Power cord
User Manual
Quick Reference Guide
Hoops For Brother SE1900
This model comes with a large size hoop with the model number of SA444 for embroidery and you can get it here if it is necessary for a new one or replacement. The Brother brand does make different sizes of hoops compatible for this model, like extra large, medium and small hoops.
If you are looking for them then you need the model number to find these hoops. For extra large hoop you will need the model number of SA445 to purchase it. You can find the extra large hoop by clicking here.
The measure for this extra large hoop is 12 inches for Height X 5 inches for Width. You can also find the medium size hoop by clicking here. The number number for medium size is SA443. The measurement for the medium hoop is 4″ for Height X 4″ for width.
As for the small size hoop, you can find it by clicking here and the model number is SA442. The small size hoop measurement is 1″ for Height × 2-1/2″ for Width.
Brother SE1900 Review
This Brother SE1900 model currently has very high average marks. It has over 150 reviewers who have given it a high mark and they love this machine very much. The number is still growing despite the high selling price. Will you be taking this little baby back home for your sewing projects?
✅ Pros:
Can either use for sewing or embroidery.
Includes a knee lifter.
Easy to use.
Great for home use and business.
❌ Cons:
No carrying case or either hard or soft covers.
Pricey. Most of us can't afford to get this model.
Only 1 hoop included for embroidery. It would be awesome if they included other sizes as well without us having to buy them separately.
A few are complaining this model doesn't last that long before having to take it to a repair shop. This can happen to anyone if you got a lemon sewing machine. As you know, no manufacturers can produce 100% defect free products. Sometimes, you have to rely on your luck when buying a new product. This has happened to me a lot of times too and I hate having to get it fixed.
Dimensions
The dimensions for this machine are 13.43″W x 23.19″D x 11.54″H and it weighs 22.05 pounds. It's working space is about 7.4 inches in width and 4.1 inches in height.
Warranty & User Manual
This item comes with a 25 year limited warranty and you can find the user manual by clicking here. The user manual is pretty long.
It has about 212 pages with a few blank pages for taking notes. It is all written in English without other different languages included.
The file size is about 13 MB and required adobe acrobat reader to open it. If you need the Spanish language for the manual then you can find it by clicking here and other different languages by clicking here.
When you are on that page please click the tap for languages selection and then it will reload the language you need. Then right click on the download icon to save the file to your computer.
You can also take a look at the Quick Reference guide by clicking here.
Does This Come With A Walking Foot?
Sorry to say this model doesn't come with a walking foot, but it is available to be purchased separately.
The model number for the walking foot is SA140. If you need the walking foot for this model then you can find it by clicking here or here as well.
Any Carrying Cases and Covers?
This model doesn't include any kind of carrying cases or covers. That being said, you might be able to buy a carrying case from a third party seller as along as the case will fit this machine.
Just be sure to find out the measurements for the machine and the case you decided to go for. Oh right, the measurement for this machine is 13.43″W x 23.19″D x 11.54″H.