Note: This post may contain affiliate links. If you click a link and buy something we may earn an affiliate commission at no extra cost to you.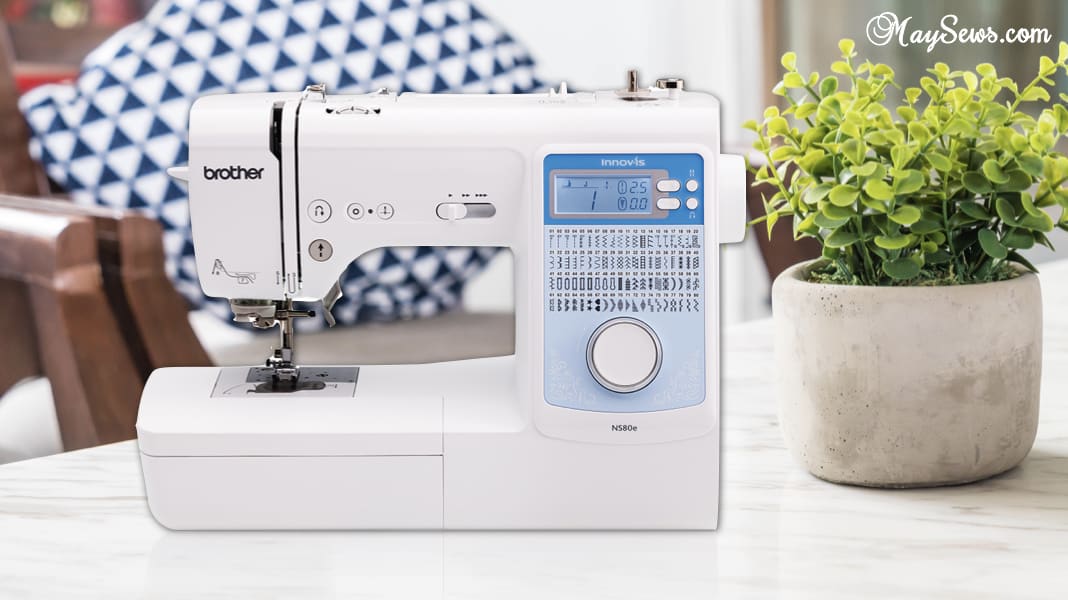 Here comes the Brother Innov-ís NS80E sewing machine just released last year around August/September 2019. This one has a dial stitch pattern selection with a LCD display screen. When you take a closer look at the face plate around the dial it has some kind of imprint with beautiful white patterns on it.
It is designed mostly for a seasoned sewer or for someone who's just learning how to sew, but an experienced sewer can also benefit from using this model.
This model is ideal to take to sewing classes because it weighs about 14.1 pounds and you can use the included dust cover to hide it on the go. The top of the sewing machine has a built in handle for easy gripping and holding.
Features
Number Of Built In Stitches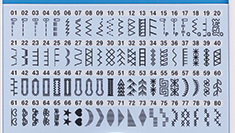 There are a total of 80 built – in stitch patterns for you to work with. So as a newbie, it should have more than enough to show off your creativity.
To select a stitch pattern just use the dial selector. The stitch pattern dial can turn both ways. That means you can turn it to the left or right side to choose a stitch style.
Did I mention this also comes with 8 one step buttonhole styles and it is in auto size. This should be a lot easier and faster to make buttonholes when it is being compared with the 4 step buttonholes.
If you have the options to choose between these two, you should pick the one step buttonhole unless you like making buttonholes with 4 steps.
What Makes This Model a Good Fit For A Newbie To Use?
Speed Control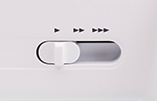 Well this is pretty obvious with its built in feature of sewing speed control. I think if you are teaching someone how to sew and especially if they are kids then you should make sure your sewing machine has this function.
A beginner should always start out sewing slow, because if not they might hurt their hands. I remember I hurt my left index finger when I was starting out sewing.
My older sister was the one who was teaching me how to sew and I was around 10 or 11 years old at that time. The sewing machine I was using didn't have the speed control function. There was also no Start/Stop function, but it only had a foot pedal to operate it.
I accidentally sewed on my left index finger with the needle broken and the thread was passing through my finger. That was a really terrible experience for me. Even these days I still remember it. Oh yes, and it hurt. It left a scar on my finger.
To adjust your sewing speed it is pretty straightforward with the slider controller. All you have do is either slide it to the left if you want to sew on a slow speed, or to sew faster just slide the controller to the right.
This function is also used to adjust the speed of winding threads into the bobbins. This works the same way as adjusting your sewing speed. To increase the speed for winding the bobbins just move the slider to the right and move it to the left to reduce speed.
Sewing Speed
You might be wondering how fast this machine allows you to sew. Well, this machine has pretty fast sewing speed.
It allows you to sew up to 850 stitches per minute. This speed is normally to be used by an expert in sewing. I wouldn't recommend it if you are not ready for that sewing speed. It is always there if you are ready.
Needle Threading System
This model comes with an advanced needle threading system. It is designed to save you time and frustration from threading the needle.
You will definitely appreciate this function. With a simple press of the lever, the thread will easily pull through the eye of the needle. There is no need use a magnifying glass to thread the needle every time. LOL………
Needle Position
With this you have the option to set the needle position to be either up or down whenever you make a stop on sewing. It is pretty nifty to set the needle to down position for easy turning on the fabric.
Feed Dog Points
This model has 7 feed dog points which is good and it is considered to be a high number of feed dogs. Do note, the higher the numbers of feed dogs the machine has, the better it will give you control of the fabric.
Stitch Length/Width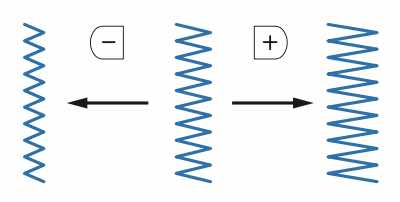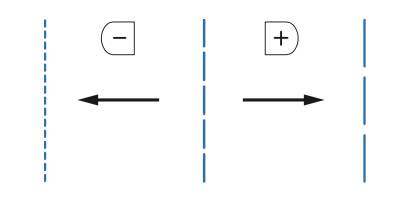 The machine will allow you to adjust the stitch length and width. 5mm for the stitch length and 7mm for the width.
The stitch length allows you to adjust how long or short you want your stitch to be and the stitch width allows you to adjust how wide or narrow you want it to be for your stitches.
Does It Have a Metal or Plastic Frame?
This model doesn't have a plastic frame, but instead it has a metal frame. This is a super plus to have. Having a metal frame in a sewing machine will make less noise and vibration when it is being operated.
If you are wondering what kind of metal is used for this model, it is aluminum. Even though the aluminum material is used for its frame, it is not heavy for portability.
I think it weighs just about right for ladies to carry it to sewing classes. Like I said before this weighs 14.1 pounds.
If you have a sewing machine that is making vibration noises or making scratches on your sewing table then you might want to consider buying a sewing mat to solve these problems. Click here to read more about these sewing mats or pads.
Or you might be interested in checking out a petite dress form by clicking the hyper link.
More Features
It has a LCD display. The display screen is about 2.56″. It is big enough for you to see clearly for adjusting stitch options.
Has a built in bright LED light. This is to help you see better on the sewing area.
A free arm for easy sewing sleeves and pants.
A flat bed can be used for storing small accessories like bobbins and sewing needles.
Manual thread tension
Has dial stitch selector
Built in thread cutter on the left of the sewing machine in case you can't find a pair of scissors available.
A built in handle for easy carrying the machine for transporting.
Reverse sewing stitch button
Reinforcement stitch button
Automatic reverse/reinforcement key – With this function being set, it will automatically help you to sew reverse stitches or reinforcement stitches at the beginning and end of sewing. This will really depend on the stitch pattern. If this function is set, an icon will show up on the display screen.
Where To Buy The Brother Innov-ís NS80E Online?
If you are interested in this model then you can buy it online. While writing this article, there are still not that many retailers who are offering to sell this model.
This one is qualified for FREE SHIPPING charges and oh yeah, did I mention it has NO sales tax if you are not living in California state at the place where I am sending you to get it?
Seriously, there are not that many online retailers who are offering no sales tax now. Back then it was awesome.
Click here to buy it with FREE shipping and NO sales tax if you are living outside of California.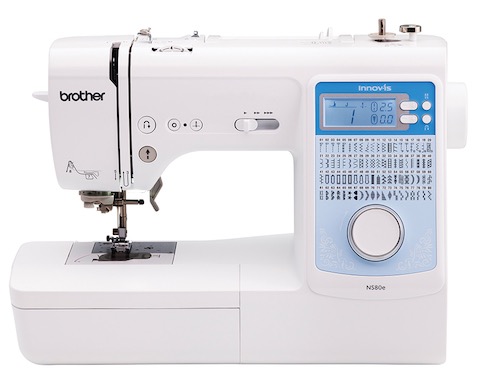 Check Price
Accessories
This comes with 7 included feet as an accessory. Here are the following feet included:
Zigzag foot
Button fitting foot
Buttonhole foot
Overcasting foot
Zipper foot
Monogramming foot
Blind stitch foot
5 EXTRA feet are included with this purchase. These five feet don't come with the manufacturer but instead from the seller. Here are the included five feet:
Stitch in the Ditch Foot
Roller Foot
Piping Foot
Edge Joining Foot
Gathering Foot
Other included accessories
2 Sets of Needles – One set contains the following – 2 needles sized at 75/11, 2 needles sized at 90/14, and 2 ball point needles in the size of 90/14 in gold color. Second needle set is for the following – 1 needle sized at 75/11, 1 needle sized at 90/14 and 1 needle sized at 100/16.


Twin needle

4 bobbins

Seam ripper

Cleaning brush

Disc-shaped screwdriver

Screwdriver in larger size

Extra spool pin

Spool cap in larger size

Spool cap in medium size

Spool cap in small size

Spool net

Bobbin case on the sewing machine

Foot controller

Accessory bag

Operation Manual

Quick reference guide
Brother Innov-is NS80E Review
This sewing machine is still pretty new so there aren't any reviews yet. I will update this post later if there are more reviews. But from the look of it, it is a very decent model made by the Brother brand, and the Brother brand usually makes very good sewing machines.
✅

Pros:
Great for travel.
Has metal frame.
Has an automatic needle threader.
Comes with 7 accessory feet.
❌

Cons:
No automatic thread cutter but you can still use the cutter on the left side of the machine and of course your own scissors to cut your thread.
No free-motion quilting foot included.
No hard carrying case but includes a dust cover. Well I think it is still better than nothing.
The retail price is a bit higher than other sewing machines. Maybe that is because it has a premium warranty and a higher number of feed dogs, not to mention it has the quilting feature.
Click here to buy it with FREE shipping and NO sales tax if you are living outside of California.
Product Dimensions
This machine weighs about 14.1 pounds with the following workspace measurements of 4.1 inches x 6.4 inches. The whole sewing machine is 7.7″ W x 16.5″ D x 12.1″ H.
Manual & Warranty
This sewing machine has a premium warranty which is 2/6/25. Do you know exactly what it means? I wouldn't know if I didn't do some research on it. Let's dissect those numbers. LOL.
The number 2 means it will cover for labor and parts for 2 years. The number 6 is for covering 6 years of electronics like the LCD display screen and buttons. And now the 25 number is of course for 25 years of covering for the body of the sewing machine.
Be sure to save your purchase receipt in case you ever need it for repairs and be sure to register your sewing machine with Brother.
You can find the user manual by clicking here. The manual is about 72 pages long with 26.53 MB in file size. The manual is written in English only. No other languages like French or Spanish.
FAQ
Can You Use This Machine Without a Foot Pedal?
Yes, this machine comes with an equipped function of Start/Stop button which allows you to operate without the foot controller.
Of course, you can still use the foot controller to operate the machine since this item includes the fool pedal.
You should just choose whichever option that you are most comfortable with. Some like using the foot controller and others like using the Start/Stop button.
The only thing you need to know is, you can only choose one or the other but it can't be both. Once you plugged in the foot controller then the Start/Stop button is no longer functional until you unplug the food pedal.
Does This Include a Free Motion Quilting Foot?
I am sorry to say this model doesn't include a free motion quilting foot for quilting even though it has this feature built in.
Of course it would be nice if it was included but you can always buy it separately. To obtain this quilting foot it is not that expensive. The model number you need for this quilting foot is SA129 and is made by Brother brand.
You can click here to buy one. I suggest you to buy directly from amazon and with amazon being the seller instead of third party sellers. You don't know if those third party sellers are selling authentic ones or not.
Does This Come With a Wide or Extension Table?
No, it does not. If you need it, here is the model number: SAWT5. Make sure it is from the Brother brand.
Click here to see if it is available in stock, because the last time I checked it was out of stock. If you are planning to do quilting then an extension table is a needed item.
Should I Oil This Machine?
The answer to that is NO. The Brother brand of sewing machines doesn't recommend the user to oil the sewing machine periodically.
This is to prevent the machine from being damaged by the user. It should have enough oil applied to the machine for operation by the manufacturer.
They want you to take it to an authorized Brother dealer near you if you find any problems with the machine like making unusual noises, or the hand wheel is hard to turn.